Digital production installed at Soabar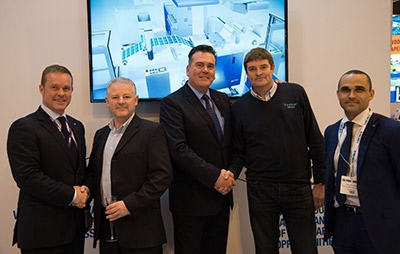 (L-R) David Farnsworth (Konica Minolta) with Robert Gallagher (Soabar), Andrew Lamb (Konica Minolta), Phil Achurch (Soabar) and Craig Kermode (Konica Minolta) 
Leicester-based label printer Soabar has added an ABG Digicon Lite to its Konica Minolta bizhub Press C71cf. The digital label press was installed late last year and the company is the first in England to invest in the C71cF. It is also Soabar's first experience with digital label production. 
Smaller orders, faster turnaround times and personalisation/versioning were cited as drivers behind the decision to invest, along with the aim of creating a more convenient way of ordering and printing labels for customers.
Phil Achurch, managing director, said, 'Purchasing our first digital press is an exciting new step for us, and has resulted in the opening of a new digital department at our offices in Leicester. We hope to be able to create a more efficient in-house printing process, which will translate to the improvement of the services that we already offer to our customers.' 
The company has also invested in a new finishing line from AB Graphic International. The Digicon Lite offers semi-rotary die-cutting, auto-slitter knife set-up and dual rewind. It also has a flexo print station for varnishing and lamination. 
Mr Achurch continued, 'At Soabar we recognise the importance of finding a piece of finishing equipment that will complement our new digital label press perfectly. We feel that the Digicon Lite meets this criterion, and therefore allows us to exceed our customer's expectations in terms of label aesthetics and the quality of service provided.' 
The company was on the Konica Minolta stand at the Label&Print show this week showing jobs printed on the new press.