Landa beta site shows carton press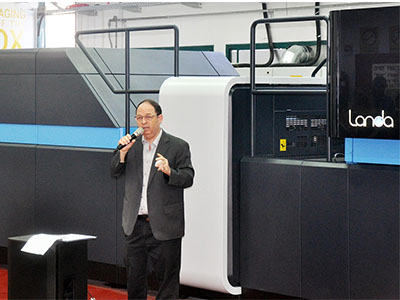 Eyal Harpak, deputy managing director of Graphica Bezalel, with the world's first Landa S10 B1 carton press
'Well, it has been a five-year gestation period, but the wait is finally over as Benny Landa and his growing team introduced potential customers to the latest developments at his company,' reports Sean Smyth from Israel.
More importantly, and certainly more noteworthy, he took potential customers to see the first S10 carton press in operation at Graphica Bezalel, an independent 70-year-old carton manufacturer fairly close to Landa's expanding site at Rehovet, near Tel Aviv. There, Graphica Bezalel's deputy managing director Eyal Harpak proudly showed visitors his new production tool, together with pallets of work waiting to go into the finishing hall for customers. 
The company has B1 litho presses and the normal array of carton finishing equipment, but this was the first digital press in the facility now going through a thorough beta-testing programme. The pride and enthusiasm for the investment in Landa personnel is probably to be expected; what is more significant is the delight expressed by Mr Harpak that his company can provide new products to large and small customers, and increase the efficiency of the litho machines by removing small runs that block the schedule. 
The carton future seems very bright, and the ability of Landa to scale up and provide new mainstream digital printing capability. They say, 'Printing will never be the same again' and even allowing for the hyperbole, this is proving to be a significant milestone in the transition from analogue to digital.
So congratulations to Benny and his team – we will soon see if they are right, early signs are very, very positive.