Packaging consultancy makes connections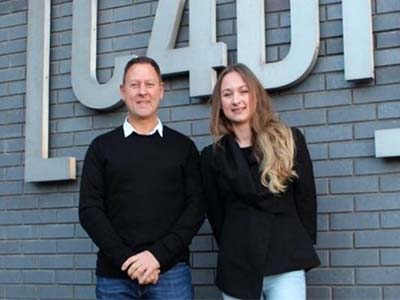 Founders Kevin Laughton and Lauren Whittaker
Launched in 2017, packaging consultancy I-CON International has set up a secondary division focused on near field communication (NFC) technology for packaging, point-of-sale and retail environments.
'We glue the workflow together, understanding and overcoming any issues and finding partners to fill any skill gaps that may impact a project,' explained co-founder and consultant Lauren Whittaker. 'As we explored the digital packaging marketplace with our customers and partners, it became increasingly clear that NFC will play a huge role in the integration of packaging and digital marketing over the next year.'
The company has a particular focus on the challenges faced when implementing campaigns that feature digital packaging and connective technologies. Ms Whittaker continued, 'We have set up a complete structure to enable the manufacture of NFC connected products and packaging, from the design and production of packaging to the creative development of linked digital platforms and campaigns. Our complete workflow enables brands to integrate NFC into their products and marketing materials.'
The I-CON team provides services from consultation to the development and delivery of a complete solution to facilitate projects that capitalise on the use of digital technologies integrated with the complete spectrum of packaging formats. 
'We are currently working on a range of projects with medium and large scale brands that rely on our skills and experiences developed over many years, working closely with similar organisations on a variety of challenging projects,' said Kevin Laughton, co-founder and consultant, and vice chairman of The Packaging Society. 'Typically the more innovative a project, the more challenges there are to overcome and as a solution provider that's what the business thrives on.'
The team will be on hand to offer advice and guidance on digital packaging as part of The Packaging Clinic at Packaging Innovations on 28 February-1 March at the NEC Birmingham.