FastLabels expands digital capacity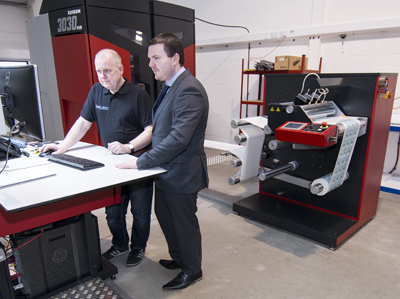 The Xeikon CX3 five-colour digital label press 
Doncaster-based FastLabels has invested in a new Xeikon CX3 – the company's second Xeikon press – to meet increased customer demand.
Established in 2009, the company today employs 36 staff. It offers web-to-print labels via its FastLabels.co.uk website with free next day delivery by UPS for all UK orders.
The Xeikon CX3 five-colour digital label press offers variable substrate widths up to 330mm and a top speed of 30m/min. Printing in a resolution of 1200 x 3600dpi, it uses toners that meet FDA regulations for food contact.
Director Shaun Pagin said, 'Adding the new Xeikon CX3 will provide a wealth of benefits to our customers. Its speed of production will help us to reduce our prices to some of the lowest in the UK while offering the highest quality print, even lower minimum order values, and faster turnaround.
'While we currently have the capacity to cope with demand, we have decided to introduce the new press sooner rather than later to benefit our customers in these ways. It means we can instantly improve our service, and are well prepared for the growth we have planned in the future.'
FastLabels has also upgraded its existing Xeikon 3030 to the 3300 model, increasing the maximum print speed from 15m/min to 19.2m/min. Mr Pagin continued, 'The speed increase that the Xeikon 3300 upgrade provides is essential to our business model. It means we can print at maximum quality and still maintain a very cost-effective print speed. This brings savings in many different ways that we can pass on to our customers.'
He conluded, 'The new press line-up will increase our label print capacity by 228%. It's our mission to prove that low prices don't have to sacrifice quality, and our new Xeikon CX3 together with the upgraded 3300 will help us to achieve exactly that.'