ebeam optimises curing for digital print finishing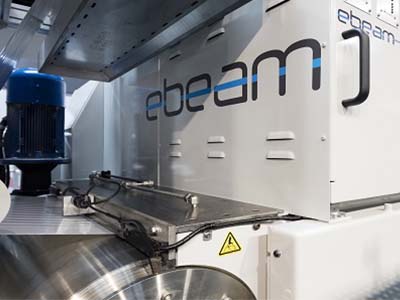 The new ebeam Core 100/760  
Launched at the HP Indigo worldwide VIP event, ebeam Technologies has introduced a new EB curing system specifically developed for the finishing of labels and flexible packaging printed on an HP Indigo 20000. The ebeam Core 100/760 could be seen installed on a GM coating unit during the event in February, in Israel.
The instant curing system has been optimised for over-print varnish applications, enabling the production of safe indirect food-contact packaging. ebeam curing offers high-gloss, matte and soft-touch finishes that are scratch, tear, puncture and fade resistant for increased package durability and abrasion resistance.
Finished materials also have increased heat resistance, which enables heat-sealing to form pouches, and as it is a room-temperature process, heat-sensitive substrates can be cured without issues. The system can further be used for the cast & cure process to produce holographic effects. 
'The combination of HP Indigo 20000 and ebeam Core 100/760 with either an inline or near line coating unit is a perfect fit for surface print flexible packaging, such as form fill seal reel-fed lidding applications, which require highly demanding and durable protection for HP Indigo ElectroInks,' said Mach Machikawa, HP Indigo global flexible packaging segment manager. 'The potential for faster turnaround times, new market opportunities through high value-added embellishment, and sustainability offer HP Indigo 20000 users a genuine competitive edge.'
Elsa Callini, business development manager at ebeam Technologies, said, 'By addressing many important flexible packaging challenges, including fast turnaround times, environmental factors and traditional barriers to the safe production of indirect food-contact flexible packaging – we believe we have a promising solution for finishers and converters.'