VIP event in Israel sees launch of new HP label press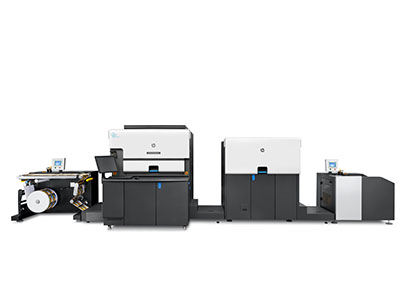 The new HP Indigo 6900
HP has introduced the latest in its 6000 series of digital label presses. Incorporating a new digital front end, the HP Indigo 6900 press model also features Pack Ready for Labels and silver ElectroInk.
Described as 'the most advanced label press' compared to the existing WS6800, the 6900 runs at 30m/min in four colour mode and 40m/min in EPM (Enhanced Productivity Mode).
The press comes with the HP Production Pro digital front-end first introduced at Labelexpo last year. Featuring five times faster RIP power, the DFE is built on the field-proven foundations of Production Pro with the Harlequin RIP, Esko Color Engine and PrintOS Cloud connectivity. The Production Pro provides a single point of control to the press operator to streamline and manage the print workflow.
Pack Ready for Labels for the production of high resistance labels is another new feature. This has been enabled by the use of new primers and OPVs, and offers label printers the ability to produce labels with excellent chemical, scratch, thermal and water resistance for tough conditions.
The HP Indigo 6900 also integrates with the GEM embellishment unit, the first fully digital, one-pass label printing and embellishment solution for spot, tactile, foil, holograms, mini textures and lamination, while the new HP Indigo ElectroInk Silver, now commercially available, delivers metallic effects across a wide colour gamut, similar to Pantone 877.
The company also announced the commercial availability of the Pack Ready Laminator and extended capabilities for the HP Indigo 30000 press for cartons.