Uteco and Kodak combine forces to offer Sapphire EVO hybrid press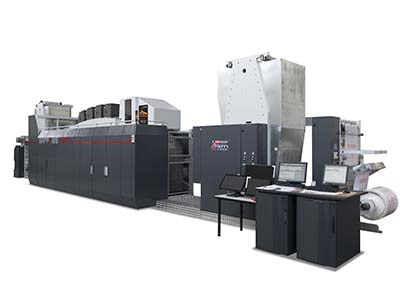 The Sapphire EVO
First shown as a technology demonstration at drupa 2016, the Sapphire EVO hybrid press has been officially launched to the market by Uteco Group. The 650mm wide press incorporates Kodak Prosper inkjet printheads, which use water-based inks that are certified to conform to the Nestlé guidelines for food packaging.
'Our customers have been asking for a digital production solution that meets their customer demand for more versions, which is driving shorter run lengths, as well as an economic long-run digital solution,' said Aldo Peretti, CEO of the Uteco Group. 'Uteco's rich experience in flexo and gravure printing, film handling, coating and drying, coupled with Kodak's inkjet expertise, now allows us to deliver a device that combines the capabilities of flexo with digital.'
COO Stefano Russo added, 'As the demand for mass versioning and customisation of packaging grows globally, hybrid flexo, gravure and digital printing is becoming a very important part of packaging providers' offerings. The combination of Uteco and Kodak's technologies not only delivers a competitive option for digital short-run printing, but also competes in medium-long print runs. This makes the Sapphire EVO an ideal investment for both label and packaging print service providers.'
Printing at over 150m/min, the Sapphire EVO uses environmentally friendly water-based inks to print on a variety of flexible substrates, including BOPP, PET and paper. 
Randy Vandagriff, president and corporate vice president, enterprise inkjet systems division, Kodak, said, 'Kodak's 50-year heritage has delivered the quality, capabilities and cost effectiveness that the commercial print and publishing industry have enjoyed with our Prosper Press systems. We are excited to take it further with economical water-based inks on flexible films at production speeds. It is great to be working with a partner like Uteco to combine their exceptional expertise with ours to deliver a high-end digital production device that offers new opportunities for the flexible packaging industry.'
Installation of the first unit will begin in June 2018 at an Italian flexible packaging producer for the industrial and fashion industries.