Anglia Labels sees a bright future with Domino's inkjet technology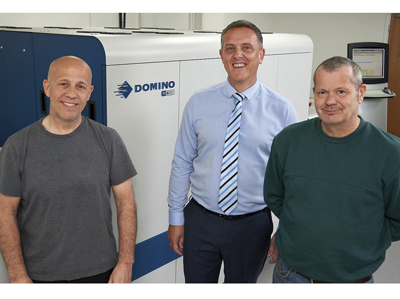 (L-R) Shayne Nuttall, N610i press operator; Ian Woodhead, managing director; and Phil King, production manager, Anglia Labels
In its first venture into digital inkjet, Anglia Labels has invested in a five colour Domino N610i inkjet label press.  
Faced with increasing customer demand for smaller print runs, with multiple variants and shorter lead times, whilst still demanding the highest print quality, the company realised it was time to start looking for additional digital capacity.
The press was installed in February 2018 and Ian Woodhead, managing director of the Sudbury-based 'one stop label shop', is delighted with the investment, 'Within just one month of installation, we had improved our lead times and quality and reduced our running costs. We were already printing 25% of our turnover on the Domino press.'
Complementing the company's existing range of label printing technologies, this latest addition allows added flexibility to select the best printing solution to meet and exceed customers' demands.
Established in 1979, the privately-owned label printing company operates across a variety of sectors including food and drink, industrial, agrochemical, chemical, automotive, security, household and the medical industry.
Mr Woodhead concluded, 'Print quality and the cost effectiveness of production were key contributory factors in our investment decision. The Domino has enabled us to react to changing customer demands and provided us with the capacity to grow our business.'