Kama focus on Print 4.0 at open house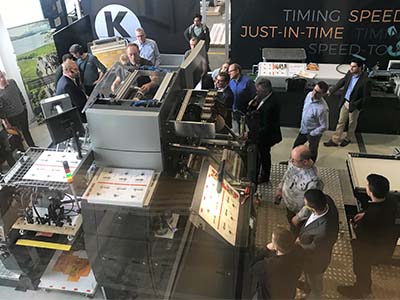 Keen to introduce its version of Print 4.0, Kama is staging an open house event on 18-21 June in Düsseldorf. The event will be aimed at both packaging and commercial printers. UK distributor Friedheim will be taking a handful of its customers to the event, which is held under the title 'Application Days'. 
Kama will present visitors with its range of machinery with demonstrations for commercial finishing, specifically the fully equipped ProCut 76 Foil die-cutter with foiling module inline with the ProFold 74 folder gluer for folding, gluing and dispensing. The second focus is the applications for packaging industry, with the new folder gluer for folded cartons, the Kama FF 52i in action, also inline with another ProCut 76 FOIL. 
The company has just launched a new job manager tool that receives all available job data from the pre-press department, such as print PDF, number of sheets, substrate and tools, and saves them together with the machine settings. The Job Manager then calculates the SBU settings and optimum foil feed and sends them to the machine. While the job is running, it collects all relevant data from the machines and transmits them to the MIS in real time. Once the job is done, it saves all data and machine settings and sends a report to the MIS. The complete job data are then available for repeat orders.
A workstation will provide data exchange between the customer's central IT network and the Kama machines. This computer runs the new Job Manager software and comes with the CPX or Cockpit. The integration of the job manager tool will be done through the customer's own MIS.