Baker Labels adds more capabilities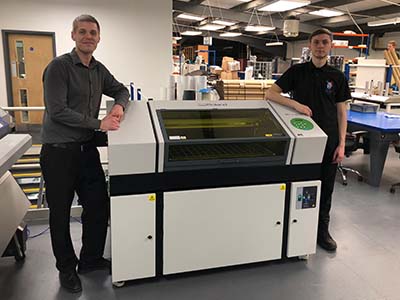 Print bureau manager Craig Page and operator Liam Boor 
Following the recent expansion of its premises in Brentwood, in Essex, Baker Labels is continuing its investments. Most recently, the company has added a Roland flatbed inkjet printer and a Matrix laminator to its inventory.
Managing director Steve Baker said, 'We just love printing and there is always something new to learn, another technique or some advance in technology that excites us and inspires us. We've got vast experience in our team, but have added young, fresh talent in recent months that have lots to learn. Investing in a diverse range of equipment will encourage them to test, trial and hone their skills so we continue to improve what we can offer customers in the future.'
Using the new Roland DG VersaUV LEF-300 printer, Bakers will be looking to explore proofing/production of specialist work for its customers. Multiple layers of gloss ink can be applied to simulate embossing and 3D textures.The ECO-UV ink options include white ink for greater brilliance on clear or dark-coloured materials and gloss ink for gloss and matt finishes, as well as an on-board printable primer. 
The addition of a Vivid Laminating Technologies  Matrix laminator will further enable the company to create bespoke prints using foils and spot UV-style effects.