OPINION: Swiss precision reaching into digital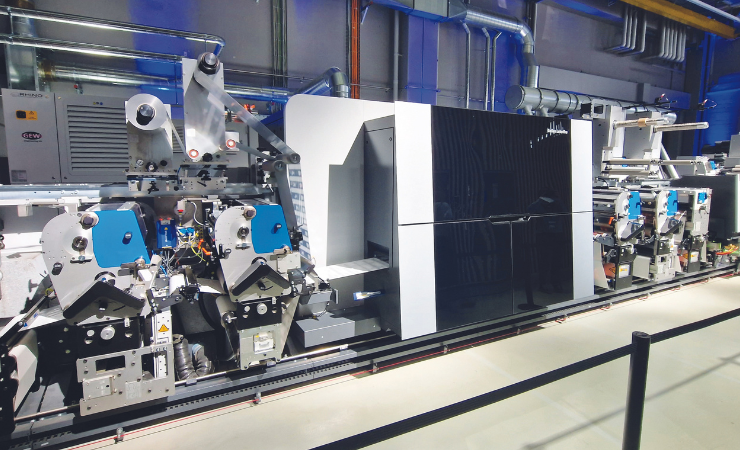 The Gallus Labelfire hybrid press platform examples how Swiss engineering excellence is now benefitting the packaging industry
Swiss engineering excellence developed over hundreds of years is now serving the digital print market well, as Sean Smyth describes.
Whilst the world of labels and packaging is changing, it is reassuring that some things do not change.
Swiss engineering excellence has developed over hundreds of years and while most people associate watches and clocks with the country, those of us in packaging think about equipment from Bobst, Gallus and possibly Polytype, with Müller Martini and Goebel in commercial print. Specialists know Hapa, which is making inroads into healthcare digital packaging, while CAPrint is progressing with its inkjet cap and closure print system.
All of them continue this Swiss engineering excellence pedigree. Bobst is a CHF1.84 billion powerhouse, supplying printing and finishing systems for labels, cartons, corrugate and flexible packaging. It developed an inkjet corrugated post-print machine that was unsuccessful, subsequently changing strategy with the development of Mouvent to deliver inkjet equipment. The resulting hybrid and inkjet narrow web presses are achieving very respectable sales into large and small label converters, with further developments due to be shown at Labelexpo Europe 2023. A key driver for converters to use hybrid machines – with sales up 70% in 2022 for Bobst – is to use less labour in single-pass production. The recent entrant to digital labels now boasts over 100 machines in operation. The development site is the former Gidue facility in Florence, where it uses the resources and digital expertise of its Swiss parent to boost the product offering. The company has improved the printhead cluster technology, including a titanium 3D printed heat exchanger to regulate ink temperature before it goes to the Fujifilm Samba printhead. In May, Bobst bought Dücker Robotics, a strategic acquisition to make an end-to-end production system, helping fulfil its vision for all production being connected and more automated.
Bobst is further developing its Accucheck system that is said to make zero-fault labels and packaging a reality. This is a sophisticated inspection system integrated into new print and converting equipment to check registration, colour fidelity, print defects, etc for every pack. Unlike an operator, the system checks every impression, increasingly being linked to automatic adjustments to repair artefacts or deviations from the pass sheet. The technology will replace many manual quality inspections, pushing the potential for lights-out automation with links across the supply chain to share real-time information. According to CEO Jean-Pascal Bobst, the company is developing further digital print solutions, with announcements due at Labelexpo, at open houses, during the Fefco Technical Seminar in October and at drupa next year.
Gallus is wholly Swiss, although shares digital developments with its German parent Heidelberg. Gallus has been selling hybrid label presses for many years and in June 2023 it opened a new customer experience centre at its St Gallen headquarters. CEO Dario Urbinati identifies several factors adversely impacting customers in 2023, including the skilled labour shortages increasingly affecting converters, along with major cost increases in substrates, ink, plates, energy and distribution.
The company has rewritten its vision and mission statements to support a new business direction with inkjet narrow web machines available for standalone printing and integration into existing flexo lines. According to Mr Urbinati, Gallus is changing. 'We are excited to look beyond the graphic arts toward other industries – learning from how they've leveraged new technologies to welcome in the new digital age and cater to the next generation – so that we can modernise the labels and packaging industry and further increase our future success.' It previously introduced Gallus One and has since added the option to upgrade an existing Gallus ECS 340 flexo press with a digital printing unit (DPU), effectively turning a conventional flexo machine into a Labelfire hybrid machine. This gives a much lower investment level than a new hybrid press and can increase the useful lifespan of existing assets.
'Adding hybrid technology this way means a lower investment, because just buying the DPU for the existing conventional part reduces the cost significantly,' says Mr Urbinati. 'We are providing a choice for our customers, as the modular flexo stations can be removed or added, with cold foiling, screening, die-cutting and matrix removal as needed. This is an easy route to well-proven and industrialised top peak performance.'
When adding the DPU, users can specify the number of inkjet colours – CMYKOVG+W or fewer as needed. So far three customers have chosen to add inkjet capability to existing lines. It is likely more will follow to provide additional flexibility and agility to their customers.
Also in narrow web inkjet is Hapa, owned by Italian group Coesia. Hapa focuses on late-stage customisation and on-demand printing solutions for pharmaceutical packaging. It occupies a market-leading position for blister packaging, making it more flexible, less complex and more cost-efficient with less waste. There are mono, multiple spot colours and full colour plus white web presses, with specialist machines such as the BFS-Jet designed to print onto blow-fill-seal unit dose vials.
It features the modular Redcube UV piezo inkjet system. Pre-treatment technology can be incorporated and an optional vision system can be used to check every print for quality and completeness. Faulty products are rejected by the inbuilt reject mechanism. The BFS-Jet has up to two spot colour printing units, marketed as an 'optimal cost-saving solution' for late-stage customisation. Hapa offers the system as a GMP-compliant  print system for use in-house by pharmaceutical manufacturers.
Hapa also provides technology to other manufacturers. One of these is CAPrint, a small engineering company based in Brügg outside Bern. It is using the Redcube Plus print unit, integrated with an in-feed sorter to load and align closures onto the transport. The CP1.0 machine comprises a pre-treatment station, five-colour inkjet printing using Hapa low-migration inks, UV curing and delivery. It can print 1600 caps per minute, with an air jet divert system for sampling and inspection. One of the early installations is a dual line at the Corvaglia cap facility in Eshlikon, where the printers operate 24/7. They are located behind an injection moulding machine producing caps for PET bottles and operate with no dedicated print minder. CAPrint claims, 'CP1.0 is a complete solution for digital closure printing with integrated inspection system – the efficient way of printing closures, precise and exceedingly flexible.'
Another plastic printer developer is Wifag Polytype, based in Fribourg. It makes dry offset relief machines and UV inkjet printers for tubs, pots, cans and cups. This direct-to-shape printing is powered by what Polytype calls 'Calmar' technology, which includes features to optimise the printed result such as image correction for ink time-of-flight errors and making the necessary anamorphic distortion for conical surfaces. The system allows fully variable data printing, comprising data processing software, networking, printhead electronic control system and ink supply.
For metal, Polytype has systems that can print up to 120 pieces per minute, for two-piece cans, aerosols and tubes. With Mall Herlan making the forming equipment, Polytype adds analogue and now digital printing systems. The proprietary Calmar inkjet technology of Wifag, used in printers it builds and as well as being sold to OEM partners, uses printheads from Konica Minolta, Ricoh, Xaar and Kyocera.
So, it is not just cuckoo clocks and chocolate. Switzerland boasts leaders in digital labels and packaging, where precision engineering skills are a key component of successful production.
This opinion article was first published in issue 5 (August/September) 2023 of Digital Labels & Packaging, which you can read online here; register here to receive future issues of the magazine