Down the rabbit hole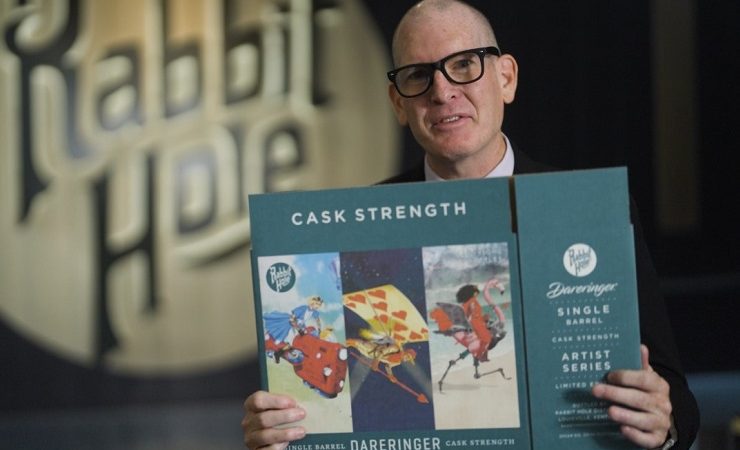 Dac Austin, creative director at Rabbit Hole Distillery, with a digitally printed shipping case
In this case study showcasing the role digital has in helping brands succeed, Rabbit Hole Distillery of Louisville, Kentucky has used Domino's inkjet corrugated printing technology to support its vision to reshape the future of whiskey
Rabbit Hole Distillery, located in Louisville, Kentucky, produces one[1]of-a-kind super premium American whiskey to its own recipe.
Kaveh Zamanian founded the business after finding monotony in the bourbon landscape. He entrenched himself in the work and study of bourbon in the pursuit of starting his own distillery and making modern whiskeys said to, 'challenge the status quo and offer a new vision of what an authentic whiskey can be.' He produced his own recipes, marrying heritage techniques with innovative and exclusive mash bills. The result is one-of-a-kind original works of bourbon, which each have their own grain recipe and are described as being, 'unlike anything else on the market.'
To complement this, packaging must also be unique and standout. As noted by Dac Austin, creative director at the company, 'extraordinary' shipping cases with 'outstanding' shelf appeal is integral to its success.
Through collaboration with Independent II and its use of Domino inkjet digital printing, this has been assured. Independent II is a privately-owned and operated corrugated manufacturer. The converter's capabilities include designing, manufacturing, warehousing and delivering corrugated and packaging that both protect customers' products in-transit and sells them on store shelves. Also located in Louisville, it installed the world's first Domino X630i inkjet digital press for corrugated. This is a highly automated inkjet press, which prints at 75m/min using an aqueous CMYK ink set. It offers a 600 x 600dpi native resolution.
Detailing the company's route to where it is today, Finn MacDonald, president at Independent II, says, 'We're a third-generation company and for over 60 years we've had the unique challenge of taking care of our customers' everyday problems, so that they can grow their businesses. That is our DNA, that is what we do. Any time, any quantity, with innovation, service and quality included. That is what has built a multi-generational trust between our customers and our business.'
From his point of view, Mr Austin comments, 'One of the things that's necessary for what I do is having a partner that has the ability to do modifications quickly, efficiently and in real time. One of the relationships that we've built is one with Independent II, which is our shipping case provider. The responsivity that we receive from its team is excellent and that really resonates with what we do with our shipping cases and what we're able to produce.
'A good example of some of the work that's been done is for our Dareringer Kentucky Straight Bourbon Whiskey. The clarity, the colour and the product are outstanding. When you think about the digital application on a corrugated product, we are able to make edits with colour, with typography and see it within minutes. If we were to do this in a conventional manner, we would have had to shut down the press, take the plates off, remake the plates, reapply the ink and wait for hours for this to happen.
'Now all I have to do is create a new file, run it through the Domino X630i and it's instantaneous. There's no mixing of inks, there's no wipe[1]up or clean-up for the machinery. It's just moving the board through, and it works effectively and efficiently. That is something that is magnificent in what we're able to do. And it shows the merger of the digital and corrugated world.'
Mr MacDonald affirms this when he says, 'Over the last 15 years our business philosophy has not changed, but the landscape of our business has changed dramatically. Our customers' products spend less time in the warehouse, and more time in retail and on doorsteps. We had to recognise and embrace this change and invest in the resources to evolve from a brown box company to a brand and packaging company, and now to digital.
'Digital was an opportunity for us to get there faster and to take our customers there more quickly and successfully. We now have the ability to bring that dynamic digital energy to our customers with the Domino X630i; this is a single-pass four-color aqueous based press designed specifically to live and thrive in a manufacturing environment.'
This is another example of how digital can help deliver success, regardless of the application or end-use. To find out more about the ways digital can deliver success for you, book your seat at Digital Print for Brand Success 2023 today – www.digitalbrandconf.com