Sean Smyth on…the digital twin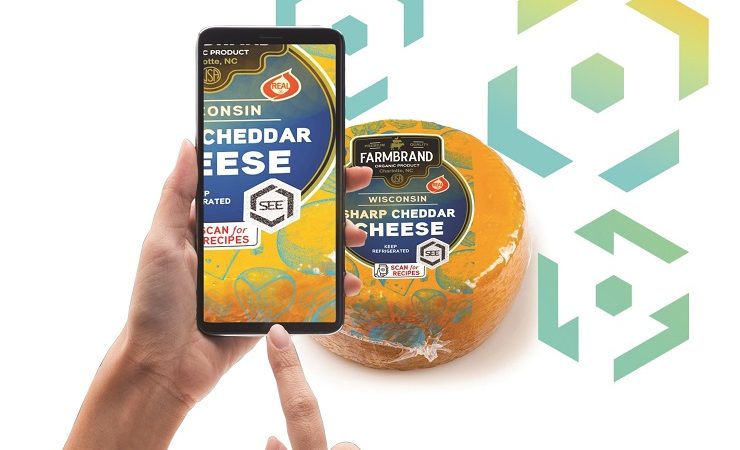 Prismiq digital twin technology from SEE in action
When you – or perhaps your children – were young, did you/ they enjoy the company of an imaginary friend? It certainly happened in our house. And in today's increasingly online world, you may actually have multiple versions of yourself, through a combination of social media profiles and other interactions with the cyber world. Hopefully it is a positive alter ego and not the result of identity theft in the Dark Web.
Well, a job on the press might also have another version, a digital twin. Not an imaginary friend, but a cyber version created from the artwork to include graphics, together with meta information including materials and job information such as run length, delivery instructions or cost – and where it is in the production cycle. It might include a 3D representation that can be used for checking as part of the approval process, allowing virtualisation on a retail shelf, or indeed as a product on an e-commerce site. There will be information about the product from the brand owner that could be accessed by consumers – potentially with bespoke content when a job is digitally printed with unique versions, providing more information or allowing interaction with consumers.
The subject of digital labels and packaging usually focuses on digital printing and increasingly digital finishing methods, but as the world moves to embrace the advantages and capabilities of Industry 4.0 methods, packaging supply chains are also digitising and the digital twin is playing an important role in the transformation.
As a digital twin is a virtual version of a job, it is more than just the artwork. Typically, it incorporates the graphical content of images, linework and text, together with information about the physical attributes, substrate and methods of manufacturing. It may also include production details, run lengths and dates of manufacture along with product information, beyond what is printed on the label or pack.
Improve and interact
Many brand owners and packaging converters are exploring how they might be usefully used. There are several ways this could happen, to both improve the efficiency of production and add new functionality to the label or pack for improved supply chain efficiency or to provide interaction with consumers.
On a press the master image can be used as a reference, with high-definition cameras and colour monitoring able to check every print, identifying any print faults and in some cases adjusting the press to correct the fault. This feature is increasingly adopted on inkjet machines to ensure no visible artifacts or line[1]outs during a run. For straight reprints there will be no need for a physical proof, or job master, simplifying administration and storage of production samples. Bobst offers the digital inspection table, which projects digital proofs allowing operators to compare with printed sheets and die-cut blanks. It uses HD projectors to illuminate the product sample with the digital twin imaging, allowing the operator to see if quality standards are matched or compromised. It has a spectrophotometer to ensure colour fidelity, while potential errors or concerns that the customer may have can be highlighted, alerting the operator to check thoroughly.
The job data in the digital twin could control the operation and control of new presses and finishing systems. Links to production equipment can generate a lot of data throughout a run that can be used to improve production efficiency. Bobst has been developing such technology for its print and converting equipment for many years in analogue and digital narrow web machines. Originally, the company connected machines to improve the service and support remotely, but this quickly developed into a range of new services now called Bobst Connect. This open Cloud-based platform has options for pre-press, production, process optimisation, maintenance and can connect with customers or suppliers. It covers the entire production process, from a PDF to the finished product across the supply chain. The digital twin includes the product specification with image and a 'structural design file' that specifies all relevant information to define all machine parameters, such as materials, production time, estimated costs, meaning any enabled production equipment can be pre-set and adjusted automatically. It tells the converter not only what to print but how to print and convert, which layer of a flexible pack is printed, the laminate construction and adhesive, slitting width, rewind diameter and which packaging for transportation. All this information can be shared in real time.
The other advantage of a digital twin is connection with consumers. Linking online allows the brand to provide more product information than on the pack, where space may be constrained to contain necessary regulatory information. Beyond information, the act of scanning a pack with a smartphone could open new experiences or offers for the consumer and act as a channel of communication for the brand.
In practice
One of the pioneers using the technology in digital packaging is SEE (formerly Sealed Air, the inventors of bubble wrap). It supplies most categories of packaging, together with packaging machines. In 2022, Prismiq was launched, offering digital printing, smart packaging and pack design to exploit these new capabilities, and to provide support to brands looking to move into the sector.
Joe Lambert, vice president of digital packaging solutions at the company, explains, 'Prismiq is more than printing and design, it is also focused on connected packaging services that complement our digital printing solutions. For brands the technology can do several things: in[1]store at the point of sale it can help drive transactions, help a pack stand out on the shelf and maybe provide a money off offer for a new customer who has not scanned the brand previously. For an existing customer, it can be used for information about their allergies or upselling (we have a buy one, get one free offer), or it could be cross promotional. Then later at point of use the consumer could access associated assembly or cooking instructions, or register a purchase for an extended warranty.'
The demonstrations show how the SEE logo on a physical pack links to the digital twin containing product information that brands have linked. Scanning the pack gives access to curated experiences and content. The consumer experience is improved and brands can obtain real world consumer insights, what resonates and what is not interesting about scan rates, areas of the pack examined and what is useful online. The analysis of results can be in real time, allowing marketers to hone and refine the offer. Linked to digital printing each pack can be unique, allowing personalisation of more targeted content and offers.
Outside of packaging, the digital twin concept is an important part of modern manufacturing. IBM defines a digital twin as, 'A virtual representation of an object or system that spans its lifecycle, is updated from real-time data, and uses simulation, machine learning and reasoning to help decision-making.' This is valuable information that is being used in digital supply chains, where manufacturers can make machine capability and capacity available as a digital twin, transparently shared to relevant stakeholders.
The concept is moving into labels and packaging, with digital print suppliers well positioned to secure the advantages. In 2023, it will not be just the production method that is digital, it can be the job itself, opening up new functions for the brand owner. This is one of the new realities of the Internet of Things, and smart converters can use these capabilities to their advantage.
This article was first published in the November/December 2022 issue of Digital Labels & Packaging, which you can read online here