Printing, united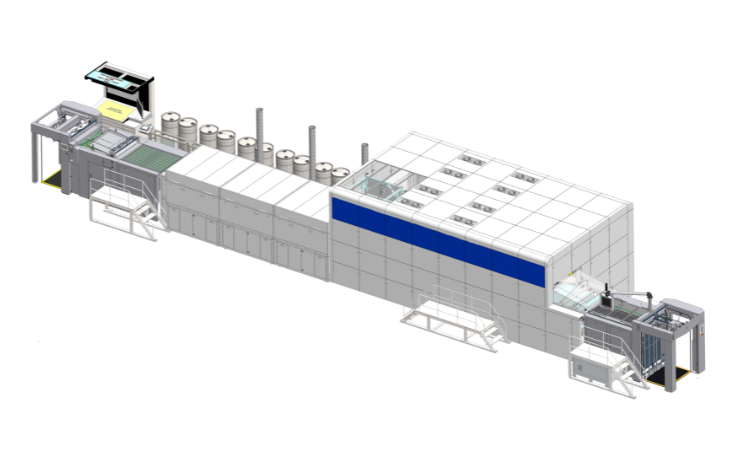 Whilst not physically present at Printing United 2022, Speedset is very much part of Agfa and Inca's plans for the future of inkjet digital corrugated printing
Notwithstanding the various headwinds that the industry has faced over the last 30-plus months, labels and packaging continues on a strong growth trajectory that is set to see the market top $551 billion (£464 billion) in 2027 following compound annual growth (CAGR) of 3.1%.
Such growth as predicted in Smithers' The Future of Package Printing to 2027 report is supported by the volume of corrugated board, folding cartons, rigid and flexible plastics, metal and labelstock printed worldwide, which will increase from 13 trillion to 15.4 trillion A4 print equivalents between 2022 and 2027.
Whilst flexo will remain the most widely used print process, the greatest expansion is expected to come from digital print for packaging. Here, a CAGR of over 10% is forecast through to 2027.
Hard and fast
The HP Indigo V12 is one such machine likely to help drive this. Running at a top speed of 120m/min, this narrow web press has been introduced to help take digital label production firmly into the mainstream as an option for longer runs. Finally debuting in the iron at Labelexpo Americas 2022, this press perhaps understandably drew a lot of attention at the show, with numerous letters of intent signed, supporting the company's ambitious beta test programme. V12 is part of the emerging 'digital[1]first' narrative that is beginning to gain traction. Domino's relaunched N730i and Dantex's new Pico 1200 family similarly caught the attention of show attendees and sought to advance the capability of digital as an industrial label printing option. The latter specifically has been engineered with productivity and flexibility built-in, ensuring printers' investments are futureproofed and taking Dantex's existing UV inkjet digital printing technology to the next level, so the company has stated.
Whilst digital label printing is an established market, inkjet- and toner-based packaging printing is also starting to gain genuine traction. This is being driven both by technology developments and the influence of more of the overall print industry taking an interest in packaging. Here, Printing United proved to be a useful indicator, as under the umbrella topic of convergence, this show allowed those in the wide format and signage space to come together with their labels and packaging counterparts, as just one example, and see how and where their respective expertise can be cross-leveraged to the benefit of all in print. You then had the direct-to-shape cohort (read page 35 for more) alongside the digital textile innovators, exhibiting alongside more general commercial print and finishing equipment suppliers.
For EFI, the convergence trend aligns with the company's history and existing portfolio. The company is leveraging print hardware, software, consumables, service and people expertise to maximise its exposure and target growth opportunities. 'Whether display graphics, packaging or POS/POP, convergence is a megatrend that is here to stay and one that is perfect for us,' notes the company's vice president of inkjet marketing, Ken Hanulec.
Corrugated packaging is a perfect example of where the company's expertise in material handling, single-pass and shuttle-based printing, ink chemistries and workflow for the wide format and display graphics markets has been leveraged for the benefit of others. This coincides with pent-up demand and a recovery in the operating environment for many of the company's areas of interest as the coronavirus pandemic subsides, although printers continue to juggle and struggle with geopolitical and economic turbulence, the need for greater efficiency, ongoing sustainability initiatives, workforce challenges and more.
Mr Hanulec highlights the analogue to digital transition as another megatrend that sits well with EFI's portfolio. There are now numerous installations of Nozomi presses for corrugated packaging, both of the initial C18000 model and now the 14000 LED variant. This second machine itself leverages EFI's single-pass UV LED inkjet digital direct-to-board printing technology, which has been coupled with improvements that bring enhanced productivity, reliability, value and flexibility to the industrial packaging segment. Shuttle-based systems provide another entry point for those looking to go digital with corrugated packaging. Mcorr for example is to be a derivative of the company's Vutek XT hybrid flatbed/roll-to-roll display graphics printer. It will use a unique inkset specifically for corrugated packaging, featuring low odour characteristics and high rub resistance for, 'utility that will help the market grow.'
'We love packaging,' states Mr Hanulec. 'With corrugated, we strongly believe they shouldn't just be brown boxes but act as an extension of a brand and a new advertising platform with which to engage consumers. We're starting to see that be realised now. With our line-up, we've got the right equipment to achieve this and help drive the analogue to digital conversion. This is something EFI has been working on for over 30 years, starting with the Fiery business which has grown into each of the different inkjet verticals over time. This all feeds into our work to identify high value, high growth markets and convert them from analogue to digital, driving profitability back into the customer and growing our market share.'
Agfa as a business is now transitioning to a more digital future, having divested its offset business and acquired Inca Digital Printers earlier this year. This latter development will specifically advance the company's involvement in packaging with single-pass inkjet digital printing technology. Building on the success of the Onset family and its work with the likes of BHS Corrugated – a direct result of which has been the RSR digital corrugator – Speedset is to be the next big breakthrough in hardware from the company. Designed for folding carton and corrugated work, the initial version of Speedset is set to takes boards up to 1060mm wide and 2mm thick, with a print width of 1040mm. A steel-backed vacuum conveyor will transport boards through the press, removing issues with warping.
In terms of value to the packaging industry, Matt Brooks, formerly of Inca and now director of packaging at Agfa, confirms that the early Speedset platform will be capable of delivering three 40in sheets a second, so close to a 500 linear ft/min, or 11,000 sheets per hour. 'When you compare that to the 15,500sqft/h we are currently doing with Onset's multi-pass technology, it is orders of magnitude faster.
'This will allow us to take aim at the industrial packaging market and folding cartons, as well as some graphics work. The technology will then be developed into larger format corrugated machines for display and other packaging work.'
On show at Printing United, a high-speed Onset X3 HS demonstrated the additional benefit of integrating robotics as part of the production process, to offload printed sheets, whilst a new inkset – a further benefit of cross-leveraging with Agfa and its history in chemicals – is able to be cured and dried with all the print properties required for post-print finishing at speed. High-quality mode uses control of the ink drop to bridge the gap between smaller drop alternative technologies and achieve high resolution printing at speed.
Kodak's move on the sheet-fed packaging market was similarly realised at Printing United with the showcase of Ascend, the first sheet-fed electrophotographic digital press designed to print ultra-long runs on heavyweight substrates.
Targeting folding carton packaging and retail signage applications, Ascend runs Kodachrome Foil Dry Ink, for more sustainable and recyclable print. These inks are indirect food contact rated. The press runs 13 eco-friendly Kodachrome inks for embellishment, enabling a spectrum of special effects including opaque white, foil, antimicrobial dry ink, matte finishes and spot coatings. With rearrangeable ink stations, ink can be ready to use in under eight minutes. It prints with a maximum 600dpi resolution and offers production speeds up to 572sqm/hr (5280sqft/hr). A large sheet length of up to 1220mm allows the press to offer 23% more print area than a B2 sheet.
Going soft(ware)
Such hardware innovations are nothing without software, as Kodak, EFI and eProductivity Software (ePS) know all too well.
Kodak's Prinergy Cloud-based production workflow software platform has been designed to help printers increase production capacity, shorten turnaround time and reduce costs. Prinergy On Demand takes this further with e-commerce, MIS/ERP and collaboration applications fully integrated, both with Prinergy workflow software and any other applications for end-to-end automation.
ePS, the former software business unit of EFI, is offering deep integration via APIs with third-party systems. This is demanded as diversity in the market has resulted in many customers creating their own ecosystems but wishing to integrate with certain parts of ePS's offer, be that advanced scheduling or e-commerce for specific point-to-point elements. These complement end-to-end options, such as its established portfolio of software suites. Nick Benkovich, vice president of product management at the company, makes clear that whilst API integration is not exactly new, end-to-end automation is going to be even more critical going forward as printers' margins continue to be squeezed. 'This means they have to be more efficient and productive.'
With this in mind, ePS's work to integrate with HP and its large install base of digital presses stands to benefit a big portion of both the packaging and commercial printing markets. In this example of end-to[1]end automation, MarketDirect StoreFront allows orders to be placed from anywhere at any time, moved onto the ePS Pace MIS/ERP system to build the job and start the production ball rolling, with the DFE defining and scheduling the job in order to maximise hardware availability and the production flow, and when sent to the HP press, AutoCount 4D is used to capture real-time data to analyse and review shop floor productivity and drive strategic business decisions that then positively impact print and packaging production.
Also looking to simplify the lives of converters and help maximise the revenue potential of their hardware investments via software is EFI. In partnering with Colordyne Technologies, it showed at both Labelexpo Americas and Printing United how the Fiery Impress DFE can be used to drive web-fed UV and water-based inkjet digital printing engines. Fiery Impress is turnkey inkjet print server technology and a 'ready-to-go, off-the-shelf' platform that requires less time and less cost for hardware integration, it is claimed. The consequence of this is the ability to retrofit inkjet capability to a flexo press efficiently and cost-effectively, allowing converters to upgrade their printing with a hybrid-type system at as much as half the cost of a new hybrid narrow web press. Moreover, converters can use this integration to do more with their presses.
As the first company in the world to implement this technology, Colordyne is using it to help customers achieve higher-throughput, high-quality digital label printing in up to seven colours with its 3800 Series inkjet engine. Fiery Impress ensures users can complete more jobs per shift due to a suite of file preparation and make-ready tools to automate many pre-press tasks. Fiery Impress technology efficiently handles colour management, including extended colour gamuts beyond CMYK, while delivering accurate ink cost estimates to help converters ensure profitability. Additional available tools, such as Fiery JobFlow pre-press automation workflow software, can eliminate manual step-and[1]repeat work to help converters get digital and hybrid jobs to press faster. Converters can also take advantage of more opportunities in multi-SKU, versioning and serialisation by using a Fiery Impress DFE streaming option, which affords RIP-while-printing capabilities for continuous, high-volume, variable data printing.
Such developments highlight Mr Benkovich's point that, 'We've got to focus on reducing costs. Anyone who's talked to printers in recent times knows the conversation almost always starts with material, energy and labour costs. At the same time, selling prices have not increased at the same rate so margins have been continually squeezed. Efficiency throughout production is one way to alleviate this pressure and making sure work is scheduled and produced optimally.'
This article was first published in the November/December 2022 issue of Digital Labels & Packaging, which you can read online here