Post-Covid realities pose questions of digital packaging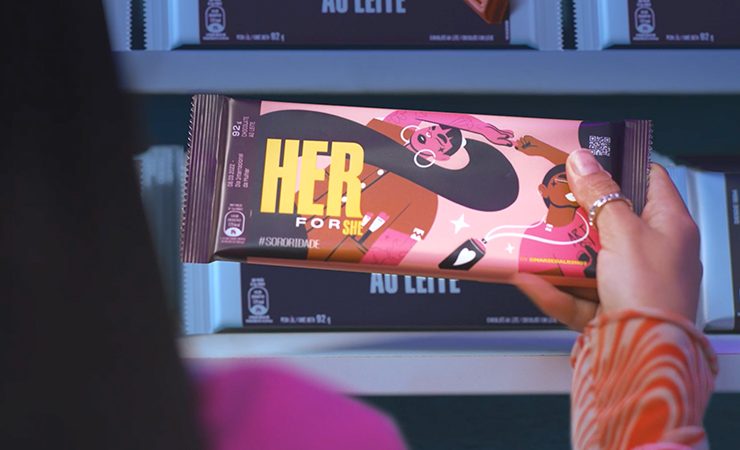 This year's Hershey's #HerShe campaign was big in Brazil and leveraged the power of digital print to celebrate women
The Americas presents one of the most interesting and contrasting markets for the future deployment of digital print in packaging and labels, writes John Nelson on behalf of Smithers.
The Americas includes several major markets – the US, Canada, Mexico, and Brazil – and is poised to see some of the greatest changes as businesses look to reorientate their supply chains across the 2020s.
The value of packaging print in North America in 2022 is projected to be $109.2 billion, according to the latest data from Smithers. Of this, 8.2% is produced on digital equipment. While it has slipped behind China in total output, the US remains the largest single market for digitally printed packaging and labels worldwide. Worth $8.2 billion in 2022, it has doubled in value since 2017, despite the disruption of Covid-19.
Almost half of digital value in 2022 comes from label print, although this segment is starting to slow. Instead, over the next five years the fastest growth will come from corrugated inkjet printing, with the installation of multiple wide format presses at major converters across the US.
Canada largely tracks the US market but has felt a less severe impact from Covid-19. It also has some specific challenges, such as the need for bilingual labelling, and the forthcoming imposition of the first national bans on single-use plastics in North America.
Supply chain changes
Perhaps the greatest change in print supply chains is being seen in e-commerce, with demand for customised package printing after an order has been received. As they are relatively simple to operate, a digital print line can be used in a distribution or e-commerce warehouse.
North America also provides one of the most salient examples of how digital production twinned with web-to-print ordering can revolutionise packaging production. Take ePac Flexible Packaging for example, whose success reflects changing priorities in ordering as print buyers demand greater flexibility and responsiveness, especially in the US.
Elevated trans-Pacific shipping costs, and Covid-related disruptions to supply chains have continued into 2022. This is leading many companies to remove production from Asia and either reshoring it to the US, or near-shoring it to a low-labour cost neighbour, like Mexico. Packaging print will naturally follow this migration.
Reshoring again favours digital production and online services where presses can take on short-run commission work as it arises and guarantee fast turnaround. This trend is also seeing print buyers – including several large brands – taking production in-house.
This is currently most advanced for labels and is achieved either independently or via a cooperative agreement with a more experienced converter.
A deepening skills shortage in US print rooms is further fostering interest in digital equipment, as well as extra automation features fitted to analogue presses, as experienced operators laid off during the pandemic have been permanently removed from the workforce.
Latin America
Latin America contains a diverse and mixed population many of whom have only limited access to packaged goods. Overall, the value of printed packaging and labels in the region will be $27.8 billion in 2022. Digital print for these is valued at only $738.6 million for 2022.
Adoption across the region has been slowed by poor economic performance – especially in the key market of Brazil – over much of the 2010s. Brazil's short-term market outlook has been further blighted by a haphazard response to Covid-19.
Labels are the most common format for digital print in packaging in Latin America and will remain so through the 2020s.
Mexico is the largest market for digital in the region by value, worth $279.1 million in 2022. Mexico will benefit from near-shoring trend in North America and make it one of the fastest growing countries for digital through to 2027. In Mexico, inkjet is growing more quickly than electrophotography, with the fastest growth in corrugated board substrates.
This analysis article was first published in the July/August 2022 issue of Digital Labels & Packaging, as part of the magazine's overall coverage of the Americas; register here to receive future issues of Digital Labels & Packaging