Bobst bets big with digital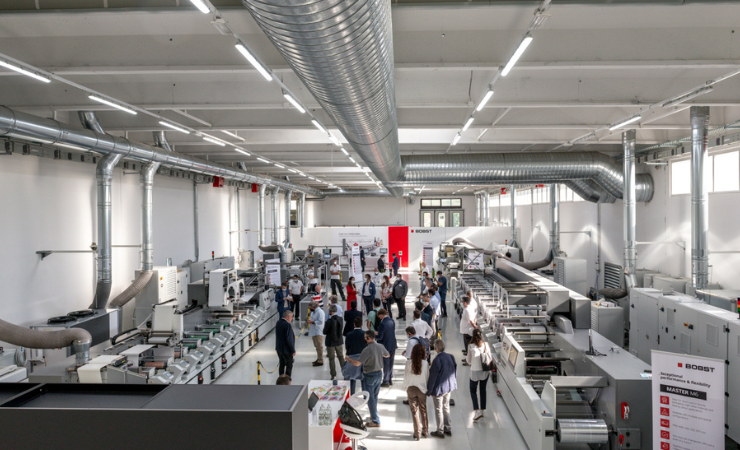 The Bobst Firenze site hosts an experience centre for its oneLABEL portfolio, where cutting-edge flexo presses are presented alongside the new Digital Master 340 and 510 presses
Having formally entered the digital label and package printing market in 2019 with the first presentation and sales of Master DM5, Bobst has quickly gained a foothold in the hybrid market and is now setting its sights on the next generation of digital-enabled production.
This has been tangibly realised with the launch of Digital Master 340/510, two new fully modular platforms that can be scaled according to a converter's needs, and integrated with any of the systems from Bobst's established flexo platform. From standalone digital systems, they can be specified fully loaded to produce the most complex labels through the combination of digital and analogue processes.
The company's heritage in digital of course precedes Master DM5, with Mouvent's Cluster technology unveiled in summer 2017. The company also prefers the moniker 'all-in-one, all inline', when referring to its combination of inkjet digital, and flexo printing and converting technologies. Bobst's chief technology officer, Benji Ruhm, makes clear that this is not a case of marketing masquerading as technological innovation, rather illustrative of Bobst's longstanding heritage in packaging, and how this can and is being cross-leveraged for the benefit of the industry as a whole.
'We are taking 'hybrid' to the next level. Productivity, uptime and optimisation are key to what we are now bringing to market. Printers want to make the most of their investment, so it's all about maximising ROI.
'An 'all-in-one, all inline' platform means you tell us what you need to arrive at the end of the press, and we will make it happen. Being able to cross-leverage technologies borne out of other parts of the packaging industry and implement them into the digital printing process then sets us apart even further from other suppliers.'
One of these is Accucheck, an inline calibration and inspection system that has been honed in the folding carton industry. As part of a Digital Master set-up, a high-resolution camera is used to check at full speed 100% of the labels, their embellishment and variable data when used.
Accucheck also calibrates the printheads. It is currently able to asses angle and stitch to calibrate and align the presses, check inter-colour registration, and detect and compensate for nozzle outs. In the not-too-distant future, full feedback and missing nozzle compensation routines will allow for closedloop automatic set-up, operation and maintenance of a press.
This is part of an overall strategy by Bobst to connect its machines to improve the efficiency and workflow of packaging production, as it looks to digitise supply chains.
Mr Ruhm's colleague Andrea Pasquinelli, product marketing manager at Bobst, adds, 'For us it is about what comes off the end of the machine, in terms of the finished roll. Take embellishment as an example. Digital embellishment technologies are fast evolving, and will soon be able to replicate and replace cold foil or screen processes.
This means the next generation of hybrid presses will need to look and work differently, with greater levels of automaton needed to deliver the productivity sought by converters. A single, integrated workflow that runs from start to finish enables seamless production.'
Mr Ruhm affirms, 'We are not solely focused on the development of the digital engine, rather the OEE. By being able to take a top-down holistic view of the entire production process, and implement technologies and learnings developed over many years, we can make sure the next generation of hybrid presses move the industry forward.'
This will inevitably allow Bobst to bring forth digital systems for a broader range of applications, such as flexible packaging. The Mouvent Cluster will be key to this, as a scalable system that can be used to create platforms as wide as needed.
'The Cluster is a building block upon which we can create future digital presses,' identifies Mr Ruhm. 'In a short time, we have already seen how this technology can be scaled up. With the technology improving all the time, we are able to have development projects ongoing.
'Think of it like Lego, and having the right blocks to construct whatever the industry wishes for. We have dreams and plans, and with the success we have had already in digital, we are very confident that it is only a matter of time.'