Standout shelf appeal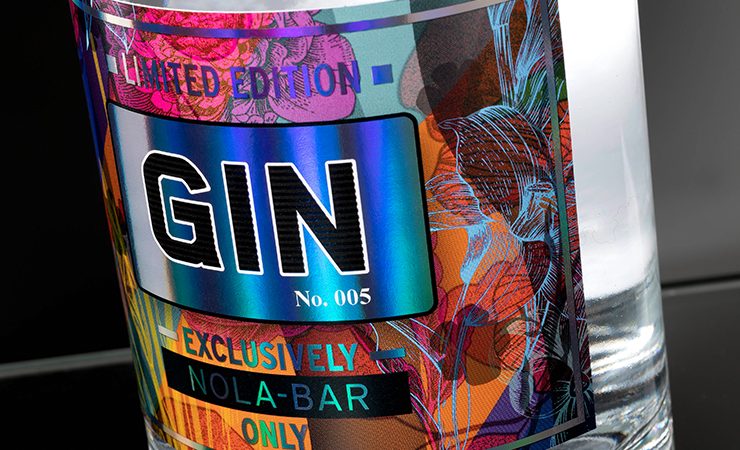 Kurz is working to take its Digital Metal (DM) technology into multiple end uses and applications
When you walk the aisles of any retailer, your eyes can't help but be drawn to the high-end labels and packaging that fill almost all the shelves.
From store cupboard staples to pet food, via the drinks cabinet and home decoration (see p38 and what Springfield Solutions has planned for DigiJet/Digican), there's hardly any product category that has not been exposed to the potential and benefits of finishing.
As noted by Lewis Evans, product manager at Vivid Laminating Technologies, 'To engage with the person receiving and grabbing their attention amongst the noise of today's world, the product needs to be interesting. The product needs to be eye-catching with different effects or unusual designs or print. The thing that grabs people more than anything though is uniqueness and personal to them. It's something that feels nice to hold but is also targeted to them as an individual and gives them a feeling of importance.'
This will increasingly rely on a strong environmental narrative, as labels and packaging become the mouthpiece for brands and their environmental endeavours, alongside combating their role in the level of plastic and packaging waste. Jordi Giralt, sales manager for digital embellishment solutions at Kurz, says his company is heavily focused on sustainability, whilst simultaneously offering different decoration options – from hot and cold foiling, to digital foiling and embellishment to emulate conventional processes.
'We are substituting non-efficient conventional processes with much more efficient digital processes, including recyclability, shorter make readies and lower waste. All of these being understood from a future perspective.'
Cutting-edge tech
There are a number of systems available to allow labels and packaging converters to deliver on the needs and requirements of their customers.
As already noted, Kurz is stepping up its efforts to become a one-stop-shop supplier for finishing and embellishment, from the supply of the consumables to installing hardware for both sheet- and web-fed applications (read p46 for more). The company's Digital Metal (DM) systems range from the narrow, web-fed DM-Jetliner, to DM-Maxliner 3D that can process up to 10,000 B1 sheets an hour. These each offer digital metallisation and UV spot coating, enabling a wide range of finishes to be created, from delicate metallised lettering to spot highlights with a high-gloss surface and large area images with a texture.
As Mr Giralt proclaims, 'We can proudly say we are the only company offering digital embellishment that can be used as a pure substitution of hot stamping and cold foil in both sheet-fed and roll-to-roll applications.
We are working on adapting our offering, and this is a process already successfully initiated, to help the printers and the brands on this transition to a much more efficient and green world. We keep our traditional solutions besides bringing new alternatives to the markets.'
The latest generation of Scodix's Ultra digital enhancement presses  includes six machines, each targeted to a specific market segment.
This includes the Scodix Ultra 5000 and 6000, which are both able to handle the thicker substrates required for packaging applications – up to 2mm – and incorporate industrial pallet feeders and stackers. Whilst the Ultra 6000 offers a larger format, it comes with a simplified range of enhancements. All six machines are compatible with a variety of Scodix's applications, such as Crystals, Braille, Cast&Cure, and VDE. The two Ultra packaging presses are configured out-of-the-box to work with Scodix's Sense, Foil, Metallic, Glitter and Spot applications for a range of finishes and enhancements to printed output.
Scodix CEO Eli Grinberg says, 'By incorporating digital enhancement, print providers can expand their service offerings with attention-grabbing applications, improving customer retention rates in these notoriously fickle times, whilst boosting margins and ultimately profitability.'
A B Graphic's (ABG's) DigiJet has been introduced in pursuit of similar goals.
Offered as a module for its Digicon Series 3 line, DigiJet allows online or offline fully digital embellishment with multiple processes in one pass, including spot varnishing, digital foiling and tactile screen on any size of print run. Available in single bar or dual bar configurations, DigiJet technology allows the quantity of varnish to be easily adjusted to a height of 225 microns, thereby varying the required finish. Jobs can be automatically changed on the fly and the DigiJet module can be integrated with workflow and MIS options as preferred.
ABG global sales director Matt Burton highlights the ability to integrate with MIS as a particularly noteworthy development as this will be increasingly relevant for converters and their businesses in the future. This has already received a bump as a consequence of Covid-19, as such integration inherently increases efficiency and productivity, which has been critical for converters throughout 2020 and into 2021.
'Through our developments we are doing everything we can to help our customers save time and money through increased automation, as well as allowing them to add value,' he notes. 'When you look at the work going on to develop systems such as DigiJet and integrate Actega's EcoLeaf technology, our pathway forward is clear. We will continue developing our technology and pushing the market forward. MIS integration is going to be huge part of that.'
Jet D-Screen from Cartes offers similar functionality in that it simplifies the creation of multi-layer effects such as spot coating, complex tactile raised volumes, and Braille printing, as well as highly detailed foil and metallic doming transfers. This is achieved through the deposition of a thick layer of ink, which can be used to personalise and beautify labels in just one-step, with no tooling costs, immediate start-up and no material waste.
Vivid's Matrix OPP roll film laminators are designed to not only laminate, but also to apply digital foiling and special effects such as spot UV. Available as both single and double-sided thermal laminating systems, Matrix machines enable businesses to bring print finishing inhouse and reduce their spend on outsourcing. They can be used to create foil and spot UV effects on-demand as typically used on packaging with foils available in over 20 colours, from white, silver and gold, to red and blue and even a clear gloss film to create spot UV-style finishes.
Vivid notes that using just one system to laminate, foil and spot UV offers a greater return on investment, as multiple applications are possible. Mr Evans adds, 'Link a Veloblade (see p33 for more) with the Matrix, and you have a complete solution with thousands of embellishments and finishes to wow people, and personalised too. Then add bespoke cut on the Veloblade to completely finish the product.'
Next-gen tech
Mr Giralt says, 'Label production has experienced a rapid transformation following the new technologies in the industry, and some capabilities which were sci-fi only few years ago, today are a real possibility to be implemented by the brand owners. The purpose of any label has grown from pure identification and decoration oriented at the customer to adding smart capabilities to simplify logistics, sales processes and tracking, all of them much more oriented to the pure supply chain.'
So, says Smag managing director Stephane Rateau, 'Gutenberg will just remain in our memories. No matter what the process is. But as the label will become the medium of the Internet of Things (IoT), it will affect all people and industry.'
Quoting the 19th Century German poet Johann Wolfgang von Goethe, who said, 'He who does not move forward moves backward', Mr Rateau adds, 'Electronics and the Cloud are everywhere, so these are not predictions but certainties.'
He goes on, 'The essence of a label is to inform, to communicate, to sell, to trace, to convey the image of a product or a brand, to secure it.
Until today this has been achieved for the graphics and aesthetics on the label, printing techniques, finishing and added value. But already now electronics is taking part in the label via RAIN RFID technology, NFC and printed electronics. It is therefore capable of communicating with the Cloud, being a consumer both in pull and in push. The label is therefore intelligent and interactive. It becomes an essential element of the IoT. It also has real functions and can react in case of shock, change, location, pressure, as well as become a required passage before starting another action.'
The next generation of consumables, such as PureFX Soft Touch varnish from Pulse Roll Label Products, also look to take finishing further forward. This has been introduced as a UV tactile finish in response to market demands for coatings that add a premium touch and feel to a consumer package or label. Suitable for both conventional UV flexo and overprinting digital inks, PureFX Soft Touch has been formulated to offer printers a cost-effective, sustainable alternative to soft touch laminating film, and a more consistent and durable finish compared to water-based coatings. The tactile effect creates a luxury quality soft touch on labels and other printed packaging. It is also food packaging compliant and particularly well-suited for end-use markets including cosmetics, beauty, personal care, baby care and beverages.
As Ben Howell, technical sales manager (export) at Pulse Roll Label Products, explains, 'Different tactile effects can be achieved dependent on the press set-up and anilox. This makes it the ideal sensory solution for brand owners who want consumers to touch and connect with their products via its packaging.'
Infinite potential
Mr Howell goes on, 'We are expecting this new product to be extremely popular around the world, as we have witnessed a big increase in demand for tactile effects that can be achieved with a UV coating. For those seeking a high-quality UV finish to enhance and protect digitally printed labels and packaging, our new soft touch varnish provides a sustainable and cost-effective alternative to soft touch lamination films, and a more durable finish compared to water-based coatings.'
For Mr Evans, by using Vivid's Matrix and Veloblade machines, in combination or as standalone systems, 'you can create literally thousands of different ideas, designs and personalised eye-catching products.
'Products that are printed digitally that grab the customers' attention makes them feel important and essentially makes them keep the product for some time, maybe even years. This can be achieved with no set-up cost or die cost.'
For Smag, this goes beyond the aesthetics of labels and packaging, as Mr Rateau explains. 'Embellish, cut, differentiate; yes we have progressed and developed new process solutions that are wider, faster, more automated with technology. But Smag is also focused on RFID, NFC and printed electronics through its platforms such as IConnect and IContact. Many applications have already been realised in niche and industrial markets in the field of IoT.'
This article was first published in the September/October 2021 issue of Digital Labels & Packaging, which you can read online here; register here to receive future issues of the magazine, for free