Sean Smyth on…VariJET 106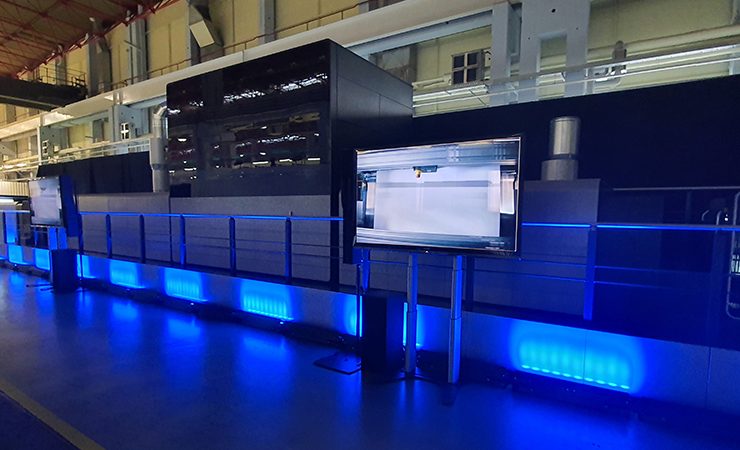 At 28m long, 4.1m high and 5.9m wide, and weighing in at 21 tonnes, VariJET 106 is a substantial piece of kit
I like printing technology. It's not an addiction, more a way of life, so the past 20 months or so have been tough without seeing, hearing, smelling and touching equipment.
But I got my fix this week, thanks to the Koenig & Bauer Durst partnership publicly showing the first fruits of their collaboration in the B1 seven-colour VariJET 106 press, firmly aimed at the sweet spot of carton printing.
There have been many releases and taster pictures but when you come face-to-face with the machine it is an impressive sight. At 28m long, 4.1m high and 5.9m wide, and weighing in at 21 tonnes, it is a substantial piece of kit. The configuration they showed off was non-stop feeder into a priming unit with drier, a conditioning unit, seven-colour inkjet print engine, high-resolution camera, drier, another conditioning unit into a coater and further drier, and then into the continuous delivery stacker. The inks are all water-based and qualified for food packaging, and it is a water-based coater. The price of this configuration is under €4 million.
The demonstration showed five jobs run in 10 minutes, admittedly on the same board but there was a spot varnish changeover to accommodate the different glue flap patterns. They then brought the sheets out to our socially distanced table and they were flat, dry and pretty good with a range of spot colours, from reflex blue to bright greens, oranges and even warm reds. And I couldn't find any lines or inkjet artefacts despite hunting them with my trusty loupe.
One of the advantages of Koenig & Bauer's portfolio is its machinery is used in many sectors and they can transfer technology from their specialities. It is very strong in security printing where quality assurance is paramount, and very high-resolution measurement equipment from currency presses is used to check every nozzle's performance in real time and correct defects to allow the machine to keep printing. Modern sheet-fed offset presses feature sheet monitoring but not at sufficient resolution to control 1200dpi inkjet output.
Koenig & Bauer and Durst are synonymous with good print quality and this machine delivers that. There were two minders for the demo, although Koenig & Bauer Durst managing director Robert Stabler said the crew would really be one and a half (or three people for two presses).
Apart from the inkjet unit, the technology is the same as used in the proven Rapida offset litho presses. The sheets are gripped until they pass into the inkjet unit that has a flat vacuum belt that holds the sheets flat under the print unit. There are seven colours, using the Fujifilm Dimatix Samba printheads that are used in many high quality inkjet machines. There is a space for another printbar, so the team has a roadmap to upgrade the capabilities and although they would not confirm, it is likely that future versions will include a white, or perhaps a digital coating unit. They can add additional print units – offset or flexo – if required to print special inks and coatings if needed but the initial launch model is impressive as it is. This is designed for heavy production, 24/7 if required which is why the press is engineered in the way it is.
Ralf Sammeck, head of digital at Koenig & Bauer, reiterated the company's position on digital printing, and said, 'We have strong financials and we strongly believe in digital printing. We are proud of this development, and we are 100% committed to the success of this launch.'
Reassuring words for any potential buyers, as Koenig & Bauer knows what its customer base needs, reliability and quality over time.
As the drivers for packaging change, so the tools to produce cartons will change, to provide greater agility and more sustainable production methods. The Koenig & Bauer Durst team have developed a machine well-suited to meet these challenges, helping carton manufacturers develop their levels of service to customers and deliver the benefits of digital printing to allow innovation and new added value services.
The machine in the picture will be running a variety of boards continuously until the end of the year when it will be delivered to an unnamed European converter for a beta test period before being released as a mainstream product.
So, thank you Koenig & Bauer Durst for making my return to technology well worth the wait.