No cutting corners in corrugated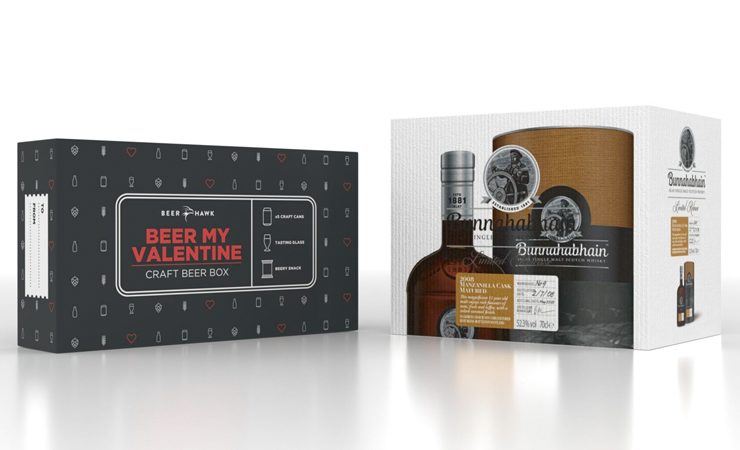 Beer and whisky box samples printed on the Domino X630i
The market for digitally printed corrugated packaging is on the up, with machine vendors upping their game accordingly. David Pittman reports
While the number of presses in the field remains modest, the value potential for digitally printed corrugated is a key reason why many are looking at the market, particularly when using inkjet.
Statistics from Smithers, presented by industry analyst and Whitmar technical editor Sean Smyth as the lead-in to a recent webinar hosted by Domino, reveal that inkjet already accounts for a 'significant' value of the printed corrugated market, and will continue to grow sharply.
This is highlighted by the volume of corrugated production hitting 255 billion sqm in 2019, although much went unprinted as plain, protective output. Of the area which was printed, just 0.76 percent was done so using inkjet. When looking at the tonnage, 135 million tonnes of corrugated board was produced last year, although again only around a third of one percent of that weight was printed using inkjet. However, when the value of the printed corrugated market in 2019 – $133 billion – is analysed, inkjet's share jumps to eight percent.
'Inkjet printing represents a small amount of the overall area produced and a small amount of the tonnage, but a significant proportion of the value,' clarifies Mr Smyth. 'That's why so many companies are interested in inkjet technology.'
Next steps
Sebastien Stabel, market segment manager carton packaging, Flint Group Digital Solutions, says, 'While companies in graphic arts, labels and folding cartons have already embraced a certain level of digital transformation, the corrugated industry understands this is the next logical step for them.'
Xeikon's new Idera platform is a single-pass direct-to-corrugated press, which will use food-safe, pigment-based aqueous inkjet inks, and have the ability to handle a 1.6 x 2.8m board size and print at up to 150 linear m/min. It can print on coated and uncoated materials, with the high-quality post-print flexo market identified as the area where it can bring the biggest value in corrugated box decoration.
Domino has launched X630i as a highly automated inkjet press for digital corrugated printing. It prints at 75m/min using an aqueous CMYK inkset, with a 600 x 600dpi native resolution.
The use of aqueous inks follows the overall trend in package printing to pull back from the use of UV-based products in favour of water-based, notes Matthew Condon, business development manager at Domino. The AQ95 aqueous inkset also includes i-Tech PolyM technology with unique polymeric particles, giving the ability to reliably print on coated and uncoated corrugated stock, and those in between, but without the need of a primer or separate bonding agent, while at the same time still providing food packaging compliance.
Mr Cordon says, 'If you look at where we were with inkjet digital label printing 10 years ago, it's very similar to where we are with corrugated now. Back then, converters were questioning why they needed to invest in digital, and perhaps didn't fully understand what brands and marketers were doing, and how they were changing in terms of SKUs and run lengths. Now it is part of the label industry's DNA, and many are buying second and third presses.'
For corrugated, this has been expedited by the coronavirus crisis, which has changed how corrugated boxes are seen and used. No longer are they simply plain, brown boxes used to transport products. They have rapidly become important marketing collateral for FMCGs and brands, and a first point of interaction with consumers, who are now buying more online and having purchases sent directly to their homes. This trend spiked during lockdowns and stay-at-home orders the world over, and while it has abated as movement restrictions have eased, many shoppers are now expected to see online as a more convenient and safer way to shop.
Citing a report by Moody's, EFI says packaging has been one of the more resilient sectors during the COVID-19 pandemic, with food, beverages and pharmaceuticals better equipped to ride out the crisis than the likes of the beauty, hospitality and tourism industries, which have experienced a sharp drop in demand.
'The increase in e-commerce is significant for the corrugated and packaging world,' notes EFI, with more smaller brands looking to increase their e-commerce and/or subscription box offerings.
Richard Cotterill, head of digital RSR sales at BHS Corrugated, affirms this trend, and says, 'In future, the shorter lead times that can be achieved with digital printing will allow brands more flexibility when it comes to planning campaigns and considering the disruption an event such as the pandemic caused.'
With this quick change has come challenges, as noted by Mr Condon. 'In the world of COVID, business is different, and what brands are doing and how consumers are buying has changed. Box makers are asking, 'how are we going to handle this?'. This has generated a lot of interest as box makers need to change their businesses accordingly, and are looking at it now.'
As well as responding to a global pandemic, there have been prevailing trends that are driving interest in digital corrugated printing, such as customisation and personalisation as noted by EFI. Mr Cotterill says, 'Versioning and customisation allow brand owners to create more targeted packaging with more complex graphics to increase brand appeal. Seasonal and event campaigns can be introduced to product packaging without increasing lead times and inventory reduction can be achieved through just-in-time production.'
BHS Corrugated has been working with Screen since 2016 to develop a water-based inkjet corrugated technology. It will be sold under the name RSR, an abbreviation for 'roll to printed sheet in real time'. The system has been designed to print at variable speeds in line with a corrugator at up to 300m/min, at sellable quality on coated and uncoated papers at 2.8m-wide.
EFI's work to develop Nozomi C18000, its direct-to-board, single-pass offer, sees it adding more features and options suitable for the packaging industry, such as a higher printing resolution, better image quality, increased colour gamut and a higher print speed. Three modes are now available to optimise print quality and ink consumption – Photo, POP and Eco. The high quality possible, with Nozomi C18000 running in six-colour mode, can reach 97% of Pantone colours.
Koenig & Bauer Durst has also upgraded its Delta SPC 130 single-pass corrugated press, with a digital priming unit for uncoated media broadening the application potential, as well as allowing an extend range of media to be used for printing. Special colours have been introduced for the fifth and sixth colour stations for brand colour requirements.
HP has upgraded the printheads of its PageWide C500, extending the digital corrugated press' performance with ink savings per board to deliver improved economics as well as enhanced print quality. The new colour printheads enable higher performance resulting from an improved nozzle architecture. In addition, the new design delivers ink savings and extends the lifespan of consumables.
Mr Cotterill notes, 'Printhead technology continues to improve so speed and quality levels are eventually able to meet the demands of the corrugated industry. Ink development delivers consistent high-speed jetting as well as satisfying the legislative requirements that allow growth into high volume areas such as food packaging.'
Another enabler identified by Mr Cotterill for the growing uptake of digital package printing has been the speed of data transfer. 'There have been significant breakthroughs in recent years that will make the printing of variable data, multiple images across a web and instant job changes at top speed the standard for digital printing.'
Post-pandemic 
Looking at the figures, it is evident to see that digital corrugated has been on the rise for a number of years. While 2020 has been a challenging year for all, corrugated is and has been one of the shining lights. 
Mr Condon sees that even before COVID-19, there were changes in consumer shopping habits. 'Now more are au fait with how online works, brands are starting to market differently. Corrugated box makers need to respond.'
For Mr Stabel, 'COVID-19 will drive incremental demand for paperbased packaging due to retailers' needs to meet consumer demand, and a continued rise of e-commerce.'
'Short(er) run digital production will benefit from this since the industry is forced to review supply chains, going from centralised to a more local supply or at least alternative back up plans, and by a vulnerability check of their sector portfolio, resulting in exploring new business models and applications.'
Says Mr Cotterill, 'As brand owners increase their awareness of the benefits of digital print, the pull they create will increase the rate of adoption.'
He notes that, to date, most of the growth has been in low/middle volume post-print applications, and 'high volume digital pre-print presses have not yet reached the order volumes from the brand owners to reach the utilisation that justifies such a big investment for our customers.'
'However,' he opines, 'with economies of scale reducing costs, more reliable presses and the market pull from the brand owners, this tipping point will come.'