OPINION: Making the unmissable, unmissable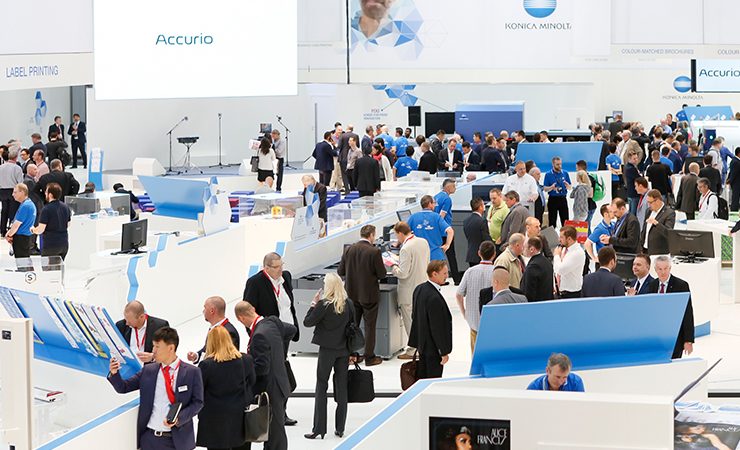 The Konica Minolta stand at drupa 2016
'Making the unmissable, unmissable.' That was the tagline used by broadcaster The BBC a few years ago to promote its iPlayer catch-up service. The idea being that its content is so good that you couldn't afford to miss it, and iPlayer was the way not to.
While iPlayer still provides this service today, it has been joined and challenged by a whole host of on-demand, catch-up and paid-for streaming services, from Netflix and Hulu, to HBO Go/Now/Max, Disney+ and BritBox, a digital video subscription service created by The BBC and ITV.
This situation can easily be likened to that of exhibitions and international trade shows – taking on the role of iPlayer – , where they once provided an annual, biennial or even quadrennial focal point for the print industry – The BBC in this allegory.
Since 1951, for example, drupa has been known for innovation and technology dawns for the print industry. While supplier-led, in-house exhibitions have been talked about for a while as a possible alternative and threat, their scale and scope have always limited their potential. However, in the days of COVID-19, we have witnessed a step change in the way these events are being used, and hosted virtually, with suppliers investing heavily into such alternative means of reaching customers directly, coupled with a surge in virtual summit-type events.
The innate desire and built-up appetite in the industry for knowledge and NPD, especially when it comes to digital package printing means single-supplier and segment focused virtual presentations have provided a release in 2020. Mix in environmental and global health concerns and you have a potent solution.
As a result, drupa and its organiser Messe Dusseldorf find themselves in the midst of an existential crisis. With many new technologies and concept developments introduced without the pomp and ceremony, and expense, that a drupa-type event entails, some exhibitors have been left asking how they will fill their time and space at drupa 2021. For some, it will still be the first time they are able to physically present their developments. For others, the delay to April 2021 has allowed them extra time to refine their technologies. For others, drupa 2021 has become an unnecessary expense.
While understood the times they are a changin', and have changed rapidly in the shadow of COVID-19, the digital package printing industry is nonetheless on the threshold of some major technological breakthroughs so whichever side of the fence you fall on, make sure you don't get caught up in all the hype and marketing, and end up missing the unmissable.
With that, make sure you're registered to receive all that Digital Labels & Packaging has to offer, be that the industry-leading magazine, must-read newsletters and email communications, and trend-setting events.
This editorial comment features in the July/August issue of Digital Labels & Packaging; register here to receive it