Lessons from Labelexpo and beyond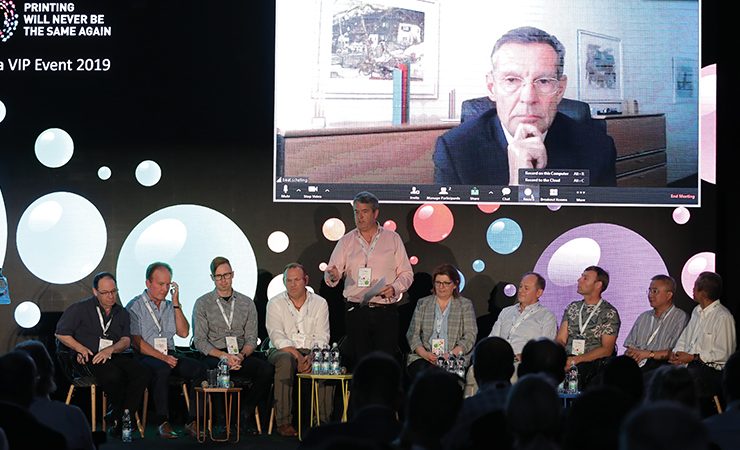 Sean Smyth leading a panel of Landa Nanograpahic printing early adopters
Warning – in this age of fake news, this article contains an opinion. 21 March, 2031 will be a Friday. Make a note of that date, as it is the day when digitally printed packaging will overtake its analogue alternatives.
Inkjet and electrophotography – and probably some new digital imaging technologies – will surpass the value of all litho, flexo and gravure printed boxes, bottles, cans, pouches, labels and other printed packaging.
When?
In October I was invited to an event in Milan, talking to an audience of brand owners about digital printing. Someone posed the question: 'When do you think most packaging will be digitally printed?' There was a panel discussion and the other panel members were saying this would not happen in their lifetime and mentioning about new machines and trends, so I decided to answer the question with a date. We all know that the majority of package printing will go digital at some point. It's just a matter of time and I don't think that time is too far away.
I wasn't just selecting a date at random, it's a result of many years spent analysing market data, looking at the trends shaping the world and how technology is both developing and being adopted by manufacturers.
 Who?
Digital print technology providers are working to deliver reliable, highly productive machines providing high quality with food-safe inks. In September I visited Landa and spoke to early adopters of nanographic printing, all of whom gave a resounding positive response to the technology working. The culture of the Landa organisation has changed, from a future promise to reality, as it scales up to deliver new options to the market. In press assembly hall number two, five presses were being tested, including two W10 presses for flexible packaging.
Komori has delivered the first of its nanographic printing machines to a Japanese customer and is con dent of a wider rollout. There is still work to be done, but it is now at the fine-tuning stage. With two years operating experience, the Landa technology is becoming a practical industrial tool. Landa now has the capability to deliver 'dozens' of presses a year, and is about to break ground on a new assembly hall capable of producing hundreds of machines each year.
Landa is confident of selling them into mainstream printing. I think they will partner with other companies to produce manufacturing systems, delivering cut and creased cartons, and formed pouches and rolls of flexibles ready for filling and use.
This approach is being followed by MGI with the AlphaJet, a B1 inkjet sheet-fed press with the MGI trademark embellishment system that will be joined by a new laser cutting and creasing system. The concept is an integrated 'Print Factory', designed to deliver finished carton blanks in a single pass with embellishment and even printed electronic components. This uses Memjet DuraLink pigmented water-based inkjet technology, and the message from Memjet is encouraging when it showed off a pipeline of partners.
What?
Many of those were at Labelexpo Europe 2019, which this year was a reality, rather than a future technology show. HP Indigo took the largest booth in Brussels with a broad range of partners. The trend toward embellishment has been important but the message from Labelexpo this year was label converters looking to add value and move into new market sectors, particularly flexible packaging. A good proportion of the HP area was dedicated to a pouch factory with the 20000 digital press. Xeikon also was pushing pouches, while Bill Hine, managing director at Hine Labels, was on the Screen stand showing off the clever ideas he has developed to print flexibles on the low migration Screen inkjet press and guarantee no set-off migration potential. The method allows food-safe packaging with surface printing that saves laminate so allowing mono-material constructions, meaning pouches and packs will be easier to recycle. As sustainability is ever more a consideration this benefit of digital production will further drive brands to use the technology.
Italian provider Rigoli showed the MVZ1000 machine, capable of printing a 1.067m width web in four colours at speeds up to 18.3m/min. It has also partnered with Sihl to provide a range of materials suitable for bag manufacture, and showed an inline print and form-fill-seal machine with the total cost under half a million Euros. The first sale in the UK has been made to a coffee producer based in Stone in Staffordshire with the installation planned for late this year. The customer wants to reduce the design and approval time for new packaging for coffee pods, and to provide greater variety and speed time to market for customers.
The technology employed here is Memjet VersaPass, using water-based dye inks. Rigoli has developed a cleaning system that does not need the web to be cut, so boosting productivity. Pigmented ink systems that Memjet has developed for DuraFlex will further boost print speed and allow more robust and durable pigmented inks. Afinia also showed a narrower version for pouches at the show, targeting small brands and packer/fillers to add printing to their services.
Several manufacturers have been focusing on this print-for-use sector (as opposed to the print-for-profit high end sector). There was a lot of activity in the low end. Print-for-use rather than print-for-profit is booming, with table-top vendors supplying to in-house users requiring small quantities. The potential shift of printing from label and packaging converters to manufacturers and packer/fillers is a significant shift and will be enabled by simplification of label and packaging manufacturing.
Why?
Beyond printing technology there are other drivers toward digital packaging. The rise of the upstart brands will continue. One reaction of the big brands is to get small and local, as they try to compete. The net result is increased fragmentation of products, with greater variety and an ever-reducing lifecycle for many products. For packaging, these effects drive toward digital printing as buyers push to eliminate minimum order quantities and one-off costs for plates and dies.
Workflow, with web-to-print is starting to grow in labels and packaging. It is being used to make it quicker and easier for inexperienced buyers to specify and order labels and packaging. More providers will offer these services using a limited range of substrates, sizes and pro les; inviting customers to upload their artwork into templates for immediate approval. Then jobs are ganged together, meaning there is only one set-up so making short runs very efficient, with no initial plate or die costs making it attractive for small brands.
As digital flexible packaging grows even larger, customers are starting to change their buying patterns with smaller quantities ordered more frequently. This helps with cashflow, while boosting flexibility as any artwork changes can be handled without incurring new plate costs.
At the Milan event we heard from Aldo Perretti, CEO at Uteco, who announced further sales into China and the US of the 300m/min Sapphire Evo flexible packaging press using Kodak Stream inkjet technology. Next year, the next generation of machines will be shown publicly, using the even higher quality Ultrastream technology on wider web machines at drupa. They are not alone. I am privy to some of the plans from major equipment manufacturers and their developments are continuing apace, some extremely exciting. Inkjet ink prices are coming down, while quality and reliability are now proven.
Where?
Of course, the rate of change will speed up next year as drupa approaches. The digital manufacturing lines will become a reality, meaning printers and converters will not just compare solely print methods, rather they will explore alternative ways of producing labels and packaging and digital will allow significant cost savings against separate analogue printing and finishing methods. Integrated systems will allow major simplification of production methods, meaning the location of packaging production will change from traditional converters. There will be new entrants buying this technology to move into packaging, including commercial print companies who have experience in digital workflows. There will also be manufacturers and packer/fillers who are already exploring the potential.
Over the next few years these will be joined by retailers (or rather retail distribution operations), as well as e-commerce suppliers including subscription pack and warehouses – possibly in partnership with existing label and packaging suppliers in a hole-in-the-wall operation.
So, in a little less than 11.5 years digital will overtake analogue packaging. This will be in value terms, and it will include the growing hybrid analogue/inkjet sector. You heard it here, first.
This article was first published in the November/December issue of Digital Labels & Packaging, along with a host of other predictions for the year ahead; read the issue in full online here