Breaking down production bottlenecks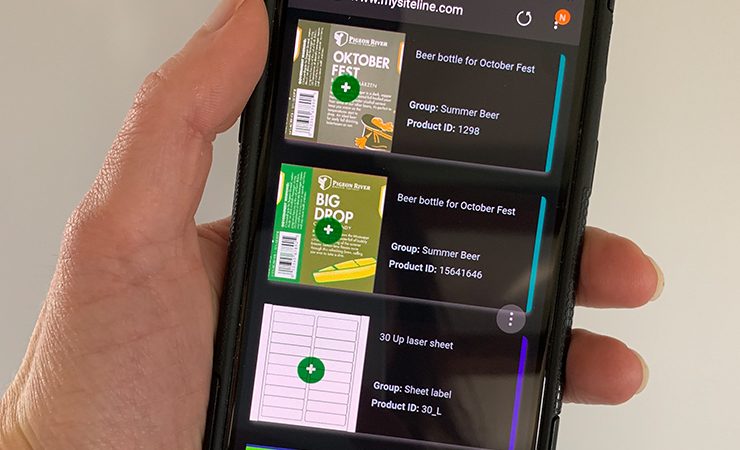 Siteline is a development for online ordering
With digital printing, the specifics of the process mean the correct supporting infrastructure is needed to get the most out of your production.
From the materials you put in to the auxiliary equipment around the press itself, these all help in getting the most out of an investment. A workflow set-up to handle the demands of digitally printed labels and packaging is a must to achieve this.
Lynn Kolevsohn, marketing director at Scodix, comments, 'For years, printing meant producing many copies of the same piece of information and delivering it to many people. That was the most economical way of sharing information. Digital printing changed all this by allowing different text to be shared on a one-to-one basis. This revolution changed the printing market, and soon the print providers started to offer workflow tools to automate the process.'
She goes on to say, 'Most of the investment was on the printing side, while very little was available on the full workflow and finishing side. In parallel, web-to-print (W2P) solutions evolved and offered a new way of ordering and fulfilling orders. This made the print-side extremely efficient.'
Considerations
The first advice widely given is for incoming orders to be funnelled through an online system.
Peter Brugman, senior application specialist at Screen, opines, 'In digital print, the number of jobs and copies is higher.' Marcus Smith, a customer success manager at Tharstern, affirms, 'Advances in technology, specifically web-to-print software, means that it's quicker and easier for customers to reorder, meaning more frequent jobs which have a shorter run length.'
Label Traxx business development manager Chris Spooner continues, 'Pre-press in a digital workflow will require a high number of SKUs on every order, with differing quantities.
Customers can change artwork frequently with constantly changing ingredients, legislation and variable data.'
For the most efficient production, jobs should be created from the data received electronically via an online order, checked for suitability for the digital print process specified, be approved electronically through the workflow and scheduled for efficient batch printing.
Germany-based ERP/MIS specialist Theurer notes streamlined workflows as important in reducing processing time in data handling, pre-press and on-press, and grouping orders to facilitate onwards processing in the finishing department.
Mr Spooner says, 'For every order we need a quote, works order, label specification, purchase orders, we need to schedule it and track its status. There's potentially a large paper trail lying around on desks, production boards and in printed reels.
'Suddenly, we have a high volume of smaller value orders. And you need to have a high volume to succeed. Percentage profit may be high, but 25% on £4,000 is very different to 25% on £400,000.
'With a high number of SKUs, all of the specs need to be built and placing orders can take substantially longer than the time to print.
Administration per SKU can be around 15 minutes to enter, handle in pre-press, generate job bags, delivery notes and then the invoice. All of these non-value-added tasks need to be completed efficiently with zero mistakes, without having to recruit new members of staff if possible.'
Substrate standardisation should follow, notes Cerm. Offering one paper width minimises costly changeovers, the Belgium-based company says, while stocks can be reduced by standardising the types of substrate offered.
Cerm further notes that digital printing demands proper colour management, with other colour elements needing to be considered compared to flexo. Digital also demands less of a focus on specific individual jobs and admin/service costs, as are common in longer run conventionally printed jobs.
Geert Van Damme, managing director at Cerm, notes, 'Service is included in the price of the label where the value of one order allows this. Digital needs quick turnarounds, and not too many steps to avoid all mistakes possible. Digital should be more about 'we print what you provide as artwork'.
With an average job value of £250, you outrun the fixed admin cost of a flexo job before you start production.
'Digital print is about batches and many jobs on the same roll. It's about the profitability of your company, not about one job.'
And while workflow is fundamentally seen as a pre-press concern, the growth in connected, automated converting technology makes it evermore important to be able to extract the data from your systems and feed it into the post-press environment.
Mr Spooner explains, 'The aim of streamlining finishing is to speed up job changeover and increase throughput through a digital finishing department. Integration enables the Digilase to pre-process the job in advance so that when a barcode printed on the web is scanned, the digital finisher knows which job it is running, is ready to cut the correct die line and the slitting knives are positioned automatically.'
'You cannot afford eight minutes of knife set-up per job on your Digicon,' adds Mr Van Damme. 'This should be automated.'
Theurer adds that there might even be the need for investment in additional finishing hardware to cope with the volume of jobs and changeovers.
Automatic invoicing should then follow.
Next-gen
Greater integration between MIS and pre-press software is being afforded in the latest workflow systems. Scheduling and batching tools are driving press utilisation, and greater automation and integration of the production process is allowing converters to maximise their ROI.
Screen's Equios serves as an overall platform for Screen products, enabling the control of a wide range of devices from a single user interface. It integrates knowhow developed for pre-press technology with various functions that enable fully automated workflow and high-speed variable printing. Equios includes the capability to interface with systems from other vendors or a customer's proprietary MIS system. This is achieved through a JDF interface, based on CIP4 JDF specifications, or an SEI interface. This interface is developed for systems that are not JDF-based and uses a simple text file.
Label Traxx's offer allows integration with Esko Automation Engine, Hybrid's Cloudflow, and is now linked to HP PrintOS Jobs API. Siteline is a development for online ordering, while Business Metrics allows monitoring of real-time data.
Cerm's 'Live Monitor' offers the same functionality, as does Theurer's mobile dashboards, showing key performance indicators live from the ERP data.
EFI has been continuously working on its Packaging suite for a number of years to develop the theme of a digital 'ecosystem' through its Productivity Software brand and extended connectivity to Fiery and industrial inkjet applications. Radius has been the core MIS/ERP platform at the centre of the Productivity Software suite and is complimented by integrated products that give focused options in specific areas that are identified as typical cost drivers and pain points for packaging converters – quoting, estimating, shop floor data collection and machine scheduling, etc.
Mr Brugman identifies more automation as being needed in digital printing workflows.
This includes planning software, to organise the amount of jobs and create consistent job names and workflow information. He also identifies systems to process variable data printing as being of high importance, such as Screen's PDFormstudio.
This product can create and generate variable data PDF files. This software can create optimised PDF files for full colour variable or black only (numbers & barcodes) variable print jobs.
Ms Kolevsohn adds, 'Consumers continue to find and want more personalisation and special effects like foil, raised UV, glitter and other unique effects. Digital enhancement offers many benefits, for example allowing printers to offer personalisation in the finishing stage. This wasn't connected with the CMYK automatic workflow and DFE and there were few solutions that offered end-to-end digit personalised solution.
This made the overall process an inefficient and unable to supply the full product in an automated way, as requested by consumers.
'Advances in W2P, and the understanding of the world's largest W2P players, created the need to automate the workflow of enhancement.'
For this, Scodix has developed Scodix Studio W2P, a system that is tailored to work within current workflows. Enhancement design files are sent to Scodix Studio W2P, which automatically processes the data and directs it to a Scodix Ultra press. By off-loading and automating file preprocessing, the software service boosts the utilisation and productivity of the Scodix Ultra, and the entire workflow.
'It combines effectiveness and productivity and allows printers to incorporate personalised foil, spot UV, Scodix Sense, and an additional six applications as part of their offering,' notes Ms Kolevsohn.
Fit-for-purpose
Theurer identifies that many of the established workflows for conventional printing are not fit to satisfy the demands of digital printing and result in suboptimal workloads in different departments. This leads to an unsatisfactory return on investment.
Mr Nelson of EFI says, 'I think generally there is a lack of understanding across the industry about how best to optimise the technology in the most effective way. Companies are investing in digital machinery without giving proper attention to the system, processes and ways of working to allow their business to best utilise the investments made in print technology.
'Printing variable images at so many sheets per hour is great, but they still need to allobe costed, processed and invoiced at a similar rate to get the productivity gains so a lot of our product solutions are focused on helping simplify and automate some of these key processes. Taking an ecosystem approach to a business and reviewing processes, automating workflows and connecting the relevant pieces of the workflow together with 'open technology' is where we believe companies will benefit the most in the future and is generally the strategy we are adopting.'
Mr Smith adds, 'We often see print businesses experiencing bottlenecks because they try and mould their new software to fit their old ways of working. Print companies must remember why they have implemented a new system. Trying to get a new system to fit the old way of working will make things more complicated, waste time and ultimately create issues that can be avoided.'
Mr Van Damme concludes, 'Printers will need project leaders to change. They will need to learn to live with permanent evolution in systems. Darwin said, 'it's not the strongest of a species that survive, nor the most intelligent, but the ones most responsive to change.'
This article was published in the September/October edition of Digital Labels & Packaging, which you can read in full here