Labelexpo Americas – ready, steady…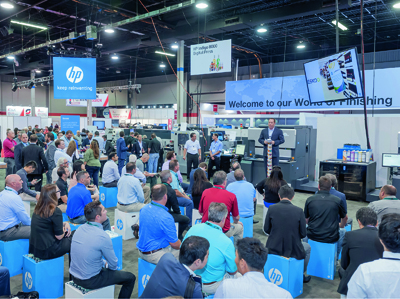 Labelexpo opens its doors on 25 September
As the 2018 edition of Labelexpo is about to open the doors, we look at what will be on show in Chicago.
The 16th edition of Labelexpo Americas returns to the Donald E Stephens Convention Center in Rosemont, on the outskirts of Chicago, where it will run over three days from 25 to 27 September, with more than 400 exhibitors spread over five halls. The show promises to 'Explore the future', so let's take a look at what awaits the visitors.
Featuring
The show will have a number of special interest areas and features for added value. First seen at the European edition in 2017, the Automation Arenawill make its American debut.Here a live demonstration of two automated press lines – one for conventionally printed shrink sleeves and the other showing digital label production – will be shown several times daily, covering the whole process from job creation through pre-press, to printing, finishing and invoicing.
A Xeikon CX3 toner press will be at the heart of the digital label printing line, where order creation will be managed in the Cerm MIS system, before pre-flighting, quality checks, colour management, the creation of rules for inspection, proofing and customer approval are progressed using Esko's software platform and Automation Engine. Printed on Avery Dennison white top-coated self-adhesive facestock and varnished with a Flint Group Digicoat gloss, the labels will be converted on a Xeikon laser die-cutting unit and a turret rewinder fitted with Matho waste removal.
Another key feature of the show will be the TLMI Ecovillage. Back for the first time since 2012, the latest products tackling waste and sustainability will be on display. Throughout the show, waste matrix will be collected from the live press demonstrations and brought to the Ecovillage where they will be baled into fuel pellets, which have a lower carbon footprint than fossil fuels. There will also be a daily seminar discussing myths surrounding sustainable packaging and the current issues of interest to converters.
Tasha Ventimiglia, Labelexpo Americas event director, commented, 'The theme for this edition of the show is 'Explore Your Future'. We will be seeking to empower the buyers attending the show through live demonstrations, the TLMI Ecovillage and expert-led master classes tackling the industry's most pressing issues.
'We are especially excited to be bringing the Automation Arena to Labelexpo Americas for the very first time. This is something we introduced at our Labelexpo Europe last year and it's a unique opportunity for attendees to see first-hand how the future of the industry will look, enabling them to keep one step ahead.'
A conference programme, a series of Label Academy master classes and a new 1:1 business meeting facility will be running alongside the show. 'Our conference schedule offers a strong mix of panels, technical presentations and practical case studies highlighting actual experiences and lessons learnt, through which the major issues currently facing the labels and package printing industry will be tackled,' said Ms Ventimiglia.
Exhibitors A-Z
AB Graphic (3223) will have a total of 13 machines running, at its own booth and with HP (3226), Domino (6523) and REA (6514). On the ABG booth, there will be a large beverage specification Digicon Series 3 showing the new flatbed screen-printing module and the Big Foot 50 tonne flatbed hot foil unit, as well as the 25 tonne flatbed hot foil unit with a new swivel head allowing foil to be fed both along and across the web.
Launching at the show will be the Jetfx digital embellishment module – an offline, digital system for creating varnish and foil effects. The module will feature two Jetfx inkjet bars and an over-lamination module for producing cold foil effect. 
Another first showing will be a next generation Digilase unit. The new laser cutting machine features a shorter web path with a reduction of 85% in lead in/out material. The minimum job length is also 50% shorter and the software has been optimised to enable faster file downloading to allow multiple jobs being processed at the same time.
A Digicon Lite will be shown with a sheeter and conveyor option, and the company's turret rewinders will be shown in several different configurations. Also on show will be six different fleyeVision 100% inspection cameras, including two mounted on slitter inspection rewinders. There will also be a booklet machine, last shown six years ago, capable of processing up to 36000 booklet labels per hour. 
Visitors to the HP stand will see an inline, fully automated Digicon Series 3 with Fast Track die-cutting and integrated AutoSet glueless turret rewinder with quick change mandrels. There will also be a new Digilase laser-cutting machine and a new inline entry-level 762mm wide finishing machine. The Domino booth will be showing a Digicon with camera inspection, while the REA booth will have an Omega SRI mounted with an inkjet printer on show.
Afinia Label (6455) is unveiling three new label printers and a full-rotary digital label press. The L501 is a dual-ink colour label printer for low- to mid-volume printing with interchangeable dye and pigment inks. It has been built around HP technology for wide variety of applications. With a smaller footprint and low cost, the L701 is a mid-volume printer designed for the production line and featuring Memjet technology. The L901 has been designed with on-the-fly printhead servicing for inline and high-volume continuous applications, with high speed and quality. It can be combined with finishing capabilities to form the DLP-2100 system for full-rotary, die-based inline production.
API Group (815) will be launching its new and improved TA-Plus cold foil, which offers fine detailing, the capability to cover large packaging surface areas and excellent over-printability. Visitors will also get the opportunity to see the 2018-19 API Global Trends report, which reveal the upcoming creative packaging themes for the year ahead inspiring packaging designers and brand owners. The team will be on hand to present the trends and demonstrate the shelf appeal that packaging innovations have helped major global brands to achieve over the last 12 months.
Armor USA (1441) will be introducing inkanto, the company's new range of thermal ribbons and associated services. This includes wax, wax/resin and resin ribbons, which come with a lifetime warranty, a QR code on the labels embedding a certificate of conformity and a cleaning wipe to help maintaining the printhead.
Avery Dennison (119) will be 'Pioneering Change' on its booth embodying the spirit of its founder, R Stanton 'Stan' Avery. Its Fasson portfolio for digital printing includes products for electrophotography, water-based and UV inkjet. The booth will have five themes based around 'change', each emphasising the industry evolution that impact converters, their customers and ultimately consumers. New products and features are highlighted, as well as the company's commitment to sustainability, and an introduction to the newly created North American iLab and Customer Experience centre. Labelling products, such as RFID technology and innovations aimed at productivity improvements for digital printing, will be shown.
AVT (5202) is showcasing digital press inspection and control, inspection for labels and packaging web applications, inline spectral colour measurements and automation systems. Helios S Turbo+ and Helios Turbo HD+ enable operators to run at maximum press and rewinder speeds. Helios D is an automatic, 100% print inspection system designed to support all workflow stages of digital printing. This includes identifying missing nozzles, ink dripping spots and colour changes in real time. AVT is also exhibiting Jet-IQ, a closed loop quality engine for inkjet presses, iCenter cloud-based web application for setting quality standards and automation of workflow across multiple sites, plus SpectraLab II inline spectral measurements platform, which includes inline to offline colour measurement correlation and connectivity to X-Rite's ColorCert. 
Baldwin Vision Systems (1339) (formerly QuadTech and PC Industries), is co-located with AMS Spectral UV, and will present its solutions for colour management and defect detection. The product highlights include Guardian PQV, a 100% inspection system, which has been designed for all printing applications and works with almost any substrate. The system verifies production proofs and samples against customer-approved master artwork, providing the pre-production tools needed to make sure products meet exacting customer requirements. 'Color Measurement with DeltaCam' provides inline spectral measurement, by utilising automated measurement on film, paper or board.
Bar Graphic Machinery (1425) will be exhibiting in association with its Americas distributor, J&J Converting Machinery. Two new models from the Elite range will be demonstrated, including a 410mm wide label inspection slitter rewinder. By keying in the rewind shaft size, the machine will automatically adjust the acceleration/deceleration times at speeds of up to 300m/min. Also on show will be BGM's latest 370mm wide, high speed die-cut and perforation label slitter rewinder, which incorporates the company's quick change, easy-load die-cutting station and runs at speeds of up to 250m/min. 
Bobst see Mouvent
BST North America (837) will introduce the TubeScan QLink workflow for helping printers reduce their costs and improve product quality. Marketed as a cost-effective workflow inspection system, the TubeScan scans for defects on the press, with the operator using the touchscreen on the QLink editor to classify the defects. This information is used to produce the net count of the inspected goods. With QLink the file size can be 90% smaller compared to usual rollmap files. Transfer of the inspection protocol within the customer's network is now faster and less data storage hardware is required. Finally, the operator of the rewinder can also perform the rollmap editing before converting and finishing.
Buskro (6473) is showcasing its Digital Label Press (DLP), a late-stage, fully integrated, servo-driven label press. The DLP comes equipped with a Quantum printhead, which is available in a 108mm print swath allowing for label printing at resolutions up to 600 x 1200dpi. The press is capable of printing on the majority of common label substrates and will accommodate labels up to 125mm wide, with a maximum roll diameter of 482mm on a standard 76mm core at linear speeds up to 60m/min.
Cartes (5603) will show the Gemini 360 Series coverting line in a GE362ZL R-L configuration, which allows customers to combine flexo varnishing and a laser-converting unit according to needs. The company will unveil its new laser version in a right-to-left configuration, with ILC invisible laser cutting of labels printed on dark substrates, without white edges. A GT360 series with high-speed screen-printing, hot stamping, embossing, semi-rotary die-cutting, flexo varnishing and laser converting will be adding embellishments to a digitally printed substrate.   
Cerm (6580) will introduce the Live Monitor tool, which allows narrow web printers to connect their machines and get live data streamed to configurable dashboards. This can be used for conventional presses, digital presses and finishing machines, and gives real-time insight into the user's production factory. Some of the streamed data include current machine status, current machine speed versus expected machine speed, totals produced (good/waste) and more. Live Monitor is accessible by browser, tablet and mobile device, and will be presented on several partner booths. The Cerm MIS will also be in focus in the Automation Arena.
Colordyne Technologies (6047) will debut the 2800 Series Mini Laser Pro label production system, which will print, laminate and laser cut full colour labels inline in custom shapes and sizes live at the show. The company will further have live-stream footage of the 3600 Series UV – Retrofit inkjet module running. This offers print speeds up to 75m/min and a fast ROI due to its speed and high-quality label production.
The company will also showcase its second-generation 3600 Series AQ inkjet engine, which uses Memjet's DuraLink printing technology and will be offered in three models: as a retrofit, a standalone solution and an engine integration kit. The company is currently looking for additional sub OEM partners and beta sites, with the first installations targeted for the second half of 2019. The second-generation 3600 Series AQ technology combines 10 times longer printhead life, durable pigmented ink, print quality up to 1600 x 1585dpi and a range of printhead modules.
Converting Equipment International (CEI) (817) will have the second generation of its digital hybrid printing and converting line, the BossJet powered by Domino, on stand. The company has redesigned the flexo and die stations to accept a wider variety of tooling, while also implementing dual-servo printhead control, one for tension and the other to maintain registration. A single integrated control panel combines the printing process with the converting elements, and new recipe management functions, including memory-management for substrates, reduce changeover and set-up times.
Daco Solutions (6045) will show the PLD350 die-cut to register rotary die-cutter, with a three-spindle semi-automatic turret rewinder, and the Daco DP350 UV inkjet digital label press. The PLD350 features quick makeready times to allow shorter runs to be produced quickly and more efficiently. Unlike traditional die-cutters, where the machine is stopped for a considerable time whilst operators cut and re-apply the web to the cores, the semi-automatic turret is only stopped for a few seconds whilst the turret indexes. New cores are applied to the rewind shaft whilst the machine is in production; the turret automatically cuts the web and applies the web to the new cores. The machine has job storage to allow quick and easy repeatable set ups. It is available in 10, 13.75 and 17-inch web widths and utilises airshaft from 19­-76mm, and will be exhibited with a back numbering system from HSA Systems.
The DP350 inkjet label press has been developed with Inkjet Solutions and consists of an IS600 CMYK colour unit incorporating Kyocera printheads and a GEW UV dryer. The press in its basic form has 700mm unwind and rewinds with the option to add inline slitting, die-cutting (full and semi-rotary), Meech web cleaning and Vetaphone corona treatment.
Dantex (335) will showcase its Pico range of UV digital presses. The PicoColour will be running on the booth for the duration of the event. The printing system, which accommodates widths of 210mm and runs at 25m/min, is suitable for both short and long runs. It comes with CMYK + white inks, chill roller and full variable data options. 
In addition, full details of the PicoJet will also be available. Developed for high quality and long run lengths, this is a seven-colour printing system, which can be configured to offer wide colour gamut printing. The press includes static control, web cleaning and corona treatment for wide choice substrate printing capability. Developed by the Dantex Advance Engineering Team, it operates at 350mm width and a speed of up to 75m/min, offering 600 x 600dpi resolution at 2.5pl dot size.

More than 400 suppliers will be exhibiting
Delta ModTech (3523) will feature the Spectrum finisher with the Intelli-Mod system, which controls each module and allows perfection of each segment of the converting process. With Delta ModTech's proprietary HMI software and the use of individual servo motors, each die station and winding station can be adjusted independently, on the fly. This control system gives you the ability to make precise cuts even when the incoming eye-marks are inconsistent and create tension zones with the press of a button.
The system will also demonstrate a variety of processes including high-speed semi-rotary die-cutting and multi-layer lamination. The modular platform can be upgraded as needed adding sheeting, foiling, embossing, laser cutting and conveyor modules at any time.
Domino (6523) will be bringing a flavour of its 'Digital Printing Spectrum' open house concept to the show, which encompasses a programme of live on-stage guest presentations from industry experts. There will also be demonstrations of the N610i digital UV inkjet label press in various configurations including roll-to-roll, inline and near line with ABG finishing, along with a dual-bar K600i digital UV inkjet printer integrated on a Delta ModTech system. Domino's hybrid label press solutions will also be shown on OEM partner booths CEI and MPS. The company will be offering visitors a morning coffee or afternoon beer in the Spectrum Brew House area of the booth.
DPR Labelling (6455) will show the newVirgo offline lamination and die-cutting solution, which has been developed for small inkjet and digital label printers. Suited for in-house label production, this system can be paired with short run label printers. The Virgo produces label rolls from 110-140mm wide and offers precision cutting on a variety of materials.
Durst Image Technology US (5901) will show a standalone version of the Tau 330 RSC UV inkjet press, which provides a resolution of 1200 x 1200dpi at 78m/min, printing in eight colours (CMYK+OGV+W). This can also be seen integrated with Omet's flexo expertise. The 'Omet XJet digital printing press powered by Durst' comes with servo-driven inline configurable finishing options and will be running on the Omet booth.
Edale will be highlighting its press technology on a shared booth (5803) that also houses Matik, SEI Laser and Selzer. The Graphium hybrid inkjet press can be seen on Fujifilm's booth.
Epson America (5813) will showcase its full range of label solutions, from the ColorWorks colour label printers for independent businesses to the SurePress digital inkjet label presses for large production. The ColorWorks printers use pre-printed labels to increase productivity and decrease costs, delivering commercial inkjet printing with durable inks. Designed for higher-volume label production, the SurePress range of presses uses Epson's own PrecisionCore printhead technology. This includes the new L-4533AW aqueous inkjet press that replaced the L-4033 model last year. 
Esko (5202) will show its integrated and automated solutions, such as colour specification, 3D pack shots and design reviews, which can link brand owners, designers, pre-media and the pressroom in one workflow. There will be demonstrations of each component of the company's 'Packaging Connected' offering, including WebCenter for job specification data; Studio and Store Visualizer for artwork and 3D mock ups for presentation, proofing and quality control; X-Rite ColorCert Suite for colour communication across all internal and external stakeholders, from design to the AVT inline inspection system; and MediaBeacon for marketing asset management, which features connectors for the Adobe Creative Suite applications to simplify asset sharing.
EyeC-America (360) will present its range of print inspection systems for label and flexible packaging. It will show print sample testing on an EyeC Proofiler 600 DT. This system's latest software version offers combined print inspection and dimensional measurement capabilities. For pharma, the company has a new workflow offering improved data integrity, data security and an easier audit trail review. Also on display will be the EyeC Proofiler Graphic for automated PDF checks at the pre-press stage. This system now includes optional workflow integration into existing software, such as Esko Automation Engine.
An EyeC ProofRunner 100% print inspection system for labels and flexible packaging will be on display on a Rotoflex rewinder at booth 319.
Flint Group see Xeikon 
Fujifilm North America (5621, 5623) will introduce theSamba 42000 Inkjet Printbar System. Developed for retrofitting to a flexo press or for offline label customisation, it uses Fujifilm's Uvijet UV LED curable inks to offer print quality levels of up to 1200dpi at speeds up to 90m/min. Each bar has 8 or 10 Dimatix Samba printheads to match press widths of 13 or 17 inches. Other new digital solutions can also be expected. The company will have the Graphium UV inkjet press running. The hybrid press is a joint development with FFEI and Edale.
Gallus (6150) will be exhibiting with Heidelberg, unveiling the new Smartfire digital label printing system to the North American market. Printing with Memjet inkjet technology in CMYK at 1600 x 1600dpi, the Smartfire uses an ordinary power outlet, needs no exhaust equipment, is extremely compact and emits no VOCs. It comes with inline finishing, where labels are laminated and cut. Also on show, Heidelberg's 4D Omnifire 250 inkjet digital printer combines advanced inkjet technology with high-precision robotics to personalise and customise three-dimensional products.
GEW (3500, 3505) will be exhibiting its range of UV curing systems comprising mercury arc systems, LED systems and hybrid systems, together with the associated Rhino ArcLED electronic power supply. The focus will be on the enhanced range of high-power UV LED systems and the new multi-point UV monitor, the mUVm. There will also be a number of new innovations launched. 
GM (6111) will demonstrate its newest range of smart converting lines with features such as hot stamping, embossing, screen-printing and die-cutting inline. It will also show laser cutting with auto job change and modules for multi-layer/peel and reveal labels, turret rewinding and more. A new smart software feature that logs operator performance can now be added to the units. All GM machines can be made in left-to-right or right-to-left run direction enabling inline interface to all major digital presses.
GMG Americas (5203) will demonstrate how its ColorPlugin offers time savings in pre-press. The tool delivers precise conversions, efficient ink reductions and flexible separations, now also in Multicolor color spaces. Benefits include separation direct from RGB to Multicolor up to seven colours, ColorBoost for saturated and vivid images, MinDot Adjust and MinDot Preview for process and spot colours, processing of complete images, individual selections or layers, and colour-accurate conversions.
Grafotronic Inc (3118) will present the latest news from Grafotronic Finishing Machines and WLE Worldwide Label Equipment, focusing on automation and increasing efficiency in production. An updated DCL2 digital finishing machine will be equipped with the Gigafast 160m/min semi-rotary die-cutting unit, a flexo unit for spot/full varnish, Wifi-Slitting automatic knife positioning and non-stop system. Each module works independently and the machine can be upgraded with new modules in eight hours. The new high-speed, servo-driven HI2 machine for 100% inspection and slitting of labels, foil and cardboard, and a WLE Core Cutter HS, will be shown in the Automation Arena.
Graphtec (6409) will launch the Labelrobo LCX1000 label production system, which is comprised of a colour toner press and a finishing unit. This can print labels in 600 x 2400dpi at a max width of 152.4mm. It comes with LabelCreation software from NiceLabel and RIP software.
Shenzhen Handway Industrial Digital Equipment (5611) will show the LabStar330 UV inkjet label press, which prints at a speeds up to 100m/min in a resolution of 1200 x 600dpi (50m/min in 1200 x 1200dpi). Powered by DOD inkjet technology with Samba printheads, the press prints in four to seven colours (CMYK+OVW), and the ink scheme can provide white and spot colour solutions according to customer requirements. The LabStar330 is suitable for various substrates at widths from 75 to 350mm. 
HP (3226, 3429) will showcase applications from worldwide converters produced with its LEP-based digital printing technology. Live demonstrations will include the full label and packaging web portfolio. 
The GEM embellishment module combined with an HP Indigo 6900 digital press will be showcasing new applications and effects, while an 8000 model will be printing shrink sleeves and labels at 80m/min inline with an ABG Fast Track semi-rotary die-cutting unit inline. The company has just announced that the GEM unit will be going into beta testing at Innovative Labeling Solutions in the US, and that it will be collaborating with Leonhard Kurz to ensure compatibility of their products. Additional compatible foils will be available from K Laser Technology.
ElectroInk Silver, which supports a wide range of metallic colours, will be making its show debut, and in the security zone, the company will present printing solutions for brand protection, including anti-counterfeiting marks, track and trace, as well as process control. New covert inks will be demonstrated, including ElectroInks yellow and blue, and HP Indigo UV Invisible Ink.
Also on show will be the HP Indigo Pack Ready for Labels system that enables production of high-resistance labels for food, household and chemical applications, as well as the enhanced 20000 press for production of labels, shrink sleeves and flexible packaging, running inline with the new 30-inch ILC760 converting unit designed by AB Graphic for coating and slitting. Other new capabilities for the 20000 includes an extended media gamut, enhanced support of extra stretchable substrates, support of paper substrates up to 350 microns, ILP 030 primer and Premium White ElectroInk.
The company will also introduce HP SmartStream Collage, an automated variable design feature for HP Indigo printing. This allows converters to create large numbers of unique designs by manipulating elements randomly. Also new is version 7.1 of the Production Pro DFE, which will offer connection with Esko Automation Engine and Quick Start, new preview tools for RIP data, PDF 2.0 support, Advanced Impositions tools for multi-lane ganging and variable repeat length.
Impression Technology Europe (6511) will launch the Eclipse Mini into the US. Designed and manufactured by ITE, the compact label finishing machine offer a cut width of up to 112mm for cutting labels on demand and to any size without a die. It comes with self-wound lamination, slitting and rewinding, and waste matrix stripping as standard, and can process a wide range of media including BOPP, polyester, paper and vinyl. Designed to complement the Epson ColorWorks C7500 and C7500g series, the Mini will be available to purchase through the Epson reseller programme in the US. 
IST America (5606) will be highlighting its UV LED solutions. The new LEDcure system is scalable in length and can be adapted to all machine formats and installation. This makes it possible to use an LEDcure unit at different positions on a machine. The company's Hot Swap hybrid concept allows users to run both UV and UV LED, using interchangeable cartridges but a common housing.
Jindal Films (717) will introduce Platinum Thermal Printing Technology as well as added solid white face stocks to its range of high performance coated and uncoated white and metal films for pressure-sensitive markets. The company will also show two new Label-Lyte metal facestocks for the high sheen graphic look, as well as ALOX and Sealtough technologies. The Label-Lyte portfolio now includes both coated and uncoated cut and stack, three new injection mould films, and several new wraparound roll-fed film offerings. Jindal is also showing expanded Digi-lyte offerings with coated metal facestocks for HP applications, and barrier and/or pouch materials for flexible packaging.
Kocher+Beck USA (729) will have a full range of flexible dies on display, including the 3L Laser Long Life flexible die and Chrome coated die, which both feature a patented edge polishing finishing for durability and reliability. The Quick Change die-cutting station will also be on show. This enables tools to be set offline while other jobs continue to run on the press. Other products include magnetic cylinders and flat bases, print cylinders, hot stamping cylinders, flexible cutting dies for the sheet-fed industry, and KMS2 and KMS3 pressure gauges. In the Automation Arena, the company's UR Precision Nonstop Equipment with intelligent data link communication will link a non-stop butt splicer to the automated press and converting process to demonstrate how label and packaging will evolve over the next decade. 
Konica Minolta (5721) will demonstrate the AccurioLabel 190 dry toner digital press, which prints in CMYK at 1200 x 1200dpi. The engine supports a new un-winder/re-winder design allowing larger diameter roll media to be used. Feeding speeds range from 9.45 to 18.9m/min and substrates include pressure-sensitive paper, BOPP, PET and wine stocks in gloss, semi-gloss or matte finish. Also showcased is the MGI JETvarnish 3DW line, which allows label printers to go digital for spot UV coating and embossed hot foiling on narrow webs up to 420mm. It is designed for both 2D and 3D embossed spot coating over flexo, offset or digital web-fed printed output. Hot foiling can be added with metallic and coloured foils to embellish label designs.
Konica Minolta will further exhibit the Precision Label Series 475i light-production inkjet label press. Designed with Memjet printheads and ink technology, the 475i will be shown with a matching near-line finisher. A Precision Label Series PKG-675i and accompanying PKG-675L finisher for printing on corrugated will also be shown. 
Kurz (1816, 1817) will focus on digital at this year's show with two Digital Metal foiling units for narrow web being premiered, one for a conventional production line and one running inline with a UV inkjet digital press. At booth 1817, the company will be demonstrating the DM-Liner UV-Ink Roll-to-Roll:Built-on unit with an eight station Nilpeter press. This retrofit module can be integrated into the production line when required via the rail system to offer up or downstream colour printing. The unit will also be shown as an inline enhancement module for digital roll-fed presses, running inline with an mlabel UV inkjet press on booth 1816.
Label Traxx (5920) will demonstrate its Siteline module, which gives customers access to re-ordering labels online. Integrated with the Label Traxx MIS, Siteline means label-buyer customers can view their order history via a mobile device and place orders. Orders placed online drop directly into Label Traxx MIS and queue up to be scheduled. Siteline also includes a dedicated chat area for customer projects, helping CSRs to manage customer interactions and track job status.
Lemorau (3716) will introduce theDigi EBR+ digital press to the US. The water-based inkjet press can print in a resolution of 1600 x 1600dpi full colour using Memjet technology, with web width ranging from 50 to 250mm and die-cuts in rotary and semi-rotary mode. Also on display will be the upgraded ICR3 inspection slitter rewinder, the CTA 1500 automatic core cutter, the CT 1500 manual core cutter and ER roll lifter. 
Maan Engineering (1804) will introduce its Hybrid Laminating Coating Line using VR goggles to give visitors a virtual reality experience. The hybrid technology offers label producers new possibilities by using different coating and converting techniques in a single line. Because the adhesive and silicone are applied simultaneously, it is possible to make special distinctive laminates. In addition, the technology brings the relatively small linerless market within reach of every label producer.
Mactac (143) will show the CHILL AT product line, which covers all-temperature labelling needs, including challenging cold temperature applications. The company will also be debuting a new durable film line, silicone adhesive, cryogenic and security products, developed and initially sold by parent company, Lintec.
Mark Andy (319) will demonstrate its digital portfolio, spearheaded by the new Digital Series HD platform that was first introduced in March this year. This features a new arched ink delivery system for printing on unsupported films and a new ink set. Building on the hybrid theme, the company is showing a P7 flexo press fitted with Digital Plus Screen, which serves as a digital inkjet replacement for rotary screen print and can be added to any flexo machine to create a modular hybrid solution. The Digital One entry-level printing and converting label press will also be running. This offers four-colour digital toner CMYK at 1200 x 1200dpi, with a single flexo station, and supports inline or offline finishing.
Martin Automatic (811) will launch a new version of its MBS splicer, a new space saving non-stop roll changer with the smallest inline footprint on the market, made possible by its integrated 90-degree turnbar. This makes it the perfect splicer for label printers with limited floor space, but who still demand reliable performance and high productivity. The company will run an LRD automatic transfer rewinder in conjunction with the splicer to demonstrate continuous operation. The new MBS splicer on show has been sold to medication packaging provider, Omnicell, while the LRD rewinder will be installed on a Gallus press at a long-time Martin customer in Asia after the exhibition. 

The Automation Arena will make its first US appearance
Meech Static Eliminators (551) will be displaying its new Hyperion SmartControl, which has been developed to allow easy communication between connected Meech Ionisers though either a LAN or WAN network. Through the SmartControl, connected Hyperion equipment can be adjusted remotely through a single online platform, reducing the need to monitor static control issues on site. Only one SmartControl is needed for the central control of up to six Hyperion ionisers, with expansion kits available where more devices need to be monitored. The company's range of ionising bars and web cleaning technology will also be on display.
Michelman (3136) will highlight its suite of pre- and post-print solutions for enhanced label resistance, which are part of the PackReady range for HP Indigo presses. These include DigiGuard 901 UV OPV Strengthener, Digiprime 680, Digiprime 050 and DigiPrime 022. Specifically designed for flexible packaging in food applications, Michem Flex Barrier 3510 is a water-based coating that provides a transparent high oxygen barrier and is more durable to withstanding fractures and pinholes then traditional oxygen barriers. Michem Flex M1203 is a water-based matt finish OPV for all polymer materials that allows brand owners to use polymer materials and create a paper look with a soft velvety texture.
Mouvent (5200) will present its cluster technology, which lies behind its new range of digital UV and water-based label printers. Attendees will have the opportunity to take a close-up look at the technology and view samples produced on the printing presses. Mouvent staff will be on hand to answer questions on how the cluster approach promises to make digital label printing more accessible, flexible, cheaper and simpler, while maintaining the highest quality standards. 
mprint (1816) will show the third generation of its mlabel UV inkjet press, which can be built to cover print widths from 108 to 324mm in single or multi-colour (seven or more) to give customers flexibility and the option to upgrade at a later date. Custom machines with print widths of 432mm+ are also available. The machine on the booth will be running CMYK+W inline with a new Digital Metal foiling module from Kurz for adding embellishments and effects.  
MPS Systems (911) will have the EF Symjet hybrid flexo/inkjet line running on its stand. This combines the MPS EF flexo platform with a Domino N610i inkjet engine, allowing converters to combine flexo and digital printing as well as converting, in one pass. Plate roller technology for the flexo units, developed specifically for the North American market, will also be featured on the hybrid press at the show.
Nazdar Ink Technologies (547) will be displaying a variety of inks UV and UV LED flexo, UV offset and UV letterpress inks, durable UV coatings, water-based flexo, UV and LED rotary screen inks, and UV and LED overprint varnishes and adhesives, digital UV inkjet inks and coatings.
Nilpeter (3205) will show the redesigned Panorama hybrid press line, which is manufactured at the company's facilities in Cincinnati, Ohio, and makes its US debuts following the official product launch in Brussels last year. The Panorama covers a spectrum of customer requirements, from standalone to all-round, and value-added hybrid configurations. The pressline on display will feature an advanced digital inkjet print engine, UV lamination and a semi-rotary die station, among others.
Omet (3123) will be launching its new press line, the 'Omet XJet powered by Durst' hybrid, which can be configured with a range of X6 print and converting units alongside a Durst Tau RSC digital engine. The press is 330mm wide and has a print speed of up to 78m/min.
Phoseon (940) is introducing the FireEdge FE100, a natural convection UV LED light source for industrial curing. The FE100 UV LED curing lamp for digital inkjet pinning has no internal fan and is cooled passively through natural convection, which eliminates the need for any external forced-air cooling system of chiller. It joins the family of FireEdge compact air-cooled UV LED light sources that minimise the distance required between inkjet heads, and will be available in the fourth quarter of 2018.
The FireJet FJ605 is one of the latest extensions of the company's FireJet air-cooled product range, combining the WhisperCure and TargetCure technologies. The FJ605 provides simple integration with advanced control features, plus high-power output for press speeds up to 300m/min. It is a low-maintenance system with easy air filter replacements.  
Prati (3529) will showcase the DigiFast One converting line, which offers semi-rotary printing and die-cutting at a maximum speed of 90m/min. Boasting eight-minute set-up times, the modular machine recently underwent a customer test that demonstrated a tolerance of ± 0.10mm.
Primera Technology (6410) will be displaying its full line of Primera LX-series label printers and AP-series label applicators. This includes the recently launched LX910e colour desktop printer, which runs at up to 11.4cm/sec using a single CMY ink tank. Typical applications include product labels for coffee, wine, water, bakery, confectionery, meat, cheese and other speciality and gourmet foods. The printer is also suitable for manufacturing, laboratory, security, government, retail and a wide variety of other markets. New printheads are built-in as part of the high-capacity ink cartridge and the printer is encased in a steel case for higher durability.
Prototype & Production Systems (PPSI) (6445) will highlight several new applications of its DICE technology. The DICE 1200 is a new high-resolution 1200dpi single-pass print engine incorporating Fujifilm Samba printheads for printing high-quality labels. The DICE 1600 is a new 1600dpi aqueous Memjet based-printer that offers high-resolution images at low capital cost. Both systems are based around the DICEblade system, which has a design that integrates all the inkjet components into one system. It will also be discussing its Memjet DuraLink-powered printing products for labels, cartons and corrugated.
REA Jet (6514) will be showing its HR printer and other technologies for variable data printing, reverse side numbering, late-stage customisation and other solutions for the label converting industry. The HR coding and marking system employs thermal inkjet technology and is used in the pharmaceutical, foodstuffs, wood, paper, packaging and intellectual property protection industries.
Rotocontrol (3511) will join EMT International on 'The Finish Line' booth to show three machines, including the DT-Series 340 for finishing of digitally pre-printed label rolls, the FC-Series 540 fully automatic turret for rewinding pressure-sensitive self-adhesive labels and the RSC-Series 440 label slitter/rewinder. EMT will provide technical information and application support for its Chameleon high-speed inkjet finishing solutions. Additionally, label punching, die-cut units and a variety of label press auxiliary components including shafts, slitter holders, and plow-folding solutions will be displayed.
Rotoflex (319) will be on the Mark Andy booth showing three technologies from its Canadian headquarters: the VLI, DSI and a new offline finishing and embellishment engine.
RotoMetrics (129) will introduce the newly integrated Electro Optic's portfolio of flexible die technology, the new Roto-Repel non-stick coating and its new MyRoto website as well as its Express Delivery and Repair service. From its established range of dies, the DigiNow is a universal digital flexible die with the ability to cut all standard digital pressure sensitive materials.
The Roto-Repel coating has been nominated at the Label Industry Awards for innovation by a company with more than 300 employees. Applied to both solid and flexible dies, the coating helps prevent adhesive build up on the die itself, reduce static and heat in the die station, and prevent die damage due to less handling.
Screen USA (6423) will have two Truepress Jet L350UV+ UV inkjet presses running on the booth, printing at up to 60m/min in CMYK plus white and orange. One of the model will be the LM (low migration) version for food packaging, which includes a nitrogen purge mechanism designed to accelerate curing, reduce any risk of ink components migrating and minimise UV odour.
Siegwerk USA (5923) will showcase its tailor-made ink and service portfolio addressing current and future label and packaging trends. The company is launching a new water-based lamination system called HyperLam, as well as a new system of metallics, Aqua Sparkle X. It will also have interactive demos of FastMatch, a web-based colour management software program for accurate ink formulations.
Smag Graphique will exhibit a converting line on the Screen booth (6423). The two companies signed a sales and industrial partnership agreement in April 2018 and will be pooling their know-how for this event. Visitors will see labels printed on the Screen Truepress Jet L350UV+ and converted on a Smag E-Cut Generation III with semi-rotary flexo laminating station, semi-rotary die-cutting and two rewind shafts. 
S-One Labels & Packaging (1414) will showcase its primer, substrate and coatings solutions for HP Indigo label and flexible packaging presses. Products include inline and offline primers as well as customisable over-print varnishes that can be used to add spot varnish and proprietary solutions. Clear, metallic and white pre-laminate flexible packaging films, a variety of thermal laminates and customisable films for flexible packaging will also be displayed. 
In addition, S-OneLP will demonstrate VerifyMe RainbowSecure inks designed for HP Indigo to provide covert security measures printed on labels and authenticated with a smartphone app and Cloud-based server. This new HP-approved technology will help brands validate their products and comply with forthcoming federal regulations for pharmaceutical packaging.
Tilia Labs (6421) will be unveiling its forthcoming Phoenix 7.0 software release for narrow web production. For the first time in the US, the company will showcase new features for optimising substrate usage and boosting set-up speed, flexibility and control for narrow web label printers. Among highlights being previewed are new developments in narrow-web planning, standing die support and marks control.
Phoenix uses AI in automating planning and imposition for all types of print and post-press applications. The system factors in parameters, such as job specifications (quantity, dimensions, colours, substrates), presses/print devices, post-press requirements and delivery considerations to deliver optimal layout options. When a final option has been selected, it generates print-ready layouts and JDF or die instructions, for all devices in the production chain.
Transcoat (6553) will unveil its new small footprint, labelstock laminator, which unwinds faceless rolls (consisting of adhesive and liner only) and laminates any face material (paper, film or other) to generate the final PS construction. Faceless rolls are offered in different width and adhesive technologies (hotmelt, UV acrylic or emulsion acrylics). The laminating line can be paired with a digital press to create cost efficient products and keep the press clean as only the facestock runs through it, eliminating adhesive bleed. It offers reverse printing of clear facestocks before lamination or double-sided printing on opaque material, and can be fitted with a flexo, digital printing, die station or other converting module.
Trojanlabel (AstroNova) (6125) has a range of digital printing systems, including the flagship T2 digital label mini press, which uses Memjet technology to offer a speed of 18m/min and a print resolution of 1600dpi. The same print engine can be found in the desktop version, the T2-C, and as part of the T4 complete print and finishing system. The T3-OP is an over printer that prints directly on to cartonboard, postcards, boxes, paper bags, wooden planks or thicker objects such as blister envelopes or folded boxes.
UniNet (6665) will be showcasing a range of products from the iColor product line. Developed specifically to enhance the capabilities of the short- to mid-run label and packaging market, this will include the iColor 550 for transfer printing of garments, hard surfaces, marketing materials, cut-sheet labels and packaging; the iColor 200 desktop ink-based digital label printer; the iColor LF700+ digital label finishing solution featuring lamination, contour cutting, waste matrix removal, slitting and rewinding in a compact footprint; and the iColor 700 LED toner-based digital label press, featuring colour and optional white with white underprint capabilities.
Univacco Foils (1217) will show the ULR Series of hot-stamping foils, which has been specifically developed for hot stamping on a wide variety of wine label stocks providing excellent transfer at high-speed stamping on rotary and vertical presses with wide range of coverage from fine to broad.
Universal Engraving Inc (UEI) Group (356) will showcase its newest product line, the NW SpeedChase NXT System, which improves die lock-up for engraved hot stamping and embossing flat dies and counter forces on a flatbed narrow web press. It features magnetic mounting of the dies and counters so die changeover can be accomplished, on average, in one minute, and has been designed to work with existing equipment. All engraved dies and counter forces arrive pre-mounted and pre-registered onto NW UniLock-Up plates, ready for the press.
Also part of UEI Group, Infinity Foils will showcase its stamping foil, decorative glitter and makeready products for hot, cold and digital applications.
Uteco North America (6475), in partnership with Ebeam Technologies, will demonstrate the Gaia electron beam inkjet printer, which has been developed to print on flexible media. Suitable for food and pharmaceutical packaging, the Gaia can be configured up to 36 inches wide and print on aluminium, paper and films using through electron beam curing technology at a max speed of up to 100m/min. The Sapphire Evo digital press, which is the result of a collaboration with Kodak, will also be in focus. This prints with water-based inks on plastic films and paper, reaching speeds of up to 250-300m/min.
Valloy Incorporation (6611) will show thecompactBizpress 13R four colour toner label press, which offers a resolution of 1200 x 1200dpi and prints on paper and filmic materials in roll to roll. Speed is 7.29m/min and the machine includes a chill roller for heat-sensitive substrates.
Vetaphone North America (5605) will showcase the latest generation of its narrow web product line, including two VE1A corona treaters and an iCorona generator. In addition, the company's corona systems can be seen working on narrow web presses on the AB Graphic, Bobst, Domino, ETI, HP Indigo, Nilpeter, Mark Andy, Omet and Screen booths.
Wink USA (1529) will show the updated SmartGap Touch adjustable anvil system, which now allows for gap adjustments steps of only half a micron and comes with many enhanced digital features. In addition, the company will present various SuperCut flexible die versions and finishing options for a wide range of label applications, and new ForceControl pressure gauges for optimum control of the die-cutting process.
Xeikon (728) will introduce the PX3000 UV inkjet press to the American market. This is the first press based on the company's Panther technology, which  was launched in 2017. Its primary focus is self-adhesive labels for health and beauty, premium beer, durable and industrial chemical or household applications.
The company will also feature its toner-based 3030 digital press with a custom finishing line specifically developed for the North American market. The entry-level press, designed to be upgraded as businesses grow, offers anti-counterfeiting features as well as the ability to print white onto transparent materials for a 'no label' look. Finally the CX3 press will be in action in the Automation Arena.