Discover the latest printing technology at InPrint Italy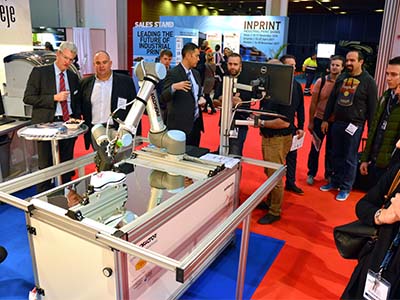 120 companies from 20 countries will be exhibiting
The very latest developments in the fast-moving field of industrial printing technology will be on display at InPrint Italy, which will be welcoming visitors at the MiCo Milano Congressi from 20 to 22 November 2018. 
There will be 120 companies from 20 countries exhibiting and they include many of the best-known names serving a growing market estimated to be worth over US$100 billion by 2020.
Today, if any manufacturing specialist is looking to integrate new printing technologies, improve on their existing processes or introduce a revolutionary new digital system into production, InPrint 2018 at MiCo in Milan is an essential event to visit.
Exhibiting companies from functional, decorative and packaging printing with returning exhibitors, and new exhibitors will include:
For over 40 years the company 3M has been building its expertise in the research, development and production of highly specialised membranes. As a result, today it is one of the world's leading suppliers of membranes, active in the fields of healthcare and industrial filtration and separation applications. 3M Liqui-Cel SP Membrane Contactors are widely used for removing bubbles and dissolved gases from inkjet inks, coatings and other fluids where gasses in production lines negatively impact the process. Removing gasses can improve yields and operational performance by reducing imperfections and preventing misfiring at the inkjet printhead.
Aeoon Technologies was founded in Tirol, Austria, where the company designs and manufactures digital textile printers. With an extended knowledge and background in screen-printing and experience in direct to garment printing, Aeeon Technologies strongly believes it can offer the best possible products to the market. The company designs and manufactures digital textile printers for the industrial mass application. Its printers can reach up to 1280 prints per hour. The newest addition to Aeeon's product range is the Kyo Hybrid Series, which combines the screen-printing technique with the direct to garment technology.
Agfa Graphics has a 150-year history with chemistry, colour management and dispersion technology and is a global leader in inkjet technology. It will showcase dedicated industrial inkjet solutions and applications including decoration, serialisation, product printing and marking and coding. The company has the expertise to design, develop and manufacture inkjet inks, and will put a wide selection of industrial products on display. All items represent areas in which inks and fluids are used to add functionality or decorate the products by means of digital printing alternatives, on an industrial scale. These inks offer consistent colour, low metamerism and good adhesion.
As well as a range of exhibitors to visit there is also a full and comprehensive conference and seminar programme taking place throughout the three days. The sessions cover a range of topics including TCM Surface Decoration sessions, the IMI technical workshops, a number of interesting industrial case studies and themed streams. There will be over 60 speakers and the sessions, which are free to visitors, will be in both Italian and English.
REGISTER NOW FOR FREE ENTRY
Don't miss this great opportunity to discover the latest innovations in functional and decorative printing in industrial production, including speciality, screen, digital, inkjet and 3D technologies.
Advance registration guarantees free entry to InPrint Italy. Register now at www.inprintitaly.com
This article is an advertorial; the featured company created the wording and paid for its placement. It has been edited by Whitmar Publications to ensure that it meets our standards.