HP's future vision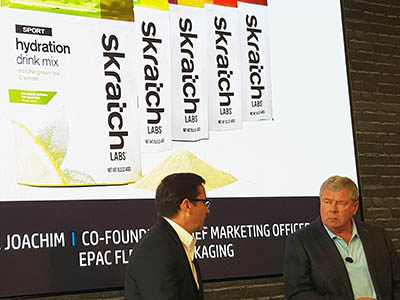 Santi Morera, head of HP Graphics Solutions (left), with Carl Joachim of ePac at the HP event in Palo Alto
In November, HP invited a group of analysts to its Palo Alto, California, headquarters to share its vision for the future of print, and the strategy that will shape this future. 
HP's Imaging and Printing Group reported sales of $5.2 billion in the third quarter of 2018, up 10.9% from 2017 with operating profit at $832 million. 'Indigo and the PageWide inkjet (including HP Scitex) mean HP is the biggest equipment and consumable supplier into labels and packaging, so what they are doing is important,' said technical editor Sean Smyth, who attended and reports back. 
On the surface HP's strategy is pretty straightforward: continue the transformation from analogue to digital. Santi Morera, global head and general manager of Graphics Solutions, explained how HP is enabling its customers to boost their efficiency while reducing time-to-print for labels and packaging.
The company aims to identify new applications for its technology and then disrupt that sector by offering new technologies to address these requirements. It is successful in labels, cartons and flexibles with Indigo, while inkjet is making headway into corrugated with 10 orders for the C500 on top of its high speed liner print systems. Mr Morera introduced Carl Joachim, chief marketing officer at ePac Flexible Packaging, one of HP's most innovative customers, which is pioneering the adoption of digital printing into flexible packaging. 
ePac is expanding aggressively, ordering another 20 HP Indigo 20000 presses to be deployed into 15 franchise sites across the USA by the end of 2019. This will offer a new service of fast turnaround short to medium runs for small to medium brands, while it services the big boys looking to produce special versions and exploit the capabilities of fully digital printing. Mr Joachim explained, 'Having this capacity means we can offer long runs as a group, without locking up production for days. We can produce simultaneously at different sites to satisfy long runs, while still providing the agility of extremely fast turnaround for short runs. We think it is a very valuable service offering to the market and our feedback is we will disrupt a significant part of the market by reducing the lead-time from many weeks to a matter of days. We already serve around 1000 customers who place regular weekly orders to demand eliminate inventory. And that is just the beginning.' 
HP has first mover advantage in labels where it is still the number one supplier of digital presses, and also in flexible packaging as well as cartons and corrugated. It sees packaging as a major opportunity and is showing the resolve to support the necessary infrastructure (workflows, materials and legislative approvals) to further push into the sector. According to Santi Morera, 'We are helping our customers satisfy brand and retailer demands, and working to develop the packaging ecosystem both upstream and downstream from the press.'