Trends in label production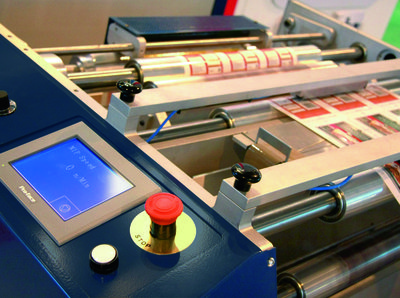 Domino's N600i printing labels

Stephen Hancock, sales manager – digital label printing at Domino UK examines the key influences and future trends in label printing.
As the commercial printing industry struggles to compete against digital and online communication one segment of the market is bucking the trend – packaging and label printing. With the demand for consumer goods constantly rising, packaging and labelling is a key influencer in any consumer's purchasing decision. Food and beverage, household and personal products, pharmaceutical and healthcare goods are all demanding greater quality of packaging and labelling. 
According to Brandwerks, consumers take just seven seconds to decide which product to purchase from the vast range of competing brands in-store. Printed packaging has always been a front line marketing and brand building tool, one that manufacturers and brand owners are looking to in order to differentiate and sell their products. This is good news for the printing industry that is in desperate need for future opportunities to fill the gaps left from the decline in commercial print.
Label printing is a global industry worth in the region of $73 billion, with some 30,000 converters worldwide converting around 42 billion m2 of label stock every year. Highest per capita usage comes from the developed world, while the highest growth year on year is being fuelled by emerging markets, notably Latin America, Asia Pacific (including China and India) and Africa.  
Factors affecting future trends
The requirements of the brand owners and manufacturers are certainly challenging the market. They demand consistent high quality, creative and high impact product labelling to secure that all important consumer purchasing decision. However, there are also other considerations such as just in time production, localisation and personalisation demanding shorter run lengths, environmental credentials as well as a greater degree of product identification. Furthermore, while brand ownership is now a global industry, brand owners are looking for greater variable data for localised product launches, while the rise of the private label sector amongst the large retailers has significantly raised the bar in terms of the need to differentiate their products. In addition, as products are becoming more commoditised, profit margins for the manufacturers are being significantly influenced by processing efficiencies and the requirement for inventory reduction. Therefore there are ever greater demands on the label producers, expecting greater capability while at the same time seeking the most efficient and cost effective solutions.
Product identification, or so called 'product passports' are becoming increasingly influential in label production, with demands coming from both the manufacturer and consumer. For the manufacturer, these 'passports' ultimately provide complete product traceability from original source through the logistical supply chain to the customer, providing quality control as well as combating the rise in product counterfeiting which is generating losses globally of around $600 billion each year. Consumers are becoming more demanding and sophisticated as they actively seek out additional knowledge about a product's ingredients and origins. This has paved the way for a rise in 'smart labels' where consumers are using their mobile devices to read QR codes to access additional product information.
These increasing demands are playing a fundamental role within the developing trends in label production.  Traditionally, the sector was dominated by offset and flexo, requiring skills in pre-press, plate making and press operation. The increased demand for shorter runs has shifted production towards digital print technologies as these analogue printing processes are no longer conducive to efficient short run production or to minimise material waste.
In label production, digital printing, with its capabilities to handle short runs, variable data and localisation has a significant advantage over analogue methods and is clearly gaining ground.  Not only does digital deliver colourfast, photo quality images and clear crisp text and coding, it enables label users to access custom printed and multi-designed labels without the need for producing plates. For label converters, any opportunity to simplify, reduce downtime, de-skill and introduce greater automation is proving extremely attractive.
Equally compelling is the reduction in waste that digital printing techniques offer which in turn provides considerable cost savings for manufacturers. The print on-demand and personalisation capabilities of digital production eliminates the need for manufacturers to stockpile both pre-printed labels and product, saving time in both logistics management and eliminating potential product waste through changing requirements.
However, within the range of digital technologies, the key growth area in future years is expected to come from digital inkjet based on piezo drop on-demand technology. Ten years ago, UV curable based inkjet solutions showed limited quality, reliability and productivity. The advances in jetting assemblies have significantly improved ink flow within the printheads, addressing previous shortfalls in quality and reliability. Today the quality is without question, and productivity significantly outperforms other technologies with high end solutions such as the Domino K600i and N600i digital inkjet label presses reaching production speeds of up to 75 metres per minute and resolutions of 600 dpi, offering converters a 'greater performance per invested Euro'.
As the capabilities inkjet have developed, solutions can now deliver minute droplets directly onto almost any substrate, offering the highest possible resolution as well as enabling print onto a wide range of standard substrates.   Furthermore, the colour gamut of these higher end inkjet solutions are also able to offer much greater colour matching opportunities than many of the conventional six or eight colour flexo or offset presses.
Future trends and developments
So what will be the key trends in label printing of the future?
As the analogue and digital label printing processes converge over the next few years, many traditional printers are starting to include some level of digital capability into their existing presses. These hybrid solutions include maintaining their existing analogue processes, but enhancing the capabilities through the integration of an inkjet printhead into an existing production line. 
As the quality of digital inkjet solutions continues to improve, converters will look at ways to add additional value to their business offering through the introduction of automated finishing solutions. This is likely to spark the trend towards more complete digital solutions including in line finishing such as laser die cutting, eliminating a process (or at least minimising manual intervention), to generate greater production efficiencies and cost savings.
While production efficiencies, especially for short and medium run lengths, are certainly a key trend pushing the growth of inkjet label production, marketing communications applications will also play an increasing role through the growing use of smart labels. Take for example the standard QR code. The current trend is for the QR code to lead directly to a generic website and therefore production has tended towards being printed as a static code. In the future digital inkjet production will allow variable QR codes to be printed within a continuous production process. This will not require additional set up time and it offers huge opportunities for marketers and brand owners looking to increase personalised and localised communication messages directly to specific groups of consumers.
UV curable inkjet technology is without doubt setting the trend for label production, and is expected to become the dominant technology as it progresses in terms of improving print quality, reliability and productivity. Its ability to address all the key demands from the various stakeholders, such as short run in line printing and converting, variable data capabilities, increased product identification and traceability solutions within a cost effective and efficient process are the fundamental forces driving digital inkjet technology to the forefront of label production. This is confirmed by the latest statistics. Back in 2000, there were around 130 digital colour label presses installed worldwide. Today, this figure has increased over ten-fold to over 1700.
The flexibility of digital inkjet technology still has a huge and exciting potential for the label printing market and while packaging and label printing will never replace the loss of the commercial printing sector, it certainly offers tremendous opportunities.