Going large with digital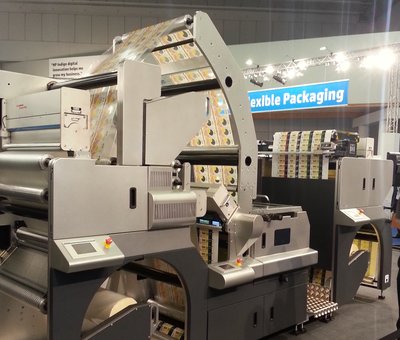 The Digicon 3000 finishing line for the HP Indigo 20000 has been developed by AB Graphics and Edale
Just like buses, you wait for ages for a large format digital packaging press then several come along at once. Xeikon has had a web version for many years and there are now inkjet B2 machines available, some used for novel packaging applications. A veritable flood of presses are currently in testing or released early next year, says Sean Smyth.
At Labelexpo in Brussels, Xeikon featured in the Package Printing Workshop where a Xeikon 3500 press was equipped with a fully digital varnish station applying the durable clear toner and inline die-cutting and stripping unit built by Swiss company, Bograma. The demonstrations were for carton production, lid laminate and stand-up pouch decoration. The company said that 6% of its new installations are for cartons.
HP Indigo launched its B2 commercial press, the 10000 at drupa last year and has now installed over 100 of these. It is readying the carton and flexible packaging versions that are in demand with over 100 provisional orders already taken. The first machines are going in to beta testing early next year. The company believes that the practical front end and finishing systems that were shown will accelerate the transformation of the folding cartons and flexible packaging markets to digital production.
The webfed HP Indigo 20000 for flexible packaging has a new finishing line from AB Graphics, the Digicon 3000 which features a web transportation system developed by Edale, while the carton press, the 30000, includes a coater from Tresu. The analogue iCoat 30000 handles either UV or water-based coatings, with pattern capability. The Kama stripping and blanking unit (SBU) includes programmable rollers to strip waste and blank printed boxes, while the DC 76 die-cutter and foil unit makes up the finishing solution.
These presses should be available in 2014 with the first 20000s going to Rako Etiketten in Germany and Innovative Label Solutions in the USA for labels, while Shere Print, Japanese company Seikou and Swiss converter WIFP will use theirs for flexible packaging. Initial sites for the 30000 include Nosco and Multi Packaging Solutions in the USA, and Heret Printing and ASG (formerly AGI Worldwide) in Europe.
Inkjet options
Two B2 sheetfed inkjet presses are available now, namely the Truepress JetSX from Dainippon Screen, and Fujifilm's Jet Press 720 (JPress 720 in the USA). There are some 30 installations, mostly in Japan and North America, with the first now operating in Europe.
Fujifilm demonstrated a carton version, the Jet Press F, but that is not commercially available yet. Screen's press is being used to print short run on demand cartons for gifting at RCS, where it prints onto pre-cut and creased board to simplify the finishing processes while in Switzerland Vögeli AG is using the press for customised gifts and promotional packaging amongst its product range.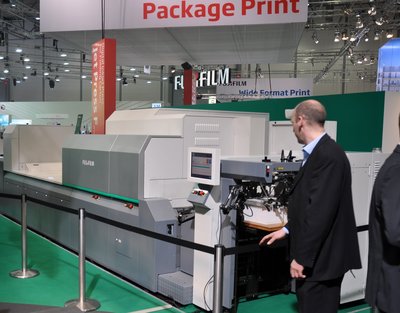 Fujifilm concept Jet Press F inkjet carton press
On stream
Océ (part of Canon Group) has made the first installation of the liquid toner based InfiniStream web press at packaging printer Leupold, based in Schwabach in Germany. This is a proof-of-concept installation, operating continuously in real-time conditions ahead of full commercial availability, while Canon continues to talk with forward-thinking packaging printers worldwide. Leupold has a fleet of offset presses (and an HP Indigo WS6600 for cartons), the InfiniStream will be used for short to medium runs exploiting the wider format.
Roland Stasiczek, who is responsible for the project at Océ commented, 'When we announced InfiniStream in May 2012, we were aiming to install it for the first time in 2013. I am proud to say that we reached this important milestone with our first InfiniStream 'proof-of-concept' installation at the German packaging printer Leupold in September 2013. Leupold is a very innovative company and an excellent partner for us to further improve the technology. The next steps in the project will include upgrades to  seven colour printing and connection to an inline coating, cutting and stacking solution. Combined with the inherent technology features like outstanding productivity and B1 sheet size, InfiniStream will definitely bring digital printing of folding cartons to a new level.'
More to come
Landa said its B1 sheetfed carton press, the S10FC will be launched toward the end of 2014. Other companies also have presses in development. Initally shown at drupa, Konica Minolta and Komori have developed a UV inkjet machine, sold as the KM-1 by Konica and the IS29 by Komori. It prints at 3,300 sheets per hour in simplex mode at 1,200 dpi with commercial availability targeted for the end of 2014.
Bobst and Kodak have announced they would jointly develop a new digital press for packaging applications. This will integrate Kodak Stream inkjet technology into the Bobst portfolio of packaging production equipment to provide flexibility, while reducing both time to market and total cost of ownership. While there is no date for any product release, work on the development has started with the public support of both company CEOs, Jean-Pascal Bobst and Antonio M Perez.
In China, the Masterwork TCjet family of sheetfed UV inkjet presses from Tianjin Taichuan Technology Co has been on sale for some time. The mechanism is a moving conveyor that transports sheets under the fixed Konica Minolta KM1024i heads to an LED curing unit, with cartons a target market.
Many press developers believe that carton printing is a major, largely untapped, opportunity. Larger format presses that can handle thicker calliper board bring the bulk of carton markets into the potential reach of digital technology. There is certainly interest and a pull from the buyers. As installations grow, innovative applications will come to the fore and new profitable business will be found.