Not only here for the beer!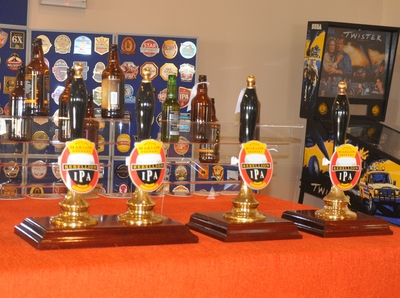 A range of beer pump badges and labels produced by Colorscan
Colorscan has developed a profitable niche supplying beer pump badges to bars and pubs across Britain. The company has two EFI Jetrion label presses and Xerox sheetfed machines, and a wide format inkjet press, with full finishing. It is a short run specialist, supplying an average of just 60 badges per order into the buoyant microbrewery sector. Sean Smyth went to visit.
Based in the beer brewing centre of England, Colorscan Imaging Products in Burton-on-Trent, in Staffordshire, is an important supplier to breweries across Britain. The company supplies shortrun labels (and application machines) to microbrewers, but the specialist products are the badges that adorn beer pumps in pubs, clubs, bars and  restaurants across the country. While DL&P would claim it doesn't spend all its time in pubs, it certainly takes an interest in the sector and took the opportunity to visit, managing director Keith Forster at the company's new premises.
New premises
The new site is some 40,000 square feet where the company employs 25 people. There is a mock pub with beer pumps, and the demonstration area contains the different settings, many badges and labels, and a table football machine and bar billiards.
The print production area is upstairs in a clean and airy environment housing two EFI Jetrion 4900 UV inkjet presses, two Xerox cut sheet toner presses, an iGen3 and 800 four colour machine, with a Fujifilm Acuity flatbed UV inkjet printer. Pre-press is contained in a glass fronted area and the whole facility is air conditioned and kept clean.
Artwork is usually received from customers as PDF files and then made press ready. The company offers design services, particularly for metallic substrates, and has an online portal with XMPie for some customers where they can personalise a range of design templates. There is a database of some 60,000 designs, with the associated dies. It also supplies label applicators from Primera to microbrewers with the labels, arranged front and reverse with changes. 
The two Jetrion 4900 presses are five colour, white first with a pinning system, followed by the process colours and through curing. The first was installed in the summer of 2012 and has integral laser cutting, stripping and slitting onto a multi-turret rewind while the second roll-to-roll machine was commissioned in September 2013. The implementation was straightforward, the only issue was changing impositions from a nested sheet to individual designs on a web that was significantly different for pre-press.
Colorscan runs just two stocks predominantly, metallised and white self-adhesive polypropylene, one on each press. The cut sheet toner presses print onto self-adhesive papers and polypropylene that are laminated onto a card base and die-cut in the downstairs finishing department. There is lamination, die-cutting, packing (including theassociated fitments) with despatch, and there is ample storage.
Separating printing and finishing is a critical factor to ensure there is minimal dust to disrupt inkjet printing. Since installation, the inkjet presses have proved to be very reliable, with three heads replaced on the older press under the maintenance agreement in operation.
The durable UV inkjet print does not require subsequent varnishing or protection but some are domed, with a clear epoxy resin applied to the die-cut badge. They are laid out on trays on a stand, the two-part resin is squirted onto the surface manually through a metering nozzle and then flows out to the edges creating a thick protective surface. It is air cured with a shelf drying system to provide a high value product.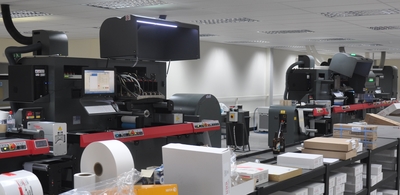 Twin Jetrion 4900 presses at Colorscan
Finding a niche
Colorscan originally started out in 1980 as a photo-processing laboratory for both the professional and amateur markets. In 1994, Mr Forster saw the first digital camera and decided that the company had to change direction. It bought a Xerox MajestiK colour copier/printer with a lasermaster front end and developed a new business model based on imaged products. A friend of Mr Forster's worked for a brewery company and needed a special beer pump label, so Colorscan obliged.
From this, it developed a new business that gradually replaced the photo-imaging activities with other products that contain images. The badges were originally produced using cut sheet toner printing onto self-adhesive stocks, laminated onto a base and individually die cut. These could be mounted onto a fixture and Colorscan designed the necessary beer pump fittings.
The company patented these designs, and bought the necessary moulds and tooling, buying in the parts from specialist extruders as required. There are several designs, including a two-part easy change clip-on system with the badge on the front and an information sheet at the back containing details of the beer, or as an aide-memoire for the bar staff, ie to offer a taster. Usually, there is a simple sticky pad to affix the rigid pump badge, other fittings allow the badges to be easily swapped as a new beer comes on tap. Mr Forster describes the niche as 'Point of sale for brewers', and the company will have supplied some 2 million of these in 2013.
The pub market is changing, with growth in food, live sport on big screens and the arrival of guest beers providing more choice and increasing demand for the badges and short run bottle labels. For example, Wetherspoons has 800 pubs and serves 600 guest beers annually, from both large brewers and microbreweries. The microbrewery sector is doing very well with about a thousand companies in operation across the UK, the highest number since the First World War (when the old licensing laws were introduced). New companies are springing up all the time.
Bottled beers need labels and the short run capability of digital presses are well suited to supplying high quality products. Colorscan sells short run labels, usually a front and a back together on a roll, with an average order quantity of 800. However, it is the pump fittings that are the bulk of the company output and average order quantity is just 60, with single items also commonplace.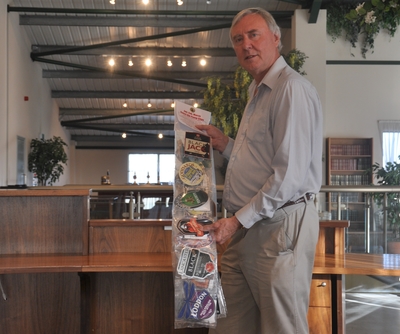 Managing director Keith Forster in the 'pub' at the new premises
Digital experience
Over the years, the company has bought a range of digital presses, including a Kodak Nexpress and Xerox iGen3. These are limited to four colours, and obviously cut sheet.
Customers were demanding higher quantities for labels, and so it looked at web printing systems. It tested the Jetrion and was impressed by the opacity of the white and translucency of the CMY that allowed high quality metallic labels to be printed. And so in the summer of 2012, the first EFI Jetrion 4900 press was delivered, configured with white, then pinning and the process colours, through cure, a laser cutting station, stripping, slitting and turret rewind. This proved to be very successful, and in September 2013, a second five colour Jetrion 4900M with no finishing was added. Both were installed by specialist supplier Grafitec Label Presses, which handles EFI sales in the UK.
The machines are working on an extended day shift pattern, some 10 hours per day with overtime as necessary. This is a fantastic example of a company that has found a niche and is exploiting it to its full potential.
With the average order quantity of just 60 labels and maximum runs of 2,000, it takes short run very seriously. The business is looking to expand into new products such as product decals, including domed versions, and items for the gift sector, such as fridge magnets and promotional items.