Inkjet first for Baker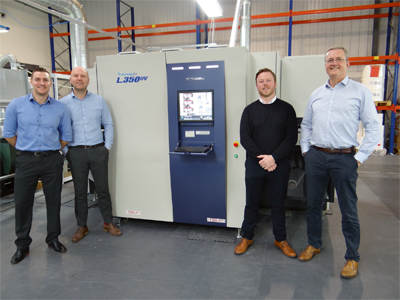 (L-R) Jamie Godson (technical and planning supervisor), Paul Sykes (production manager) and Jamie Doogan (sales manager) with Steve Baker.
Baker Labels has expanded its digital printing capability by investing in its first inkjet device, a Screen Truepress Jet L350UV press. The new press will complement a Nilpeter flexo press and three HP Indigo digital presses. Sean Smyth spoke to Steve Baker.
In November, Brentwood-based Baker Labels took delivery of its first inkjet press from Screen, the TruePress Jet L350UV press with Screen EQUIOS universal workflow. This is an interesting development for the label printer, which was one of the early pioneers into digital with three HP Indigo label presses, two WS6800s and a ws4050 that run alongside the eight colour flexo Nilpeter FB-3 line. 
Into inkjet
Baker Self Adhesive Labels is a trade supplier, providing design, pre-press, print and finishing. It is an experienced digital producer and the inkjet investment marks the next phase of development. Adding inkjet to the existing Indigo presses will help the company to offer new services to the market. It currently produces some 50-70 jobs every day, and as the installed base of digital equipment in the UK is growing, Baker needs to provide services that its customers cannot provide themselves.
The Screen press runs at 50 m/min, and with the UV cured inks, some jobs will no longer require separate coating or lamination, with improved chemical resistance and durability. The system is a straight roll to roll configuration of white plus process colours, with finishing handled on the existing ABG finishing lines.
Best fit
Bakers looked very closely at a range of alternatives before placing the order at Labelexpo in September. Managing director Steve Baker said, 'The Screen press was just the best fit to our business – it is compact and flexible. We produce short to medium run labels in the highest quality, very competitively and to tight deadlines so we have to rely on highly efficient presses that deliver maximum uptime and consistent results. The new Truepress Jet not only boosts our production capacity considerably but, as a UV inkjet press, it also gives us the ability to produce great quality labels with good light, chemical and water resistance. We have a wide variety of customers with diverse label needs and this latest investment gives us the freedom to choose the best press to produce the best label for a specific application.' 
Mr Baker showed me various samples from the trials they ran, and discussed the comparative merits of competitive machines in a lot of detail. The emphasis was not on the technical specifications, but on the benefits to the business, which is a valuable lesson for any company considering a significant investment. He did not say how much the press cost, although he did break into a smile. 
Screen is delighted with the order. 'Baker Labels is a progressive company and its decision to invest in the Truepress Jet inkjet press to complement its existing flexo and digital machines is a significant endorsement of our technology,' said Brian Filler, president of Screen Europe. There is space to put another machine beside the first, as Baker continues to plan for the future.