All about the colour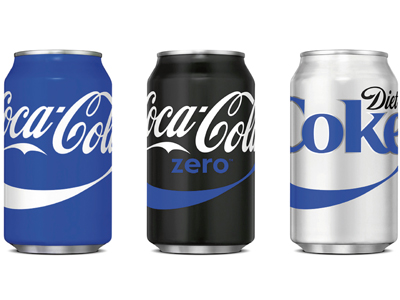 Packaging colours are key metrics for customers to identify and select a product; it can be disconcerting seeing wrong ones (source SSS – apologies to the brand police!)
Printers invariably use quality as a key competitive factor, with accurate reproduction of brand colours the most important aspect. With the latest colour management solutions, spot colours are spectrally defined and controlled – guaranteeing customer satisfaction. By Sean Smyth.
Brands know the appearance of their products is important. They spend a lot of money on the design and the brand colour is key, to the extent of Heinz trademarking their turquoise colour. Unsurprisingly they spend a lot of time, effort and money in ensuring brand consistency on labels, cartons, flexibles, cans and corrugated, printed across the world on many substrates using all processes.
It is strange to see totally wrong colours on a pack; customers take a rather dim view, hence the growing interest and use of colour management, which may involve several functions.
In process colour printing any press can print a range of colours, from 0 to 100% of cyan, magenta, yellow and black, or an extended colour set. Printing a suitable calibration test that has the full range of pure and overprinting colour patches, under normal press conditions on standard substrates, will characterise the achievable colours. Measuring patches with a spectrophotometer and processing the result provides a profile, defining the colour profile of the print engine. This device profile mathematically defines the colour that will result from any combination of colour values in a file.
Colour management systems use the data to optimise the quality of an image by adjusting it to maximise the colour range that can be reproduced. This approach adjusts picture images, and it defines colour values. When a measured brand spot colour is defined, the profile can provide the closest mix of colour values to reproduce the desired result.
Colour systems
There are many solutions available; the drupa catalogue listed 42 providers with some press suppliers in the mix as well. These take measurements, create profiles and manage colours as part of the workflow, automatically optimising colour quality. Service providers supply complete systems and the necessary training, including independent certification of the colour quality system. Suppliers are able to prove they can match internationally agreed colour standards providing reassurance for print buyers.
Systems include colour measuring instruments, such as integrated on-press closed loop colour quality equipment, software and communication tools. Esko's Color Engine is designed to enable colour management across the packaging and print supply chain. There are tools that will allow digital press users to match the colour and appearance of flexo. Changing a job to a digital press can provide accurate colour matching as long as the spot colour falls within the gamut of the digital device, but a screened result may not guarantee the same appearance as that of a solid. Converters will experiment to generate the flattest results from tints. The Color Engine is a central colour database that maintains the specifications, connected directly with the PantoneLive! system (Esko and Pantone are both owned by Danaher), allowing easy colour communication.
Mellow Colour provides a range of colour standardisation tools and support for implementing controlled colour, while MyPressExpert sells and supports ColorLogic GmbH's products. These include high-quality monitor calibration, profiling and DeviceLink tools up to an automated colour server, the ZePrA. It can be integrated into existing workflows to handle colour space conversion and spot colour transforms on the fly. A properly configured colour server handles the colour transforms off line, feeding proofing and digital press with optimised images that minimise the RIPing time on a digital press while boosting quality.
Closed loop control
Colour measuring tools have improved and come down in price, while training has made implementation relatively straightforward. Many of the new digital presses contain integrated colour measurement, with closed loop feedback to guarantee consistency throughout a run, and between reprints. Using such systems allow converters to improve customer satisfaction through reassurance, removing subjectivity using spectrophoto-meters, which means there is no dependence on individuals as quality arbiters.
One successful user is Berkshire Labels, which is using GMG's ColorServer to generate certified Fogra contract proofs, with all presses and substrates profiled to Fogra 39L for coated stocks or 47L for uncoated. Jobs are scanned into X-Rite IQC software to ensure the process colour set hits ISO density and colour readings. Spot colours are matched to Digital Pantone to a maximum Delta E of 2.0 utilising X-Rite eXact spectrophotometers.
The company has made significant investment in colour systems, crucial as it works towards achieving ISO 12647-6 standard for flexo and 12647-7 for digital. Managing director Paul Roscoe reports success, commenting, 'Retail customers want to know we are hitting the correct criteria, which is uploaded to them as soon as the job is passed to run. Having a closed loop colour management system means all of our customers can get on with their own jobs, safe in the knowledge that we are meeting all of their required criteria with consistent repeatability. The number customers attending press passes has greatly reduced, as they all receive certified contract proofs and we have demonstrated that all our knowledge in colour management and profiling will ensure the delivered labels are an exact match. We see a Pantone book as a thing of the past!'
Getting the measure
While most companies still rely on physical colour standards, Pantone has developed a virtual cloud-based system, PantoneLive!, aimed at achieving the correct colour across various substrates and print processes. It stores colour assets in the Cloud, allowing access across the supply chain to the data. Spot colour inks are measured at a range of film weights on a several substrates including black to determine transparency to provide full spectral characterisation, rather than a single L*a*b* measurement.
While the L*a*b* colour model provides a colour definition, there are limitations, particularly under different viewing conditions and for tints of the solid. The CxF standard delivers appearance and metameric guarantees. ISO 17972-4 defines a subset of CxF for spot colours that involves a full spectral characterisation by measuring 11 tint patches on the substrate and over black. Spectral data provides metamerism information, important as retailers use a range of light sources that do not conform with graphic standards.
In the US, CGS, operating its Oris brand, has been pushing CxF for years. One successful user is Diageo, which characterised several limited edition premium bourbon labels that were digitally printed onto a range of natural wood finish substrates. Kevin Chop, principal packaging graphics director of Diageo Innovation R&D in the USA, said, 'Using CxF greatly simplified the approval cycle and gave us confidence that the demanding light pastel shades would be faithfully reproduced to the satisfaction of our design team, which was indeed the case.' CxF data can be included at the creation stage and exported to PDF 2.0 files that can be distributed across the supply chain, ensuring the exact brand colour is used, not a guide. 
Strategy
Colour communication is a critical part of labels and packaging, and with the rise in digital there are many factors that must be implemented. This involves making sure colours match between different processes, as well as different jobs. Digital presses mostly use process colours and this can be problematic when the job is to match an existing flexo or litho print job that includes spot colours.
There are several approaches to transforming files to optimise colour. Whichever is chosen for a digital press must be good at converting spot colours into digital process sets.
HP Indigo presses can print spot colours, with special mixes available, but other technology has to make spot colours from the process set used. The achievable colour quality is a great strength of HP presses and the company has developed the functionality to include three-colour capability in the enhanced productivity mode that uses colour management techniques that were boosted in the latest releases.
It is not just the equipment that is needed to implement a colour management strategy. All parts of the company must buy in to a systematic, consistent approach of measurement and calibration. The colour system providers will support companies to develop their systems, showing how to profile presses and set up proofing, and they can introduce independent third-party certification organisations.
Independent bodies push alternative standards that define printing conditions, including Gracol/SWOP in North America, 3DAP in Australia, Fogra and the ISO with its 12647 series is gaining ground in Europe. ISO 12647 specifies the technical properties of half-tone printing covering screening method, dot gain, the colours of solids, overprints and substrate.
Conforming to the specified values for proof and on press result in a good visual match; measuring and recording proves consistency through a run. Pass sheets will be measured against a 'traffic light' system to the standard. Printing consistently to recognised standards is a growing trend and a good way for companies to keep ahead of the pack and offer more to their customers. It also helps boost productivity.