My digital journey – Bill of rights
Bill Hine with his Screen press
Bill Hine, managing director of Hine Labels, tells the story of his digital journey to Des King.
Acting every inch the canny Yorkshire man, Bill Hine looked long and hard at all the options open to him before opting to extend his thriving flexo-based labelling business into digital in 2009. But when the decision was finally reached, it underlined an equally characteristic trait shared by his fellow county men in making the biggest possible statement by being the first UK converter to install the Xeikon 3000 press.
It was the right move at the time. And, then six years later, he was once more up there amongst the leading game-changers of the pack as one of the early UK adopters of Screen's Truepress Jet L350UV inkjet label press; an entirely different digital technology to the toner-based Xeikon, and one capable of almost doubling its speed. Whilst flexo is still alive and well in Hine's Rotherham stronghold, there's a distinct impression that he's been right again with future growth being very much driven by inkjet. Bill Hine explains why.
When and why did you extend into digital print?
We first installed a Xeikon 3000 press 10 years ago to fulfil the growing demand for short run from existing customers. We liked the fact that it was an open book on costs and what you used; the complete antithesis to the click charge model that other suppliers were offering, which didn't seen transparent enough. Another big factor was that it didn't need to have coated substrates.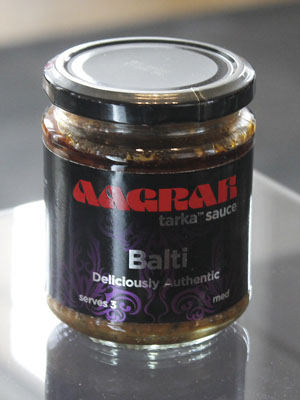 Balti sauce label printed on Hine's Xeikon press.
Whilst a demand for short run had probably been there for quite some time, it just hadn't been feasible to fulfil; it was stifled by costs and what the existing technology was capable of providing. Despite the total overall requirement staying the same, we could see the market disintegrating into smaller quantities, so instead of running say 100,000 olive oil labels, the same volume would be split up across 10 or more variations.
What were the main challenges you had to address?
Our press operators already knew the level of quality that was expected by our customers, so they basically just got on with learning how to deliver that on the new press. Even so, we clearly needed to develop a new skill level. Xeikon was very supportive in that respect, of course, and indeed they've helped us immeasurably over the years.
There were other challenges too; not least the workflow to get jobs into digital having cut out those platemaking and preparation stages. Also, we were used to a lot of spot colours which caused us some concern with digital being very much in the four-colour gamut. We already had Esko in house as an operating system, and they helped us on the colour management side; for example, we put a lot of time into ensuring that digital and flexo would look similar. We've since moved to a standalone colour management system.
And what have been the main gains?
We run both digital and analogue so can respond to whatever requirement comes up with the flexibility to put the right job on the right press depending upon demand, delivery, length of run and capacity. Our colour management skills have developed unbelievably to the point at which we're now able to ensure that we have absolute portability from press/process to press.
How has customer awareness to digital developed over the years?
It's an evolving process. We had traditional buyers that came from the normal mindset, and to whom we had to spend quite some time explaining the differences and, of course, the advantages. Any initial resistance quickly dissolved, however, when something was wanted by tomorrow. In the meantime, there are now so many new entrants into the market – many of them without any previous experience of print at all – with different expectations from what was once the norm. They just design something on their screens and want something that's like it to be printed up.
How has digital helped you and them to develop your businesses?
Delivery is a key parameter; the fact that you can drop an existing digital job into the queue and have it produced in just a few hours if needs be has a lot of value. For a print buyer, running low on inventory is no longer the dilemma it used to be either.
We've also extended into inkjet via the Screen Truepress, which has a massive colour gamut; well in excess of what other technologies can offer and far bigger than it ought to have out of four colours. It's one of the reasons we installed it. What it means is that we can produce a lot of what would have been flexo on the Truepress. If the customer sees the quality they can get from the inkjet press when it's operating to its best ability – the labels are almost like photographs – they very rarely want to go back to flexo.
Ironically, getting jobs prepped through the business to feed a press running at 50 m/min becomes a challenge, because we can now process so many more jobs per day. We're probably running at half what we could do, because of getting our admin systems efficient enough to keep up. Obviously, though, we've increased volume and turnover by extending into digital; the size of the business has increased by 20% over the past 10 years.
In addition to the Truepress inkjet machine, we still have our original Xeikon (upgraded to a 3500), and we're still running our Nilpeter flexo presses, albeit by nowhere near their full capacity now that so much work has migrated to the Truepress. In overall terms, one-third of all Hine's business is now printed digitally. However, we don't envisage ourselves going exclusively digital; there are still plenty of longer runs – not least with very little decoration – that would never get onto a digital press.
Is there anything you wish you'd done differently?
I'm happy with the decisions we've made at the time. It would have been nice to have got into digital a bit earlier, but I don't think the machines were ready. Some of the print that came off the first Omnius, for example, was awful. 
Going forwards it would be wonderful to have more work going through the digital route, but it's down to the cost of the ink. The capital investment required for the presses themselves doesn't differ that much from analogue systems. Substrates cost the same; it's just the ink we're putting on them. We have to pass that on, but the trade-off is that customers can have what and how much they want when they want it.
What advice would you give to anyone adopting digital now?
Too many converters buy the colour management solution that's offered by the press manufacturer, and then complain that they can't get their different press systems to match. They're missing the point. You've got a machine that puts ink on paper in a fixed and controlled way; you've got another one that does likewise with toner. All you've got to do is make them look like each other. As soon as we extended into digital, we realised that it was pretty vital to have portability of jobs within our business.
Computer skills are an integral part of pre-press. The operating screen on these digital presses is more akin to what you'd have on a big iPad; anyone familiar with current mobile technology is going to feel at home with a digital inkjet press straightaway.
How do you see the future for digital print for packaging?
I don't think that speed is the determining factor; it's the cost of consumables. A kilo of flexo ink is £20, whereas a kilo of toner is in the £70-80 range and it actually covers less area. I don't know whether that's formulation, scale economies or what, but I suspect that it's following the photocopier-selling model whereby the money is made from the consumables not the equipment.
All the developers are working on greater consistency and ease of operation. I think it'll continue to be perceived as a complementary technology to analogue – although at what point the see-saw might achieve balance I don't know. That will largely follow increases in speed and decreases in the cost of consumables, I dare say – and as more work is cost-effective to print digitally then those changes will take place.  
Read the full March/April issue here.