A power in digital labels and packaging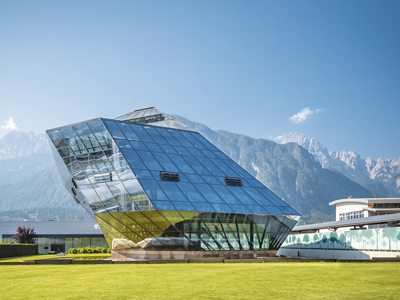 The stunning development centre at Durst's Lienz site in Austria
Durst has grown consistently and profitably since 2009 and has ambitious plans to deliver more growth, with labels and packaging forming a core part. Sean Smyth visited the press manufacturer to hear more.
Brixen and Lienz are two very pretty towns in the Tyrol, the former in Italy and the latter in Austria. It takes about two hours to drive between them, and a few more hours to get to an international airport, but it is well worth the effort, because they house the manufacturing and development centres of Durst. 
Durst is an international inkjet company, one that successfully transitioned from its base in photography as its core market changed, to launch its first inkjet machines at the turn of the century. Since then it has earned an enviable reputation for high quality, high performance equipment inwide format display, labels and packaging, ceramics and textiles.
Narrow web
The company is a major player in narrow web labels with over 100 installations of the Tau series of narrow web UV inkjet presses. Most are in labels, where it is well suited to personal care labels. Some users print aluminium lidding films and some are in cartons. It is significant that 15% of the installations use low migration inks as customers move inkjet into food and pharma applications. Helmut Munter, segment manager of labels and package printing, said Durst is well positioned to grow in the label market, highlighting screen-look labels, 'as the perfect inkjet food, although our press is doing a lot more, of course. We see customers printing a range of materials up to 500 microns, providing it is flexible enough to unwind.' 
The Tau presses have developed and improved since the original launch with the entry-level Tau 330E doing very well. A significant development is the new hybrid flexo/inkjet line developed in partnership with Omet. 
Interestingly Christoph Gamper, Durst CEO, noted that, 'Narrow web Tau presses are a successful business line, but strategically they are important to us. As well as helping us grow, we use it as a sandbox in our developments. We see packaging as a major opportunity for inkjet and the Tau has allowed us to understand the market better, giving us valuable insight to the real requirements of the developing marketplace.' While Durst spends over 8.1% of its total revenue on development, it also exploits its customer installations to learn and develop improved solutions.
Inks and heads
Durst uses inkjet heads from several suppliers and builds compact multi-head modules that can be easily mounted onto the head assembly, either for a fixed single pass or scanning head model. It has a range of head modules to speed up new press development cycles. The company designs its own electronics and drivers, tuned to the specific ink and application to drive quality and performance. 
The Lienz site is home to the R&D labs, and is where the company is showcasing its Delta SPC 130, the new single-pass corrugated press that was shown at drupa last year. This machine boasts an impressive set of specifications, running at 9350 sqm/hr, and a new ink set, Durst Water Inks. This technology was developed in Lienz; Durst taking the decision to invest in a powerful ink development facility and employing a team of dedicated chemists. This has proved a very successful operation; the well-equipped labs are also used as part of a strong QC procedure. This is not the norm for equipment suppliers that sell inks they do not manufacture.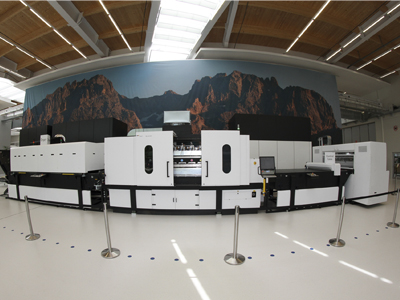 The Delta SPC 130 corrugated post-print line in the Lienz demo centre
Durst may use third parties to manufacture the ink but is fiercely proud of the technological development that allows it to be a leader in inkjet technology. It is also a source of competitive advantage, with a powerful team of development engineers and chemists bringing new inks to market. Unlike many other equipment manufacturers, it tests the inks itself; the labs are better equipped than some ink manufacturers', and there are new inks that will allow Durst to open new applications in the pipeline. 
The first customer for the Water Inks is Austrian display printer Bauernfeind Print & Display, which has successfully tested the Delta WT 250 flatbed printer. Bauernfeind is extremely positive about the technology, which is allowing them to move into new markets, including food and pharma where previous UV curing inks were not suitable.
Into corrugated
Durst believes Water Inks will open the corrugated post-print sector. The Delta SPC 130 is now being put through a beta testing programme at a corrugated customer. 'No, I can't tell you who it is,' laughed Wolfram Verwüster, segment manager for corrugated packaging and display printing, 'at least not yet. But I can say it was difficult to disappoint the other 20 or so converters who wanted to be out first install. 
'We see this technology as being very important to the future of the corrugated sector, so we have produced a machine but that is only part of the story. We know workflow will be a key component of a successful technology introduction so we have developed a system that will help converters unused to data handling to master new demands in admin and pre-press.' 
The machine will be supplied to connect into existing sheet loading (either top or bottom feed, without crushing) systems and to deliver into existing handling. 'We are not a corrugated board feeding company,' said Mr Verwüster. 'There are plenty of proven solutions and most converters have their preferences; we will fit in with those.'
The demo machine in Lienz showed the Delta SPC 130 without feeder or delivery. (Sheets move from right to left in the picture above). The machine is designed for six colours, but initially will be supplied in four-colour mode. The feeder passes boards through a cleaner, then positions them on a checking table, with a height detector system that will reject raised front edges that could cause a head crash. There is a top-side belt to keep the edges down as the sheets travel through the print station at 60, 85 or 120 m/min. The sheets then pass through a large dryer to drive off the water, and then under a final curing station to through cure the ink so that any finishing can be started immediately. 
Print quality is very good, and is certainly up there with four-colour litho-lam, with none of the high-build usually associated with UV inkjet. There is no noticeable odour and Durst is currently testing prints for use in food and pharmaceutical sectors.
Impressive site
Barbara Schulz, managing director at Lienz, said, 'We are very proud of this site and since the opening in 1999, it has continually expanded to house a larger team of engineers, chemists and software developers, and to build more machines.' 
After spending a little time at Durst it is easy to agree. It certainly possesses the most beautiful building in printing technology that I have visited, with a backdrop of the Dolomites to the south and magnificent views of the Alps to the north. And this is a well thought-through functional set of buildings, housing development labs, customer demonstration facilities and machine building. This is not just assembly, there is full aluminium machining – tempered grades, of course – to create the frames and custom inkjet head assemblies in house with modern CNC milling equipment. 
The facilities are beautifully clean (even the ink labs), modern and well lit, with much glass and wood reflecting the character of the region. There are very impressive architect drawings of the new facilities planned in Brixen, but much more significant is the products designed and built in these facilities, with the sales and support network Durst has created across the world. The machines are very high spec and high performance in their fields, and customers all report they work reliably and consistently over a long period of time. 
The company takes a considered view of the future inkjet opportunities. It has identified a clear development path that features packaging as a core sector. Christoph Gamper shared the company financials and outlined an aggressive plan for future growth over the next five years or so. 'We want to grow, but we will try to do it profitably by offering very good products that help our customers exploit new opportunities and create profitable businesses. We see great opportunities in packaging [and textiles], and we think we are in a great position to exploit these coming changes.'
Read the full March/April issue here.