Calm before the storm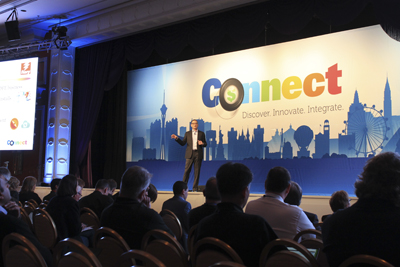 Marc Olin during a session on the state of the products 
The annual EFI Connect conference gathered for the 19th time to present a host of educational seminars, expert talks and product demonstrations. Held at at Wynn Las Vegas, the event was attended by 1100 customers, partners and press from all over the world. Neel Madsen  was there.
'These are very exciting times and an important moment for the world,' said CEO Guy Gecht in his opening welcome speech where he explored how the digital and physical worlds can coexist.
He declared, 'Technology is moving very fast and we are in the very early stages of the fourth industrial revolution about to face the storm. Print is far from over and the broader definition of print is going to get a lot stronger.'
Founded in 1988 by Efi Arazi, EFI celebrates its 30th anniversary this year, and Mr Gecht amused the audience by showing some snaps of the current management team, still with the company, from back then. He talked about how the technological innovations, or disrupters, of that era and up through the decades have changed the way people consume. 'The Internet of Things is changing our relationship with the physical world and we now face the next big technological revolution,' he said, describing it as 'huge and scary'. This will bring more personalisation in fashion, the building industry and packaging 'because we can and the market wants it.' 
Mr Gecht stated that printing will play a vital role as an enabler of this development as inkjet, due to the non-contact nature of the technology, will be the print technology of choice, with advances in automation saving time and increasing speed-to-market.
Corrugated in focus
EFI's Nozomi C18000 digital press for corrugated was a major focal point at the conference, which heard testimonials from early adopters, while attendees could immerse themselves in a VR print room to see the press in action. The press has been installed in North America, Europe and Asia, with new announcements of 'some big names' due to be made shortly, according to Ken Hanulec, vice president, marketing, inkjet solutions.
Surrounded by a digitally printed corrugated set on stage complete with a 'fireplace', Eric Bacourt, CEO of Hinojosa Packaging Solutions, and Mal McGowan, CEO of McGowans Print, joined Mr Gecht on stage for a cosy 'fireside' chat to talk about their experiences as the first two installation sites of the single-pass inkjet press for corrugated post-print. 
Spanish packaging printing company Hinojosa's decision to go digital with this press, which is running three shifts at its site in Xàtiva, was in response to reduced lead times and demands from customers for solutions that would help them to reduce costs. Mr Bacourt said, 'My aim was always to generate value for the stakeholders and to use the best technology on the market. This combination gives the best satisfaction for our customers.'
McGowans is a digital-only company, which works with big brands such as Coca-Cola and L'Oréal. The Ireland-based printer chose the Nozomi to differentiate itself from the competition. 'You can tell a Nozomi print a mile away,' enthused Mr McGowan calling the technology 'a real game-changer' presenting 'the biggest change in print that I've seen in the last 10 years.' He had originally planned to retire, but this new project kept him so engaged with the business that it put a stop to those plans. 
In the exhibition hall, the Nozomi could be  experienced through interactive VR demos, not only an engaging and innovative way to bring the technology to the event, but also a demonstration of how this type of interaction can be used for remote servicing and maintenance. 
Packed programme
With approximately 200 sessions at the four-day conference, attendees could meet with and provide feedback to senior EFI executives and technical development staff. Between presentations and breakout sessions, there were some 20 partner companies in the exhibition hall to visit, including 3M, Duplo, Enfocus, Esko, Kodak, Konica Minolta, Motioncutter, Ricoh, Xeikon, X-Rite Pantone, Xerox and Zünd.
Under the theme 'Taking Print to the Next Level', Xerox 'went beyond CMYK' focusing on application-enhancing innovations featuring a new digital front end with production colour technology demonstration for high value print embellishments and speciality effects. Kodak showed how its Prinergy workflow integrates with EFI's products and introduced version 9 of the InSite Prepress Portal. On the Konica Minolta stand, attendees could upload photos to a website for personalised playing cards which were printed on the stand and finished on a Duplo cutter. Intricately cut patterns could be seen on samples by Motioncutter, which also had a video running of the machine. 
The event also saw the introduction of a number of new products from the host company. These included the VUTEk HS125 Pro and HS100 Pro Fast-4 hybrid flatbed/roll inkjet press models, which offer speeds up to 225 boards per hour and the VUTEk FabriVU 340i soft signage printer.
In software, version 6 of EFI's Enterprise Commercial, Midmarket Print, Publication, Quick Print, Packaging and Corrugated Packaging Productivity Suites was unveiled, along with EFI MarketDirect, a cross media customer platform, and Escada software for corrugated process control, which offers more consistent board quality and reduced waste as well as with faster print speeds and production. Software demo stations were many, where users could focus on their particular sector and ask questions.
Sharing more during a Q&A session, Frank Mallozzi, senior VP, WW sales & marketing, asked three customers about their daily business with EFI. On stage were Peter Wagener from All Flags Signs and Banners, in Australia, Sally Gilbert from Gilson Graphics, in Grand Rapids, Michigan, and Felipe de Jesus Sanchez from Grafolaser and GrafoLabel in Mexico. Mr Sanchez said that his company had recently made a big investment in moving all their kit to VUTEk and that the Nozomi 'is not too far away for us.' 
The final keynote session was delivered by Dr Joe Webb from 'Unsquaring the Wheel'. He discussed the economic state of the industry, offering his perspective on the trends and challenges ahead, with actionable ideas for competitive advantage and a successful business future. He said that digital printing provides flexibility and solves the problems faced by the industry, advising, 'Focus on the purpose not the process; help people by successful and make money.'
Print future
EFI very much sees the Nozomi as a 'technology platform' and hinted at other applications, such as textiles and flexible packaging, as possible future projects, but would not be drawn on specifics nor confirm timings. 
During the press Q&A, it was also confirmed that the company has no immediate plans to re-engage with the label market following the sale of its Jetrion product line to Xeikon. Mr Gecht said, 'The deal with Xeikon was a win/win for both companies. We have kept the IP and our engineering team as they work on many other projects. We have the possibility to come back to labels, but there are no plans to do so.' He concluded, 'We're going deeper in the markets where we're involved.'
The company also spoke about its new Inkjet Innovation Centre, which is due to open shortly, in Manchester, New Hampshire. This new-build is located 55 miles from the exciting facility and all employees have been offered jobs there. 
In an exclusive interview with editor Michael Walker of our sister publication Digital Printer, Mr Gecht elaborated on the position on labels, saying that 'Jetrion was becoming a smaller portion of our portfolio, with more competition. There was a big internal debate about further investment in it and it was a tough decision; we either had to put our best people into it, investing in their attention as much as budget, or do something else. It became clear that Nozomi and textiles were the bigger opportunity so we doubled down on that.' 
As regards corrugated, he doesn't see the Nozomi as a niche product for a narrow audience either, declaring that it is 'huge' and revealing that Hinojosa already has over 100 customers ordering digital print. EFI expects to have sold more than 20 machines by the end of 2018, and most customers so far have opted for the more highly specified six-colour version, which includes white ink, because they want more jobs to be possible with digital print and not to have turn work away because of limitations in digital print equipment.