Green planet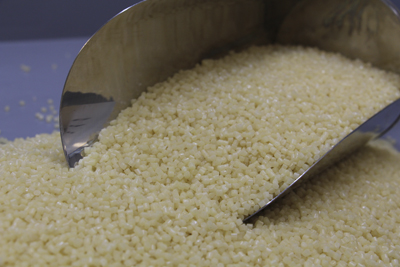 Fully compostable thermoplastic Lactips pellets made from milk
With plastic packaging back in the headlines again for all the wrong reasons, the time has come to look seriously at the bio-based alternative, says Des King.
Up until now, the bio-based equivalent of fossil fuel derived plastics has been largely considered an interesting but not necessarily commercially viable option for FMCG packaging. A 20% growth rate is predicted over the next five years, but that's on top of a current annual output of just over 2 million tonnes of all bio-polymer variants; representing barely 1% of all plastics in circulation.
Packaging is easily the most receptive user market to the bio-based proposition, accounting for around 60% of total production (1.6 million tonnes) this year. Its real significance, however, is more than numerical. In today's media-neutral marketing context, it represents the brand owner's most dependable point of contact with a customer-base increasingly concerned with incurring irreparable damage to the environment. A green face goes a long way towards signifying a moral compass set towards a more sustainable future.
PET project
The market is steadily being weighted towards like for like bio-based 'drop-ins' for established polymers, with bio-PET accounting for over 25% of annual output and bio-PE a further 10%. Conversely, the share of the overall market attributed to biodegradables including PLA adds up to 43%.
A major talking point at last year's European Bioplastics conference was the impending emergence of a new bio-polymer: PEF (polyethylene furanoate) with the potential to directly challenge bio-PET. Whilst the industry has been aware for several decades of the potential of the FDCA molecule (furandicarbolixylic acid) to act as the key building block in the development of PEF, moving from theory to practice has hitherto made little progress.
What has maintained interest in the 100% bio-based polymer, however, are the significant barrier properties that it potentially brings to food and beverage packaging applications by comparison to PET, namely the oxygen barrier which is 10 times better and the CO2 barrier which is 5-10 times better. It can also be used for hot-fill applications at 85 degrees. Another plus is that it can be processed via the same manufacturing equipment. 
Coca-Cola is one of a growing number of leading brands that has confirmed its readiness to switch its existing pre-production over when the right volumes are available. It was, of course, an early investor in technology developers Avantium, which along with its partner BASF in the joint venture Synvina, are members of a consortium established to create a PEF value chain supported by €25 million funding provided by the EU's Horizon 2020 R&D initiative programme, with a next stage objective of bringing a 50,000 tonne capacity pilot site on stream in Antwerp by 2021. 
Whilst this is one of a number of different PEF development technologies in play, it is arguably leading the rest of the pack and aims to be in full-scale industrial production by 2025; a realistic time-frame, believes Synvina CEO Patrick Schiffers. 'We're developing it from corn through sugar dehydration into oxidation and purification to have polymer grade FDCA, which is then polymerised in the standard PET method,' he explained.
Although it is seen as an alternative to PET, it might not necessarily seek to totally compete with it, noted Mr Schiffers. 'What's special about PEF is its functionality, so whilst it could replace bio-PET, it's a matter of how you position it in terms of pricing. We aim at really high barrier markets, whose potential is so big that you can position at growth; for example, the high value market for juices, sports and energy drinks.'
Also on the PEF trail is Corbion, which has developed its own FDCA molecule process and also aims to be in full production by 2025.
Brand new intentions 
Arguably a 'first' in retail corporate experience, two competing brand owners Nestlé Waters and Danone recently formed a collaborative partnership in conjunction with California-based Origin Materials – the self-styled NaturALL Bottle Alliance – to bring a 100% bio-PET bottle utilising second generation lignocellulosic feedstock, namely previously used cardboard, sawdust and woodchips, onto the market by 2022. With Nestlé Waters ranked as the world's leading bottled water company with total sales valued at €7926 million in 2016 and Danone's overall turnover in excess of €21.9 billion, both brand owners bring considerable leverage to bear in order to push the proposition forward.
Whilst PepsiCo has in the past been one of a number of other brand owners to aim for a 100% bio-PET rigid plastic container, but backed away due to unfavourable scale economies that prevailed six years ago, principal scientist Sandeep Kulkarni has higher hopes for the adoption of a bio-based solution on the flexibles side of its business. 'At this point of time, a lot of our packaging is recyclable; the PET beverage bottles of course, and in terms of weight constituting the most part of our packaging. However with our snacks products, those films have been non-recyclable or biodegradable for the most part. To address that we've been focusing upon PHB (polyhydroxybutyrate), which is being developed in partnership with Danimer Scientific. I can also confirm that we're aiming for 100% of our total packaging to be recyclable, compostable or degradable by 2025.'
It's an aspiration that likewise is backed by considerable leverage. PepsiCo's company Walkers Crisps accounts for 50% of the 240 million packs – from ready salted to new flavours such as lime and black pepper – consumed each week in the UK alone. That's a lot of flexible packaging that could soon be made out of PHB, with positive environmental messaging printed all over it that the rest of the category is sure to want also cash in on. 
The brand owner to arguably make the greatest impact on the conference delegates was Marks & Spencer, whose senior food packaging technologist Kevin Vyse announced its intention to reduce the current reliance upon three different polymers down to just the one by 2025. 'As part of Plan A 2025 we've set a bold goal to be a zero-waste business across all that we do. This includes designing our products and packaging that underpin the creation of a circular economy in the markets we serve – and that's why we're looking seriously at how we can use bio-based sourced feedstock with this programme.'
Whilst declining to be drawn on which polymer M&S might elect, Mr Vyse made a point of singling out the advances being made towards a commercialised PEF; not just as an alternative to PET for rigid structures, but also speculating of its potential viability as a flexible packaging solution – a possibility also flagged up by Patrick Schiffers, who confirmed that M&S was one of the companies with which Synvina was in discussion.
Similarly, whilst Mr Vyse declined to commit whole-heartedly to a bio-based-only future, there was little to doubt where the retailer's food packaging team's main focus of attention was being directed. 'We want to be transparent and local. We want to open the door and let the customer see what we're doing for the business and for the community. That includes being absolutely straightforward about the use of materials that we have in our supply chain.'
Flexible packaging
Also commanding attention from the conference podium were Kuraray, which has combined its proprietary starch-derived biopolymer with a bio-PBS sealant layer to develop the multi-layer Plantic CF compostable high-barrier solution that can be laminated to virtually any flexible packaging application. 
Most innovative bio-based solution demonstrated during the conference was the French-developed Lactips water-soluble thermoplastic pellets derived from milk waste deemed unsuitable for human consumption. Providing better gas impermeability than a standard EVOH/EVA structure, it is also claimed to be the 'most quickly biodegradable plastic in the world' by fully composting within just 17 minutes in cold water. The polymer has already been adopted by a French detergent brand.
A note of caution over terminology in everyday use in the bio-based sector was sounded by Michigan State University professor Ramani Narayan; not least in confusing biodegradable with compostable. 'Everything is biodegradable given time and the right environment. Industrial compostability quite simply qualifies the term; it puts the boundaries around biodegradability to enable the term to be used in the market place. It's not the recognised bioplastics industry that's getting this wrong; it's those organisations with products that are not totally compostable or even biodegradable. We are claiming compostable plastics, but if these along with the food and other stuff don't end up in the appropriate systems and aren't assimilated by the necessary micro-organisms, then this will come back to haunt us.'