Prototypes, proofing and short run production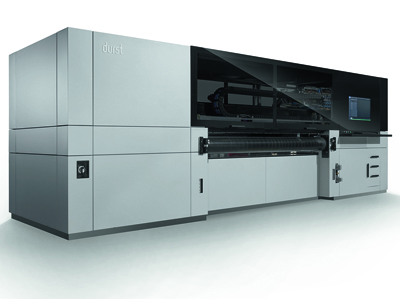 The new Durst P5 250HS wide format printer
Short run wide format inkjet printers offer a low cost method that allows companies to experiment with new market applications, well suited for labels and packaging. By Sean Smyth.
Inkjet printing in labels and packaging is growing strongly, and will continue to grab share. DS Smith recently spent €15 million on one giant installation as it looks to exploit new business opportunities in the established mature corrugated industry. Of course, you don't have to spend €15 million, there are other entry points into the market involving a lot less capital. This may be for proofing and prototyping, creating sales samples before a launch or finessing a design. 
Many converters use wide format inkjet machines for proofing and to print larger labels that cannot fit on to narrow web presses. 
There are many types of wide format inkjet printers. They range from at least 60cm wide up to grand format monsters in excess of 5m and all feature a traversing printhead positioned above the substrate that advances to build up an image in multiple swathes. They can be roll fed or for rigid materials; there are hybrid designs that handle both. They can use water-based, solvent or UV-cured inks. 
Printers cost from less than a thousand pounds to over a million for high performance flatbed engines. The lowest cost models will print onto specialist inkjet papers with solvent or water-based inks, but can be colour managed to match the stock colour and print, although spot colours may be simulated. The print may be cut up and glued onto a carrier to show the appearance of the final item of packaging, but without the structural integrity. A physical prototype is still valuable and useful. More expensive models can use the substrates involved and again use colour management to match the analogue print, including white and in some cases metallics.  
Prototype production
Fujifilm sells the high-end Inca Digital flatbed presses, as well as the mid-range Acuity range of roll fed and rigid printers. The hybrid Acuity LED 1600 II uses LED curing UV inks and can print plastics and board. It features varnish printing, which is encouraging users to provide high-quality prototypes. The reduced environmental impact of the machine means that it fits in with sustainable approaches to providing packaging.
Surrey-based Curtis Print & Packaging designs and manufactures luxury packaging. It uses an Acuity LED 1600 to produce prototypes to show exactly what the finished product will look like. 'We pride ourselves on beautifully designed and manufactured packaging, produced in an environmentally friendly way,' said managing director James Williams. 'We provide a full service, from consultation through to final production and delivery. We used to outsource prototyping services to local digital printers, but the quality was never quite to the standard we looked for. That, with our desire to have more control in-house, meant buying a printer that could print onto rigid or flexible surfaces, whilst providing a high-quality finish.'
The company chose the Acuity LED 1600, which has consistently impressed customers. Mr Williams continued, 'Ultimately, customers choose us because they want packaging that stands out. The feedback we get on prototypes is always positive. Whereas we used to offer caveats with our prototypes – explaining that the finished product would be much better – the quality now makes a real impact and gives the customer a very good idea of how the finished product will look.'
Proofing pioneers
Epson's printers have been widely used in proofing for many years, and are well suited for packaging and labels in a colour-managed workflow environment. The SureColor ProGraphics series is designed for accurate reproduction of up to 99% of the Pantone colour space and all models can be specified with an optional SpectroProofer to enable output that  complies with ISO standards. The printers are available in 61 and 112cm widths. 
Roland DG was a pioneer of wide format inkjet. Today it provides a range of entry-level and mid-range printers for many applications. There are integrated printer/cutters that can print full-colour labels and cut them into decal shapes without stopping. It recommends the TrueVIS VG and VersaUV LEC series for labels, highlighting the advanced features in the VersaWorks RIP software for spot colour matching and variable data printed labels. 
Roland technologies help to simplify producing realistic package prototypes, lowering the cost and time to create effective prototypes that perfectly match the final pack. Users can add premium effects and embellishments using clear and metallic inks on selected devices. Metallic inks can be printed as a spot colour for vibrant text and graphics or combined with process colours to create an entire spectrum of gold, bronze and pearlescent hues. 

Mimaki UJF7151plus rigid printer
Screen sells the Truepress Jet WS3200HV, a 320x205cm seven colour UV printer, which is used for many applications, including corrugated and paperboard for primary and secondary packaging. The company is positioning the press for prototyping and short run production, to take time out of the production process and there is also a high-speed version, the WS3200HS, available.
Mimaki has a wide range of inkjet printers and featured a variety of print-and-cut solutions for short-run and customised labels and packaging at Labelexpo 2017. 'Brands are increasingly looking for ways to differentiate labels and packaging for better market performance,' said Ronald Van den Broek, general manager sales at Mimaki Europe. 'While this is an effective approach for brands, it can put strain on conventional labels and packaging workflows due to the shorter runs and faster time to market these strategies demand. Plus, there is a growing need for fast production of samples and mock-ups to speed the design process.'
At the show, Mimaki used the UJF-7151plus to print rigid substrates with a small laser-cutter in combination to cut rigid labels to finished product. It features a 710 x 510mm printable area using process, white and clear inks plus primer. The CJV150 Series integrated printer/cutter solutions include silver, orange and light black for label printing. At a resolution of up to 1440dpi and speeds of up to 56.2sqm/hr, using solvent inks. Direct-to-corrugated printing is another hot topic the company looked at, saying that the combination of UJF-6042MkII printer and the CFL-605RT cutting table can be used to create corrugated boxes quickly and affordably.   
The UJF-6042MkII is a flatbed LED UV printer, with a maximum print area of 610 x 420mm, designed for ease of use for on-demand, direct-to-corrugated printing. There is a choice of inks, including LH-100 for a hard UV curable ink with high scratch and chemical resistance, or LUS-120 suitable for printing on soft materials such as flexible packaging and labels. Each is available in nine colours including white, clear and primer.
In February, Durst launched a new inkjet platform – the P5 series. The first release is the large format printing flagship, the P5 250 HS, which is targeted towards high volume production, at offset litho quality. It has refined the print module with new MEMS nozzle plates for 1200dpi resolution and ink drops of 5pl driven by Durst proprietary data-path and electronics providing precise drop placement and reliability. CEO Christoph Gamper said, 'The new P5 platform, including workflow software and advanced service tools, represents our key strategy to further invest into large format printing technology and further afield. We believe that there is a lot to explore in this market space and the P5 250 HS is our first statement.'
As with much wide format inkjet, the use in labels and packaging is quite fragmented. Proofing and prototyping is very common, simulating the flexo, litho or digital press result without disrupting production. Users then employ the very versatile machines to solve pain points and handle specific problematic areas rather than being employed for high volume production. They are also being used by companies outside traditional label and packaging to broaden their product mix into new areas, printing short labels and packs. Many label converters are printing short runs of cartons for their existing customers, and vice versa for carton companies to provide labels. 
Finishing
Of course, it's all well and good printing small quantities, but they have to be converted, cut to shape, creased and made into the final form too. Some printers, such as Roland DG's TrueVIS SG and VG models incorporate cutting modules, but this limits the speed. Using a die-cutter is cumbersome and requires a tool, so many companies employ a flatbed plotter/cutter solution. Zünd, Dyss, Elitron and Esko provide cutting tables with a range of sizes and features, while there are lower cost manual machines. Mimaki has the CF2 flatbed cutters in two sizes: 90 x 120cm and 120 x 180cm for packaging up to corrugated. Summa has the F-series range that uses a pneumatically driven conveyor belt that feeds material through while cutting.