Cloudy future for digital pre-press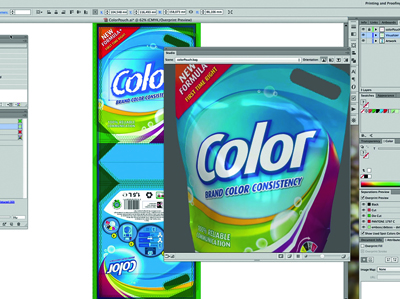 Esko's Studio Visualizer in Adobe Illustrator
Automation of the pre-press process remains the biggest trend in digital labels and packaging production. Simon Eccles reports on the software systems on the market and how these can optimise your workflows.
Today's biggest trends in digital pre-press are automation and remotely hosted programs. Naturally these come with a host of buzzwords, of which the trendiest are Industry 4.0 (a catch-all term for internet-connected machinery, automation and often robotics), IoT (Internet of Things, ie stuff connected online) and 'The Cloud' (current term for remotely hosted programs, often accessed via web browsers). 
Today's digital pre-press concepts for packaging and labels started off early in the 1980s. A group of mostly Belgian and Danish companies went through a long process of mergers and takeovers, culminating in Esko in 2001, based in Ghent, Belgium. It went on to take over its main competitor Artwork Systems in 2009. 
Touched by Esko
Esko dominates the labels and packaging production software market, from design to output, whether the jobs are destined for digital presses or conventional flexo and litho. It claims that nine out of 10 packaging jobs internationally are 'touched' by Esko at some point in the production process. The company has standardised on a single production workflow and pre-press server (Automation Engine), however there are still several parallel but compatible design and structural packages with roots in the original separate companies. 
Most recently at Labelexpo Europe 2017, Esko introduced Webcenter QuickStart for Labels, an artwork management system for online customer approvals. It said that new users can get up and running in just five days. Other WebCenter Quickstart packages are offered for corrugated artwork requests and approvals, and brand management. There is also Automation Engine Quickstart with Color Proofing, which allows HP Indigo users to quickly reproduce brand colours with six and seven process inks.
'We look at digital printing as just another printing process,' said Jan De Roeck, director of solutions management. 'Although our workflow and editing software will zoom in and provide solutions for specific requirements of each printing process, the bulk of the solutions are agnostic when it comes to the print process. Many converters combine digital print with conventional printing techniques, either offline as disparate print steps, or inline in combination or hybrid presses. The Automation Engine workflow is the only one that can intelligently and automatically route each of the separations of such a job differently through the workflow, depending on the print process defined for each of the separations.'
Digital printing's standout feature is of course variable data. 'The fact that each turn of the print cylinder can generate a different image using digital print also means that the workflow front end software needs support for variable data printing,' said Mr De Roeck. 'We support this in our workflow software and editors.'
Alternatives ways
As is the way with big conglomerates, some people who left Esko got together to do their own thing in a different way. Hybrid Software is emerging as Esko's chief competitor and a lot of its people worked for Artwork Systems before its acquisition by Esko. 'Today, we want to be the number one supplier for packaging pre-press,' said Paul Bates, UK and Ireland sales manager. Hybrid's main product line is Cloudflow, a modular production suite. There is also Packz, a PDF editor with specific pack-friendly features. 
Cloudflow runs on remote servers and is accessed through web browsers, meaning minimum infrastructure at the user end. Every module is installed by a single click, with no complex on-site integration. 'It makes it easy for us to roll out new features and it helps reduce on-going maintenance,' Mr Bates pointed out. It also means that the system is more competitively priced, he claimed.
The modules handle file processing, asset management and sharing, order lifecycle management, soft proofing and workflow automation, with packaging-centric support for with support for PDF, colour separation, trapping and screening. The Proofscape module for remote artwork approval is notable for not using login privileges but instead issues a time-limited URL for the job. The 3D visualisation uses iC3D technology from Creative Edge. It uses a Global Graphics Harlequin RIP for output. 
'It's very open, we integrate with everything, including Esko,' said Mr Bates. 'Jobs can spend longer in pre-press than printing, so we automate as much as we can. The folding carton sector has tended to compartmentalise everything into silos – design, structure, pre-press, production. We use Industry 4.0 principles and try to take the walls down between design, pre-press and production.'
Unlike Cloudflow, Packz runs locally on desktop computers, either Mac or Windows. Its PDF editing functions include trapping, separations, barcode creation and recognition, dynamic creation of info panels, and object-based screening. 3D visualisation including distortions to pack shapes is possible through the Packzwarp feature with iC3D Roundtrip.
iC3D is a sophisticated 3D visualisation system created in the UK by Creative Edge Software. Based on computer games technology, it can take Illustrator and PF designs and visualise cartons, bottles, tins and flexible packaging in realistic store locations. It costs considerably less than Esko's equivalent. UK distributor is Workflowz, whose managing director Alan Dixon said, 'iC3D provides photo-realistic 3D prototyping, with the ability to share the results online via the Opsis platform. The skill level to create and edit the products combining artwork has been lowered so you no longer require expensive resources to create fantastic results. It combines modelling, artwork editing and placement plus rendering all in one neat desktop application with results that need to be seen to be believed!'
UK-based Arden Software grew out of a laser die-making operation in the 1980s and it still has particularly good support for die-making. Its Impact database-driven software has automated features for structural design, product development and virtual 3D sampling. There are drawing tools to create new designs, plus a library of existing shape including corrugated (FEFCO), folding carton (ECMA), point of purchase display, rigid paper composite and media wallets. Impact:Enterprise allows access among multiple locations. In 2016 Arden introduced the ability to upload 3D scenes to the Sketchfab.com sharing site, where they can be viewed through web browsers with no need for special software.
Automation and PDFs
Enfocus is owned by Esko but tends to maintain its own identity, as its products work with competing developer's systems too. It has two main lines, for PDF pre-flighting, editing and correction (the PitStop Pro family), and user-configurable software automation (the Switch family).
PitStop includes many automatic fixes but also manual PDF editing tools that are far more extensive than anything Adobe offers. Pitstop Pro runs as a plug-in to Adobe Acrobat. There is also a standalone PitStop Server that runs automatically, including some problem fixing. 
Andrew Bailes-Collins, senior product manager, said, 'From customer requests we've added features to PitStop in 2018 that support large format, packaging and labels. These are mainly vector-based tools to enable working with die-lines, shapes, white underprint, etc.'
Enfocus Switch is modular and is available with a choice of ready-made flows and Configurators (direct links to compatible systems). Users can create their own flows with the option to use scripting tools too. An app store lets users buy and sell flows they have set up. A Switch Client for Web Portals was added last year, to allow customer access to jobs via web browsers. 
Adobe's long-established vector program, Adobe Illustrator (AI), is widely used for packaging and label design, while Adobe Photoshop is a sophisticated image editor whose name has become generic. Both are now only available as part of the subscription-only Creative Cloud (CC) suite and see regular if incremental new feature releases. The company said CC prices will rise by a few pounds a month on 16 April.
Adobe originally developed the PDF file format that creates printable files used by much of the print industry. However packaging and labels designers still tend to send native Illustrator AI files to production houses, largely because it is easier to edit them later if needed. PDF editors do exist, but designers often prefer to make changes back in Illustrator with its full feature set. 
Mr Bailes-Collins said, 'AI is definitely the main format of choice for creation of labels and cartons etc, but we are seeing an increased acceptance of PDF in the market. The tools are now there to handle these files, and workflows are designed to work more with PDF these days. One big driver for PDF will be the increase in digital print in labels and cartons – we're already seeing this happening with the likes of HP, Fuji and EFI, to name a few.'
Esko recently introduced a PitStop-based product for Illustrator as part of its DeskPro plug-ins range – said to be the only pre-flighter that operates within Illustrator, although Markzware's FlightCheck can analyse native AI files and launch them into Illustrator to be fixed. 
DALiM in Germany has developed packaging pre-press systems since the early 1990s, although today it concentrates mainly on automation and soft proofing. Its TWiST automation system allows user-configurable automation sequences to handle for example pre-flighting, file optimisation/conversion, colour management, image transformations and trapping. Third party applications can be incorporated, including Adobe CS/CC and APPE Normalizer. Alwan ColorHub, GMG ColorServer and Harlequin Rips. The DALiM DiALOGUE engine is a soft proofing display and collaborative approval system that delivers colour accurate job images for web browser remote viewing, using HTML5 technology. It can be integrated to work with most production systems.
Chili Publish is yet another Belgian company, this time a developer of sophisticated design software (Chili Publisher) that can be operated online via web browsers. It is designed for integration into other services, such as MIS or pre-press workflows, typically to work as part as of a web-to-print ordering system. 
In March, Chili announced its new major development, the Universal Graphics Engine. Alan Dixon at UK distributor Workflowz, said, 'It allows our customers to build even more comprehensive solutions around the engine, and integrate with more third party solutions. This has always been a focus of Chili, but now the clear messaging assists our customer to engage with their end users and explain the benefits of the leading online technology. Combine this with the release of version 5 and we now have leapt ahead of
the competition.'
Integrating MIS
Management Information Systems (MIS) are no longer just about costing, estimating and scheduling. Increasingly they are the automation hub for print factories that can oversee the reception of files (through e-commerce, web-to-print, FTP, etc) and then analyse them and route them to the appropriate processing workflow while scheduling the production. 
CERM and Label Traxx have specialised in MIS specifically for label printers, while EFI Radius and Theurer develop ERP/MIS solution for both packaging and label companies. 
'We work with both flexo and digital label printers,' said Katy Nightingale, business solutions manager at Label Traxx' UK office. 'The nature of the digital label industry has meant that we have had to develop a number of specific tools to support that sector. Digital typically means a higher volume of lower-value orders. Each order is also more likely to have a high number of sorts (SKUs), and each sort can be a different order quantity. Bottlenecks typically crop up in order processing and then swiftly move into pre-press and then digital finishing! Our job is to eliminate the bottlenecks and reduce the cost to produce a digital order.'
Digital costings work differently to offset or flexo, she pointed out. 'We partner with the major digital press manufacturers and ensure that we are able to cost the different types of digital printing and finishing equipment available. For example HP Indigo has a click charge, which is different to how Xeikon and other presses would be calculated. We have  made changes to our costing program for all the inkjet equipment, where ink costs are so much more significant. We have introduced automation in pre-press through the integration with Esko's Automation Engine and Hybrid's Cloudflow software.' Label Traxx passes job data with stepping instructions to the pre-press system, which then generates the step and repeat automatically. 'We also worked on a project this year to automate set up on the ABG Digilase digital laser cutter, which dramatically increased productivity on the machine,' said Ms Nightingale.
CERM is a Belgium-based developer that was bought by Heidelberg a few years ago. It works primarily in business management and automation systems for narrow web printers, including digital presses. It offers the usual set of estimating, product catalogue and sales orders, job admin, scheduling, shipping, invoices and stock management, with support for shop floor data collection. 
It can also automate the routing of jobs for production, for instance Hine Labels in Rotherham recently adopted a CERM system that can automatically send PDFs from its Esko Automation Engine for colour management by its Alwan ColorHub depending on which digital label press is needed (a Xeikon 3300 and Screen TruePress Jet L350UV and L350UV+LM), then takes the modified PDFs and sends them to the appropriate RIP. 
CERM's Web4Labels is a useful online tool that customers can use to order work, or it can be used by sales staff on the road to call up details, stock levels, see instant prices and confirm orders (with artwork upload) when at customer sites. 
Other more generalised MIS developers can configure their modular systems to handle labels and packaging. For example Imprint Business Systems, one of the UK's original MIS developers going back to the early 1980s, offers configurations tailored to carton, label or flexible packaging production. Imprint recently signed a deal with Glossop Cartons, where the MIS talks directly to the Arden Impact system and can pull in carton profiles from its extensive library for estimating and planning. Glossop prints by offset but has a Highcon digital laser/polymer cutting and creasing system. 
Theurer is a Germany-based developer with modules for ERP/MIS for packaging (cartons, corrugated and flexible) and labels, as well as general commercial print. Theurer's C3 system is available in two levels: standard for companies with up to 20 concurrent users, and Enterprise for larger operations with multiple sites. It not only works with conventional and digital processes, but it can generate comparative estimates. At last year's Labelexpo Theurer demonstrated JDF-based automation with the HP Indigo 20000 and 30000 digital presses. 
Increasingly the boundaries between who does what and the different islands of production are overlapping and to some extent merging. Industry 4.0 may be a clever marketing term, but it also describes things that are happening today.