Finding the perfect cure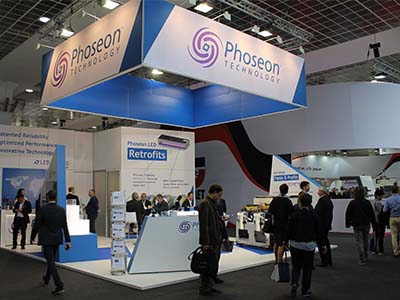 Phoseon specialises in UV LED systems
Turning ink or toner into durable print requires curing, a complicated process that forms an integral part of the digital printing press. Energy curing systems employ UV, UV LED or electron beam technology to 'make it stick'. By Neel Madsen.
In inkjet printing, UV curing with mercury lamps has been used for many years. The curing process starts by activating photoinitiators in the ink with UV light. This initiates a chemical reaction that hardens the liquid into a solid ink film. The process creates heat that has to be managed, especially when printing on heat-sensitive substrates, most often done by incorporating a chill roller in the press. 
The main challenge, however, is seen in the use with food packaging where the potential risk of ink components migrating into the foodstuff causes concern. This has been addressed by some manufacturers, which have introduced low migration inks for their presses.
In contrast, UV LED curing emits very little heat as it has a much narrower band of output across the UV spectrum, with no irradiation in the infrared spectrum. Furthermore, the system does not require warming up before use or cooling down afterwards, and offers a more sustainable approach with much lower energy consumption overall and longer lamp life. However, the initial cost of LED systems is significantly higher than traditional UV.
LED growth
Established in 2002 in Portland, Oregon, Phoseon Technology focuses solely on the manufacture of UV LED systems and has shipped more than 100,000 lamps used for applications ranging from packaging solutions for consumer goods to disinfection of laboratory samples. Its water-cooled FireLine and air-cooled FireJet and FireEdge systems are aimed at small and wide format LED curing. 
Having exceeded 25% growth annually for the past five years, the company is expanding its headquarters in the US by over 50% to add more space for manufacturing, design and its new Life Sciences division. 'The continuing need for innovative LED solutions demanded by the markets we serve has created the need for further expansion of our Hillsboro, Oregon, facility,' said Bill Cortelyou, president and CEO. 
'Phoseon is encouraged by the progress and market presence we've attained over the past 16 years moving us forward while strengthening our leadership position,' added CFO Chris O'Leary. 'With a strong balance sheet, we will continue to invest heavily in research and development to enable high-value solutions to lead this market transition.'
German manufacturer Hönle has developed the jetCURE LED system for inkjet applications. It can be used for interdeck drying (known as pinning) and final drying. The length of the air-cooled array can be matched to the application in question by connecting single LED assemblies and offers curing power up to  16W/cm² to guarantee full cure. Power control is possible between 15% and 100%.
It has also introduced the new LED Powerline AC/IC, an air-cooled UV LED high-performance unit with intensities up to 8W/cm2built in a compact design and low weight. Its newly developed intelligent controller is integrated in the LED device. This comes in two versions that differ in intensity output and size of the radiation aperture. For larger radiation widths several LED heads can be connected without gaps. 
Kyocera introduced a new modular UV LED curing system at the 2017 InPrint show. The G5A uses air-cooling, which allows for a very compact design. It features high radiation power, dense LED arrangement and optimised heat distribution.
The G5A is based on UV LEDs that are arranged in high density on a ceramic substrate to promote label printing, printing of large-scale signs and printing on materials like wood or plastic. The system can reach a maximum radiation of 24W/m2, which at 50m/min corresponds to an energy output of up to 350mJ/cm2. Depending on the application, the new UV LED light is available with a 385mm or 395mm UV wavelength and several modules can be combined to increase the radiation width.
The future of curing
IST Metz has developed a hybrid system, MBS Hot Swap, which allows users to run both UV and UV LED, using interchangeable cartridges but a common housing. Joint managing director of IST (UK), Simon Mitchell, explained, 'The jury is out on UV versus UV LED and the winner will depend very much on the relative cost of inks and energy in each market. We believe that LED-based technology and the elimination of lamps is the future, but just like the adoption of electric cars, there are 'progressive' and 'reticent' buyers.'
He continued, 'We believe that as LED volumes increase ink prices will come down. It is the narrower curing range (350-420nm and 385nm as standard with LEDcure) that restricts the type of photoinitiators that can be used,' and concluded, 'We are getting more and more enquiries about LED and expect many to convert in the coming months.'
Simon Mitchell, joint managing director of IST (UK) Ltd
Also part of IST Metz, which partners with OEMs, integrators and print system developers worldwide, Integration Technology Ltd has recently launched a high dose air-cooled LED variant of its VZ series. The VZX offers a high performance of 22W/cm² and is particularly suitable for high-speed single-pass applications in inkjet, flexo and web printing. It is equipped with XT8 booster technology for greater efficiency in intensity and dose.
GEW offers several solutions for digital printers through the ArcLED hybrid UV curing system, which operates in conjunction with the Rhino power supply unit. 
With this system, printers are able to operate hybrid UV curing, working with either mercury arc or LED lamp technology, or both on the same press. The Rhino supply can provide either a standard UV output for flexo or a high-intensity output often needed for inkjet printing. 
This same unit can accommodate 'iron doped' lamps that are sometimes used in inkjet processes, where the inks need a different UV wavelength for effective curing, explained David Lyus, specialist UV sales manager at GEW. He added, 'The Rhino will power UV LED curing systems, which are of particular interest to the market and have proven to be especially effective for the printing of opaque whites, at the same time offering significant reductions in heat output.
'The beauty of the Rhino supply is that it streamlines all of the lamphead technologies that inkjet printers may need, depending on their ink set and process. It offers one supply source, one electrical integration, one control interface, and yet it can reliably and robustly supply power for a whole myriad of digital applications.' 
Curing beams
Electron beam (EB) curing offers a sustainable alternative. The process uses no photoinitiators, has no odour, emits no heat and offers a consistent depth of cure. Lamp life has been shown to be extremely long without degrading over time. 
Last year, ebeam Technologies together with Uteco and INX International launched the Gaia digital press for flexible packaging; this integrated the ebeam Compact lamp for curing and is aimed at the food packaging market. 
This year, the EB curing specialist introduced a new system specifically developed for the finishing of labels and flexible packaging printed on the HP Indigo 20000. The ebeam Core 100/760 was shown installed on a GM coating unit earlier this year to demonstrate how the instant curing system has been optimised for over-print varnish applications. This adds the ability to offer production of safe indirect food-contact packaging. 
Elsa Callini, business development manager at ebeam Technologies, said, 'By addressing many important flexible packaging challenges, including fast turnaround times, environmental factors and traditional barriers to the safe production of indirect food-contact flexible packaging – we believe we have a promising solution for finishers and converters.'
ebeam curing also offers high-gloss, matte and soft-touch finishes that are scratch, tear, puncture and fade resistant for increased package durability and abrasion resistance. Finished materials have increased heat resistance, which enables heat-sealing to form pouches, and as it is a room-temperature process, heat-sensitive substrates can be cured without issues. The system can further be used for the cast & cure process to produce holographic effects. 
GM coating unit with ebeam curing as shown at HP's VIP event