My Digital Journey: Dustin Steerman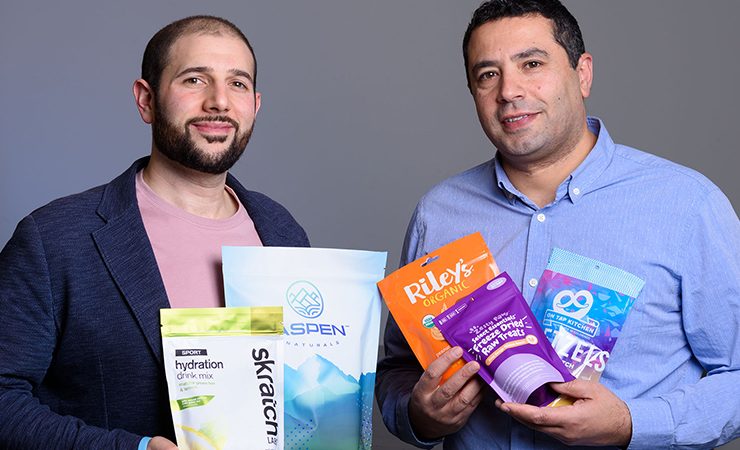 Dustin Steerman (left) and Walid Boustani (right) invested into ePac in 2017, becoming the company's first affiliate operators
Having got in early with ePac Flexible Packaging's rapid and increasingly global growth, Dustin Steerman has valuable insights and lessons to share from his journey with digital print for packaging.
Where did it all begin?
I entered the paper and packaging industries in 2006 at the age of 17. From 2006-2011, I worked exclusively in paper converting where we sheeted folding carton and premium paper grades for offset printers and rewound publication grades for web-fed printers specialising in magazines, catalogues, books, newspapers, and retail inserts.
In 2011, I transitioned into growth categories within paper, specifically food grade, tissue and towelling, and self-adhesive labels. I established a North American distribution model for self-adhesive label manufacturer Torraspapel. We imported jumbo reels, slit them to finished widths here in the US, and distributed the final product to local narrow web converters.
In 2015 while working in the paper industry I began to focus on the emerging cannabis market. The cannabis industry is what led me to ePac in 2016 and my eventual investment into the business in 2017.
Upon joining the organisation, I became general manager of ePac Boulder, and transitioned into my current role with ePac Holdings in 2020.
Tell us about your current role?
Presently, I'm the regional vice president of sales at ePac Holdings. From a commercial standpoint, I support our Western North American manufacturing operations in developing and scaling community specific go-to-market strategies. Each region we serve has its own business demographics, and as a community-based manufacturer, we seek to align our in-market strategy to the needs of the local businesses.
Innovation is what initially drew me to ePac, and I remain involved within this segment of our business from the ongoing development of our certified child resistant products and evolving sustainable portfolio, through to sales strategy, best practices and GTM.
ePac Boulder commenced operations in 2017 as ePac's first affiliate location. We built in Colorado to effectively innovate within two core markets, natural products and cannabis. The city of Boulder is known as the Silicon Valley of the natural products industry, and the state of Colorado was the first to legalise recreational cannabis in 2012.
We experienced hypergrowth due to the outpouring of support from local businesses, so much so, that our team grew from nine to 50 in its first three years.
Today, our focus is to continue serving local businesses throughout the Rocky Mountain region. We've increased our pouching capacity by 150% in the last 12 months going from two lines to five lines, and will continue to further invest in order to provide our community with best in industry service.
When and how did you first encounter digital printing?
I was first exposed to digital printing in 2007, however it was my journey into self-adhesive labels in 2013 that afforded me the opportunity to work closely with HP's rapidly evolving Indigo technology. Having been exposed to the disruption digital print caused in the label industry, it established confidence for me that the same could be done within flexible packaging.
I entered the digital flexible packaging segment in 2016 after placing orders with ePac's proof of concept facility in Madison, Wisconsin. The moment I walked through ePac's doors and saw the potential of digitally printed flexpack and the culture ePac's founders sought to expand, I was all in.
How important is digital print to the future of flexible packaging?
Digital print is moulding the future for all of custom printed packaging, whether it's corrugated, folding carton, direct-to-shape, flexible or other form factors.
Sustainability is finally front and centre in our industry and CPG. When it comes to this, digital is second to none. As we see technology advance and presses become wider and faster, digital will become a more sustainable production method not only in smaller run lengths but larger ones too. Speed and flexibility have become a part of our everyday lives, whether we like it or not.
The B2B buyer has come to expect that which is provided in B2C – convenience. This is where digital will continue to pave the way.
How have you witnessed the market for digital print develop?
When I first entered digital flexible packaging, it was unknown to the mass market.
What was believed to be an inferior product just a few years ago has proven why it now commands a premium.
Digital is advancing at a pace the packaging industry has never witnessed before, and there will be no slowing down with an expected 11% CAGR over the next five years. From e-commerce companies boasting robust web-to-pack environments, to downstream assets providing instant lamination and curing, manufacturing is transforming in front of our eyes.
We're in the early stages of processing at a speed that was not possible until now. Long thought to be a short-run production environment, industry innovators are proving that digital can be competitive at scale.
I am most excited to see technology advance within workflow management and finishing equipment.
What lessons have you learnt?
People and culture are invaluable. You can have the best assets in the industry but without the right team your business will never reach its full potential. I became enamoured by why after reading Simon Sinek's Start with Why. As individuals, we all have different interests but one thing that has become apparent to me is that we're often driven by the people we care most about. A company's 'why' has the ability to pull a group of individuals together to coalesce amongst something bigger than themselves. When you get to see this happen first-hand, it's a more fulfilling experience than can be put into words.
To be successful in a hypergrowth manufacturing environment you must understand how to balance capacity with demand while experiencing north of 40% compounded annual growth.
It is necessary to make continuous organisational adjustments based on where you expect the business to be in three, six and 12 months.
Recruiting and training the right talent ahead of schedule in conjunction with timing asset installations before demand exceeds capacity is by far the greatest hurdle to manage and overcome in a hypergrowth manufacturing business.
What advice would you offer to those upping their involvement with digital print?
The possibilities within digital packaging are limitless when you embody a non-conventional mindset, and are willing and prepared to look through a new lens. We are on the forefront of disrupting a nearly trillion-dollar global industry. We must embrace technology and evolution in order to remain relevant.
Once the commitment has been made to digital, it's critical to niche down before establishing a wide offering. Build a go-to-market strategy, validate it, and remain disciplined in sticking to your target audience. You'll attract a wide range of opportunities, and some will be much more of a distraction than a positive contribution to your business.
How do you see the future of digital print for packaging developing?
Service is the new deciding factor for purchasers of packaging and this is where digital outpaces the competition.
Buyers seek a simplified experience and the companies investing in digitising their customer journey from start to finish will benefit greatly.
As the industry further advances, I expect consumable costs to come down, and run speeds and output to increase.
When you combine all of the benefits with increased production efficiency and reduction in cost, there is no doubt that digital packaging will continue to increase its overall market share in the years ahead.
This Q&A was first published in the September/October 2021 issue of Digital Labels & Packaging, which you can read online here; register here to receive future issues of the magazine, for free