Digital print for brand success: Worldly Aromas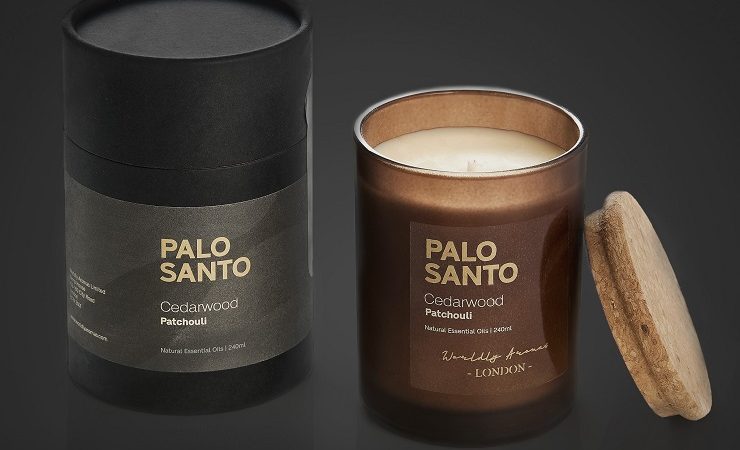 Three different labels were needed for the Palo Santo candle product
In the first of a series of articles supporting the annual Digital Print for Brand Success conference, Digital Labels & Packaging examples one of the many brands to have succeeded in recent times through the use of digital print for packaging.
Worldly Aromas is a UK fragrance brand with a conscience. Founded by university friends Danny Morgan and Simon Smith, who met whilst studying osteopathy in London, the company creates natural, authentic and sustainable products designed to complement practices like yoga, meditation and mindfulness.
After learning about the dangerous chemicals used in many commercial incense sticks, candles and aromatherapy oils, Mr Morgan and Mr Smith sought to create a brand that people could trust to provide products that are free from toxins.
'We also care deeply about our impact on the earth and avoid any animal or plastic wherever possible,' the company's founders state. 'We use high quality and rare ingredients to provide an amazing sensory experience, which is created by artisans from around the world. The processes involved to extract these ingredients do not involve chemicals and are made on a small scale with sustainability in mind.'
They reiterate, 'Customer experience and satisfaction is the highest priority for us and we do not believe in cutting corners or quick fixes so a lot of thought and attention goes into everything we do.'
This extends to the labels and packaging for its products, for which it has now partnered with Delga Labels and its HP Indigo 6900 digital label press. The print company created its labels business last year and installed the digital press as a means to target opportunities in the market for high-quality, bespoke labels for its customer base, both new and old.
Worldly Aromas is one of those new customers having come across Delga Labels through conversations with a fellow trader at Portobello Market. As Messrs Morgan and Smith explain, 'He used Delga when designing packaging for his chocolate brand so we decided to get in touch. Our products are very high quality. We are a very eco conscious vibrant young company. We need our labels to reflect our brand and ethos with a premium finish.'
Collaborative choices
Delga Labels worked with Worldly Aromas to guide it on the material choices and technical elements of production to achieve its desired labels, as well as suitable embellishment to elevate their finish. Two examples of this collaboration are the label for its CBD massage oil product, and labels for its Palo Santo candle. In both instances, the primary label was printed with four colours, on top of metallic silver ink to achieve a metallic gold effect in elements of the design. Both were printed on Herma's Martele, a hammer embossed textured material.
For the Palo Santo candle product, additional labels were needed to decorate the actual glass jar containing the candle and also the seal sticker. Again, four colours plus metallic silver ink were used, although the glass jar label was this time printed on a transparent polypropylene (PP) material from Herma. The seal sticker was printed on Herma White PP.
Matt Gardner, account manager at Delga Labels, says, 'We recommended the Herma Martelle for the tactile quality of the material as it's a hammer embossed textured stock, and suggested running silver metallic ink on the product name and Worldy Aromas logo and then over printing in four colours to achieve a metallic gold. The effect is more subtle than hot foil and lifted those areas to elevate the label into the luxury space they were intended to be sold in.'
Delga Labels also provided Worldly Aromas with alternative options to the initial brief, such as a different font and background, as well as moving a few layout elements, 'to provide better balance,' according to Mr Gardner. 'The client liked the initial layout choices and decided to stick with the originally spec'd font but did go with the alternate background option we supplied, which was a gradient based smoke pattern.'
For Mr Morgan and Mr Smith, 'The strong communication with Delga Labels enables us to achieve the high-quality finish we desire. Delga is great at suggesting options to best fit our goals. The design team are so creative and have helped a great deal in developing our brand feel.
'Delga has helped us achieve the premium packaging we were looking for at a reasonable price. We like the fact Delga is able to print smaller runs, which really helps us manage our cashflow.'
The Digital Print for Brand Success 2021 conference will detail further ways that brands and end users can and are able to capitalise on the potential of digital print for packaging. From labels, sleeves and flexible packaging, to cartons and corrugated packaging, the conference programme has been curated to provide detailed and up-to-date analysis of the latest trends and drivers advancing the use of digital print for packaging.
Digital Print for Brand Success 2021 takes place on 18 November, 2021 in London. Visit www.digitalbrandconf.com for the full programme and to book your seat.