Levelling up through investment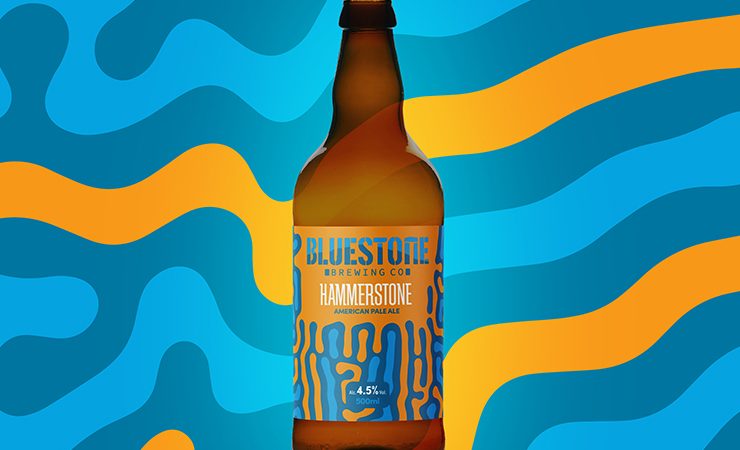 Bluestone Brewing has been one of Bristol Labels' success stories in the craft beverage market
Bristol Labels is using HP Indigo technology to grow its market share in the food and beverage industry.
Bristol Labels is a UK manufacturer of bespoke self-adhesive labels. Located in the heart of Bristol, in the south-west of England, the company has remained a family-led business throughout its 17-year history, despite huge growth and the acquisition of a competitor business. Today, the company offers both flexo and digital printing to a large customer base across a wide range of markets and is recognised as a leader in its field.
Despite a tough year for businesses, Bristol Labels has been celebrating growing turnover and profits driven by several strategic technology investments, all intended to maximise growth potential and keep its offering competitive amidst a crowded market.
The challenge
Since the company was formed in 2004, Bristol Labels has consistently set itself a series of goals designed to maximise its growth. The company identified that in order to rise above the crowded label market and have the confidence to compete against peers, there was a fundamental need to strengthen its own brand and distinguish itself from other label makers in the South West.
Identifying the multitude of breweries and food producers located in the surrounding region, Bristol Labels saw an opportunity to tap into the premium self-adhesive label space and soon became the go-to business for local craft beers, among many other markets including chemicals, medicines, cosmetics, e-liquids, CBD and even pet care.
But being a leader in the space wasn't enough: Bristol Labels also needed to iron out issues within the business from a production and financial perspective. The previous technology it had relied on was no longer fit to support its growth aspirations. Turnaround times were slow to make significant profits, and the machine did not allow the company to meet customers' sustainability goals. Furthermore, the company did not have a dedicated sales or business development team, meaning staff efforts were not focused on generating new business, and technology limited its offer. In order to continue to grow, the company knew it had to invest in technology that would allow it to reach its full potential.
The solution
As the company evolved, so did its technological needs. No longer capable of being driven by an entry-level label press, the company chose to invest in a HP Indigo 6900 digital press in order to increase its capacity for growth, improve its offerings and have the confidence to compete against peers by enhancing every aspect of the overall brand.
Although Bristol Labels produces labels for a variety of different industries, the food and beverage industry is by far its largest market. The company is experiencing ever-increasing demand for film, metallic and high-end textured paper labels from the multitude of craft breweries and food producers in the south-west of England.
The investment in the HP Indigo 6900 digital press allowed Bristol Labels to take on exciting new applications and finishes within the craft food and drink industry, including inline foiling, spot varnish and even new verticals such as sustainable packaging.
The result
Looking back at his decision to invest in the new press, Bristol Labels managing director Ben Stokes, notes that the upgrade allowed the company to iron out its financial and production issues within a short timeframe, and to focus on generating growth. Since introducing the HP Indigo, turnover has increased by 15%.
While the company's previous digital press ran at 4m/min, the new HP Indigo 6900 digital press worked at a minimum of 28m/min, which meant Bristol Labels could not only transfer all work from the old press, but also take on new jobs, reduce lead times and become more profitable, all while maintaining the same workforce. In fact, since investing in HP Indigo's digital printing technology, Bristol Labels' net profits have increased by 24%. The profit generated by investing in HP Indigo technology has provided Bristol Labels with a solid platform upon which to build. For example, the company has made further investments, such as a new GM Miniflex finishing line, which includes foiling and spot varnish.
Bristol Labels is optimistic that these new investments will further prepare the business for a busy year ahead, focusing its efforts on new opportunities and business growth within its already flourishing craft drinks market. The printing company is also hopeful to be in a position to strengthen its business operations by 2023, expanding both production and sales teams.
As well as improved production processes and profitability, the new HP Indigo digital press has allowed Bristol Labels to take on the challenge of sustainability with greater confidence. Newer verticals such as sustainable packaging have always been of importance to the business and, as more sustainable materials become available, is something that the company will look to focus on in the near future.
Dave Prezzano, managing director, UK&I at HP, comments, 'It's impressive to witness how Bristol Labels has evolved through digitising its workflow to become a leader within the craft drinks labelling market. It is great to see the HP Indigo 6900 digital press facilitating Bristol Labels' expansion into the vertical of sustainable packaging. All HP Indigo digital presses are designed with the environment in mind, not only are they manufactured carbon neutral, they also offer reduced production waste and energy efficiency, and support eco-certified materials including sustainable primers, varnishes and adhesives.'
Read Digital Labels & Packaging's detailed analysis of the craft beverage market in the March/April 2021 issue, and here
Bristol Labels is a member of the Digital Labels & Packaging Industry Group, a network of companies at the forefront of digital print for packaging applications; for further information and to join, contact Chloe Ward at chloe.w@whitmar.co.uk