The awards season is open for business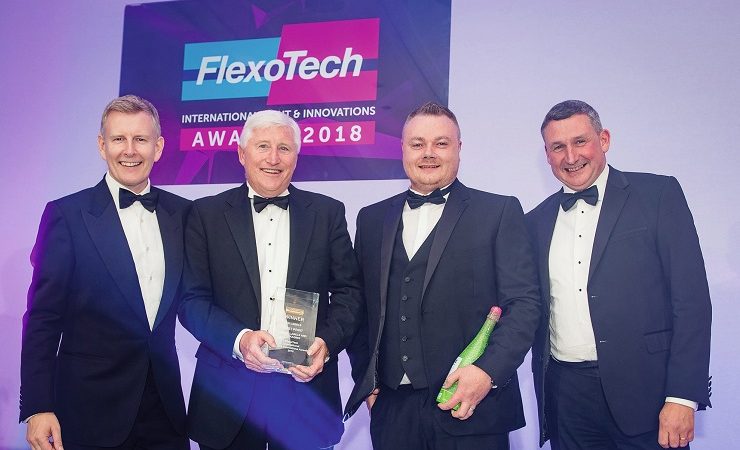 Digital printer CS Labels has previously won a FlexoTech Award for its work with Xeikon dry toner technology
With in-person industry events and exhibitions largely continuing to be on hold, at least until later in the year, print awards programmes provide printers and converters with the opportunity to claim back some form of normality, and rightly earn recognition for the work they have produced and output during one of the most challenging periods on record for most companies.
Awards have long been part of the fabric of the print industry, with their ceremonies often providing colleagues, peers and friends the opportunity to take time out from the office and the chance to reflect on the hard work the industry has done and continues to do.
Whether you're in labels, flexible packaging or corrugated, print digitally or with analogue processes such as flexo or gravure, and wherever you are in the world, there'll be an awards programme for you.
Below we detail a selection of upcoming awards programmes and categories relevant to the readers of Digital Labels & Packaging:
Who: EDP Awards
What: EDP is an association striving to become a recognised industry forum and a valuable resource for association members. A large part of EDP's work is to acknowledge and award the latest developments in R&D within the digital print industry in its annual awards programme. Since 2007 the best products have been honoured by the awarding of nearly 300 trophies.
Where: Online
When: TBC | Deadline: TBC
Why: Categories include:
Hardware;
Software;
Consumables;
Print process; and
Finishing and embellishment.
More: www.edp-award.com
Who: Label Industry Global Awards
What: Presented alongside each year's landmark Labelexpo since 2004, these awards celebrate innovation and excellence in label and package printing.
Where: TBC
When: TBC | Deadline: TBC
Why: Categories include:
Global Achievement, reflecting the values and vision of Stan Avery and his breakthroughs that founded the label industry;
Rising Star, recognising the achievements of emerging talent in the label and packaging industry who represent the next generation of leaders;
Innovation, for a specific innovation introduced recently by a supplier or converter company; and
Environmental & Sustainability, and marking a specific sustainable product or process by a supplier/converter company in the label industry.
More: www.labelawards.com
Who: Premier Print Awards
What: Brought to you by Printing United Alliance, this new awards programme honours print communications, recognising excellence in quality, creativity and innovation. This includes printing with screen, offset, digital, wide format, flexo, letterpress or gravure, and embellishments and enhancements, produced by commercial printers, sign and display shops, package printers and converters, in-plants, trade binderies/finishers, graphic designers, and students.
Where: Orlando, Florida, US
When: Printing United, 6-8 October, 2021 | Deadline: 30 June, 2021
Why: Digital printing categories include:
Packaging, for all digital printing on all types of packaging (label/pressure sensitive, flexible packaging, paperboard, corrugated);
VDP/customised, for entries featuring complex use of variable data incorporating many facets of data and design elements; and
Direct-to-object, for inkjet-printing technology to decorate three-dimensional objects.
More: premierprint.printing.org
Who: FlexoTech Awards
What: The awards highlight advances made in flexo by recognising the efforts of the industry from across the world, as well as associated processes such as digital and hybrid printing.
Where: The Royal Lancaster, London, UK
When: 13 October, 2021 | Deadline: 9 July, 2021
Why: Categories include:
Digital labels and packaging, for any packaging or labels which have been printed with digital printing technology only; and
Hybrid printing, where flexo is the main printing process but different processes have been used to give the print additional qualities or attributes.
More: www.flexotechawards.com
Who: Digital Printer Awards
What: These are the industry's only comprehensive digital printing awards, showcasing creativity in concept and design, as well as quality, innovation and impact.
Where: London Marriott Hotel Grosvenor Square, UK
When: 4 November, 2021 | Deadline: 27 August, 2021
Why: Categories include:
Digitally printed labels, for labels that use digital printing to deliver additional benefit to the customer, which may include making high-quality products available for micro and small businesses in addition to providing agile supply chains and reduced inventory and waste.
More: www.digitalprinterawards.co.uk
Who: European Carton Excellence Award
What: Regarded as Europe's most prestigious award for cartonboard packaging, the best carton packaging produced on both recycled fibre and virgin board across all market sectors will be showcased.
Where: Award gala (details to follow)
When: September, 2021 | Deadline: 28 May, 2021
Why: Categories include:
Food and drink packaging;
General packaging; and
Innovation.
More: www.procarton.com/awards
Who: World Corrugated Awards
What: These awards aim to honour leadership, vision, innovation and strategic accomplishments of companies, teams and individuals within the global corrugated industry.
Where: SinoCorrugated 2021, Shanghai, China
When: 16 July, 2021 | Deadline: —
Why: Categories include:
Design innovation;
Material innovation; and
Application innovation.
More: wca.sino-corrugated.com
For more on upcoming industry events, click here