Seeing is believing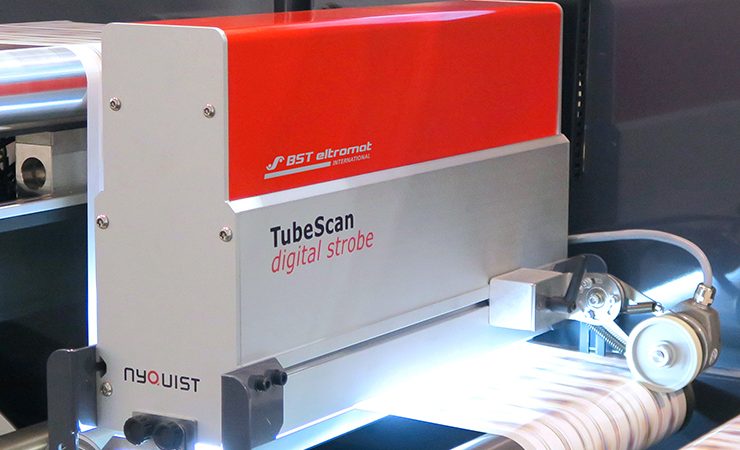 Nyquist Systems' TubeScan camera technology can replace linescan technology in many applications
Whilst digital shares many of the same print defects as conventional print, digital presses introduce additional errors not known in the conventional world.
As such, implementing full and proper inspection in digital package printing environments is essential so these may be detected, removed or corrected, and the expected print quality achieved.
Stephan Krebs, managing director a Nyquist Systems says, 'Whether inkjet or toner-based, digital printing is posing new challenges to inline inspection. Inspection in analogue printing requires general monitoring of colour, registration and completeness while digital printing introduces additional requirements such as consistency of variable content, seamless job change, variable formats, etc.'
Benedikt Fiedler, ProofRunner Sheetfed product manager at EyeC, sees that the high quality of conventional printing processes such as flexo and offset are fully developed, with quality able to be shown to a customer using random samples and statistics based on decades of experience.
Digital printing, meanwhile, enables dynamic and individual productions, 'as they are demanded progressively today and in the future'. With jobs increasingly smaller, more orders being placed and increasingly produced on-demand, such dynamism represents the greatest danger.
'Only comprehensive processes and products can ensure that the quality is monitored and correct throughout the entire production process. Nozzles can fail, register can change and many other serious errors can occur. Compared to conventional methods, digital printing is still in its infancy. The advantages of digital printing can certainly be exploited with quality assurance tools, like a 100% inspection system,' notes Mr Fiedler.
Lucia Dauer, product manager, print at Isra Vision, adds, 'The main challenges are the 'typical' digital printing defects like nozzle streaks or banding, and to be able to keep up with workflow that dictates significant variability in the printing frames along a job. Digital print runs necessitate very detailed inspection and very short set-up as the job runs are shorter than conventional print.
'A side topic is the digital integration into the workflow, which today needs to be individual to every press manufacturer as the branch is missing standards here.'
Check, confirm, complete
Mr Krebs continues, 'The demands on IT competence in pre-press departments have increased significantly. New PDF editors and workflows such as Packz from Hybrid Software provide new innovative and powerful functions with a direct handle into inline inspection. Inspection zones, variable data structures and many more objects to be transferred as meta data to the inspection system can be pre-defined.'
Label applications pose a challenge, he says, as many printing technologies are often combined to satisfy the needs of a wide and varied number of end uses.
Nyquist Systems' TubeScan camera technology replaces linescan technology in many applications, helping make inline print inspection affordable on all kinds of printing presses and finishing machines.
Lake Image Systems notes that to maintain productive levels, labels are printed in multi-lane formats using combinations of traditional and digital printing techniques. Many of these labels have very small repeats on very expensive stock. It is necessary to inspect every label and code, verify that it is correct against the data file, and that the general quality and security features of each individual label are accurate. Furthermore, the finishing of the roll, into individual reels, requires accurate integrity control, reporting and management.
Specialised, high resolution linescan camera technology can be used to inspect multiple lanes of variable information on web presses, taking continuous, single pixel, web-wide images, in precise intervals tied to the speed of the web. These images are then stitched together in the PC's memory before being processed and inspected. This requires a high performance PC, terabytes of storage and optimised inspection software to process the high image data rates, detect sub 1mm errors, verify it with an external file/DB, and if an error is detected, sound an alarm or stop the press. All this needs to happen within a few milliseconds depending on the speed of the web.
Specifically, the company's Discovery Multiscan provides automated print inspection, offering a suite of comprehensive print quality assurance and variable data integrity, verification and reporting software tools.
Discovery Multiscan offers a variety of print quality inspection tools to detect issues such as print registration, printing glitches, positioning, and color deviation to ensure the print is always within the required specifications.
Despite these challenges, labels and flexible packaging are quite defined processes, according to EyeC. The process is stable during testing and the order does not change. Therefore, labels and flexible packaging produced on the roll are already well established and can be easily inspected with the right systems.
'Packaging and cartons present a greater challenge,' identifies Mr Fiedler, 'because there is still a lot of work to be done on these products.
The complexity of handling and picking up a loose guided substrate, such as a sheet, is a supreme discipline in product inspection. Only a few systems master this to such an extent that the inspection accuracy specified in the data sheet can be achieved repeatedly at any production speed.'
He notes that when inspecting printed labels and packaging produced with digital processes, it is necessary to accept minor insignificant and acceptable weaknesses of today's digital printing. Also, only serious suspicions should be reported back to the operator or to the machine for automated rectification.
Any speed, any size
'Truly successful digital printing starts in the pre-press stage,' Mr Fiedler goes on. 'Print templates must be optimally prepared for subsequent processes. This includes, above all, fully automated preparation of print data for automated inspection in the pressroom. Therefore, the right information channels must be in place between pressroom and pre-press to ensure smooth, fully automated operation of the inspection in conjunction with the press. Automated systems for print image inspection help print shops to maintain high quality standards along the entire production chain: from pre-press to production and post-press.'
EyeC's Proofiler Graphic is a pre-press inspection system for checking digital data. The approved customer PDF is compared against the print-ready or imposed PDF file and the entire content, including graphics, text, and 1D and 2D codes, is checked for potential deviations.
Mike Simonis, president of Unilux USA, notes that, in many cases, full and proper inspection means multiple tools are needed to catch quality issues before they get too far. He adds, 'As digital press speeds increase, so does the probability that inspection strobes can add another, cost-effective level of quality control.'
Unilux's stroboscopic inspection lighting is intended to give the ability to see fast moving lines as if they were standing still, maximising press yields, eliminating unnecessary costs, improving efficiencies and increasing profitability.
Available as fixed mount and handheld options, they allow machine operators to quickly confirm quality at high speeds and troubleshoot the source of any quality issues anywhere on the press at full production speed.
Alongside speed is the need to inspect ever-wider digital presses and their output. 'The bigger the digital printing system, the bigger the challenge,' says Ms Dauer. 'The bigger, and wider, the digital printing press is, the higher the enormous data processing and inspection over full web width, and quite often also to inspect the inline varnish process, but still acting as a single inspection system.'
Isra Vision provides 100% inspection for digitally printed packaging with its PrintSTAR digital system. The company is also involved with projects in corrugated – both in post-printing of boards and pre-printing rolls, and the development of a 2.8m digital press.
Unilux's new LEDUVX inspection strobes incorporate high-end UV LEDs that increase the area that can be inspected. As an added benefit, these new strobes are no more expensive than the company's original LED UV inspection strobes, even though the performance is higher.
Such challenges and technologies highlight how, 'inspection is very important for the packaging market,' says Mr Fiedler. This is especially true for folding cartons and flexible packaging, and specialist segments such as pharmaceuticals.
'It ensures that all packaging is the same when it arrives at the finishing line, while faulty print products are marked and sorted out.'