Shaping that box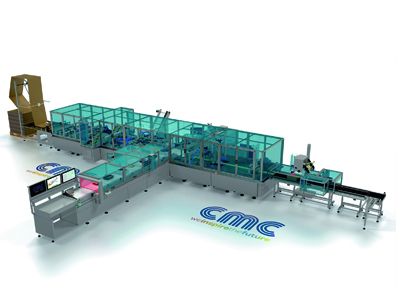 CMC CartonWrap system with full colour print capability
'I really like seeing things that I have never come across before. At Fespa in May, there was one of these that grabbed my attention.' Sean Smyth looks at digital converting for corrugated.
Laser finishing has been growing in label finishing for many years now, with ever more sophisticated laser technology delivering controlled pulses to avoid burning at the cut. This results in a cleaner cut, even with thicker, heavier materials including corrugate.
At Fespa, Spanish developer Macarbox showed a laser cutting system for corrugated that can cut shapes, score and interestingly take off the top liner to leave the inner fluting visible. Now, I don't know how this will be used commercially, but no doubt some innovative player will add an extra level of security or functionality to their product, and laser liner removal will be another tool of packaging embellishment. Under close examination there was no sign of burning or discolouration at the cut. Macarbox is part of a larger engineering group ETXE-TAR, which supplies turnkey projects to the automotive and heavy-duty industry. It uses laser cutting in other sectors and has developed the technology for corrugated.
Cutting and creasing
An early proponent of digital converting is Highcon, which launched the Euclid for cartons a few years ago. This splits the mechanical cutting and creasing of cartons and sleeves into two steps. Creasing is performed by extruding the creasing rules as a UV-curable polymer onto a foil that is wrapped round a cylinder to crease boards, then cuts and perforations are created with a laser before removing waste and delivering blanks or sheets for corrugated.
There are now many machines in operation and the range of products has broadened into corrugated with the new Euclid IIIC that can handle fluted substrates up to 3mm thickness. The first machine is at LxBxH in Switzerland where it produces high quality, short run packaging on demand. President Silvano Gauch commented, 'The ability to produce small to medium size batches just-in-time with low entry cost, allows our customers to order what they actually want.' He reports changes in the business model, with smaller quantities now economic to produce.
Highcon is encouraged by the early success in corrugated, noting that box compression tests prove that boxes produced with the same substrate on the Euclid are stronger than those produced on conventional machines. This creates an opportunity to attain the same strength with reduced material usage and so lower costs. The potential of adding lamination and high-quality print to the flutes also opens up a world of packaging that is both visually and structurally effective.
The technology eliminates the time and expense of mechanical dies, while providing the flexibility of digital technology which enables JIT production, short runs, customised perforations with cleaner edges and easier opening, and variable data etching for customisation or personalisation down to the level of serial numbers. Most of the installed base is used in carton production, where other digital systems are also making their mark. LasX and Petratto have combined in the Eclipse system where mechanical X-Y creasing is combines with laser cutting in carton manufacture.
In transit
Individual consumers handle more deliveries now, including the fast-growing subscription services that deliver meal packs, chocolates, cheese, beers and wine, pet food, baby supplies, razors, beauty tips and cosmetics, and even individual cereal/nut bars. At the end of June, Amazon paid $1 billion to buy PillPack, a specialist pharmaceutical retailer, which prepares tailored packs of prescription drugs for American patients suffering from chronic conditions. Leading pharmacy retailers saw $14 billion of their combined market value wiped out on the day of the announcement, so drugs will be added to the products shipped directly to customers.
All this will involve a transit pack protecting the items in the distribution channel. Amazon is doing a lot of work on packaging optimisation, as a $118 billion operation in 2017 saving a couple of percent on packaging is a valuable prize. Further savings result from lower carriage charges as dimensional weight pricing is used where a smaller pack costs less to send than a larger one of the same weight.
There are also significant sustainability benefits from the use of less material.
Laser finished corrugated by Macarbox
Integrating digital pack-making dovetails into the trend in the industry towards optimising packaging size to reduce over-packaging and shipping costs. This is important in transit packaging, where the growth in e-commerce (and now mobile enabled m-commerce) is fuelling major developments in on-demand box making that may change the location of packaging. This is happening for transit packs, with the arrival of innovative systems from the envelope and mailing sector, with Neopost, CMC and Panotec developing solutions.
Neopost's CVP-500 builds, fills, folds and labels a custom fit parcel in one seamless process. It has been developed to address the needs of e-commerce and help fulfilment and logistic companies to keep up with the rapidly growing number of parcels to be processed. The CVP-500 is faster than manual packing with one operator and it creates the smallest parcel needed saving materials with smaller parcels with no void filling.
CMC, an Italian mailing and logistics specialist, is moving into packaging equipment aiming at improving productivity and efficiency in e-commerce and fulfilment warehouses. It has the CartonWrap right-size packaging machine that processes 1000 boxes an hour, using rolls of board to produce bespoke wrapping just-in-time to save storage space and labour cost in the warehouse.
The CartonPack uses two parts, the Vary-Tote to automate multi-line orders packed in boxes unique to each consignment. Francesco Ponti, CMC CEO, commented, 'We have been pioneering different solutions for the ecommerce industry over the last four years and our technology has been very well accepted by the major retailers. Warehousing automation is key to achieve efficiency and productivity in packaging operations.'
The latest system uses fanfold material, cut to size around the items to be despatched and adds direct printing to personalise 1:1 right size packaging with full colour branding, pictures and marketing messages in the CMC PackVertizing system. Dutch third-party logistics company Active Ants is an early adopter of the CMC CartonWrap, the first user of full colour variable printing onto the variably sized pack in Europe. Active Ants has eliminated all client specific stock and uses a single corrugated for all their brands.
On demand
In January, US packaging giant Westrock bought Plymouth Packaging, a 60,000 tonne corrugated producer. Nothing particularly special in that, you might think, but Plymouth derives approximately 70% of its sales from its 'Box on Demand' systems and corrugated fanfold, using technology from Panotec. As part of the transaction, WestRock acquired Plymouth's equity interest in Panotec and its exclusive right to distribute Panotec's equipment in North America.
Box on Demand systems are located in customer sites and consume fanfold corrugated to produce custom, on-demand corrugated packaging that is accurately sized for any product type according to the customer's specifications. Plymouth installs systems under multi-year exclusive agreements for the fanfold corrugated supply. 40% of these sales are to e-commerce customers, with the remaining customers serving building products, furniture and other markets with over 100 customers.
WestRock expects additional containerboard integration opportunities as the company serves this growing on-demand packaging market. 'The acquisition of Plymouth Packaging will further develop our innovation platform and our differentiation strategy,' said Jeff Chalovich, president of corrugated packaging business. 'The addition of the Box on Demand system will enhance our automated packaging systems business and WestRock's differentiation in e-commerce and other custom applications where on-site box making is needed. The acquisition will improve our margin profile, our growth prospects in our corrugated packaging business and move us closer to our goal to be 80% integrated.'
Digital printing is increasingly part of the converters' production armoury. Less heralded, but probably increasingly significant is the arrival of digital finishing technology. The supply chains are evolving with the changes in retail and it provides a new opportunity for converters. If pack making takes place in distribution warehouses there will be opportunities for packaging suppliers to manage the process for their customers, in an on-site production cell. Warehouse personnel may not have the necessary skills to guarantee high quality boxes, and logistics companies may not have the appetite to make the capital investments but converters certainly do.
The model of operating machinery, and providing the material, is attractive and may become an increasingly important business model for packaging companies going forward. Expect the next generation (or maybe next but one) to feature integrated printing and carton making to simplify production and reduce time to market. Developers are looking at the use of 3D camera systems over a conveyor belt in a warehouse to determine the required volume of packaging for the items combined in one delivery. It will help their customers get even closer to the end consumer, which will be a critical source of competitive advantage, enabled by new digital converting technology.