Controlling the ink drops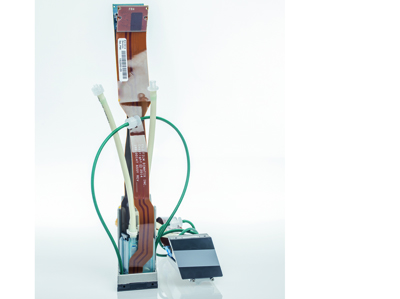 Fujifilm Dimatix Samba G3L printhead with electronics and ink supply tubes
The one common factor uniting inkjet printing is the use of a printhead. It is not only inks; there are functional fluids and materials in 3D printing, even liquid metals may be jetted. By Sean Smyth.
Inkjet's principal is straightforward: eject a drop of ink in a controlled manner to build up an image. As with much printing technology, there are many ways that this is accomplished with three mechanisms used to generate ink drops:
• Continuous inkjet forces ink through a nozzle. The flow then breaks into individual drops and there is a selection method, electrostatic or physical, to remove non-printing drops. Continuous is widely used in marking and coding, and by Kodak in high-quality graphics and packaging.
• Piezo technology depends on the piezoelectric effect (rather the reverse piezo effect), which is a deformation that occurs when an electric charge is applied to the material. Head manufacturers use this effect to generate a pressure wave in a chamber of ink, forcing a drop to be ejected as needed, then pulling in fresh ink as the deformation relaxes for the next pulse. These are made by Epson, Fujifilm Dimatix, Kyocera, Konica Minolta, Ricoh, Xaar and Seiko in packaging.
• Thermal heads include heaters in the ink chamber that rapidly vapourise ink, the pressure ejecting the drop. The technology is used with solvent and water-based inks. In packaging HP and Memjet produce thermal heads.
An excellent summary of head developments was given by Debbie Thorp, business development director at GIS (Global Inkjet Solutions), which provides drive electronics for most of the leading heads. She summarised the situation in packaging well, 'There's been a steady increase in the use of higher resolution, smaller drop printheads over the past eight years, from Xaar 1003 and 360dpi, moving to the Kyocera KJ4 with 600dpi and now Fujifilm Samba at 1200dpi. More 1200dpi heads are on the way; the Xaar 5601 is now shipping and GIS is working on more development projects meaning more printheads will follow soon. Small drops, high resolution and higher speed are the focus. These features offer high print quality, but bring additional challenges. Smaller nozzles can be more easily blocked meaning sophisticated software tools are needed to deal with the potential for missing nozzles and shifts in colour consistency and flatness (printhead density) – which are particularly visible in areas of solid colour. Multiple closed loop systems using colour sensors and vision systems so that errors can be quickly corrected via software are expected to become the norm on higher end systems – this is just one area of software development and focus for GIS.' And there is already a lot of choice.
With precision
Epson is a vertically integrated provider making heads, printers and inks for home, office and high-end markets. The latest generation micro-piezo PrecisionCore heads, which offer 720dpi native resolution and improved speeds, are in the single-pass UV label press, the SurePress L-6034VW.
Fujifilm Dimatix has many high-profile packaging customers, including Heidelberg, Durst, Landa and Mouvent. It is pushing the quality and speed with the Samba MEMS heads. Bailey Smith, director of business development, said, 'From the high resolution and productivity of Samba for labels, folding carton, corrugated liner and flexible packaging to the proven durability and reliability of the SG600 for the corrugated direct to board market, the broad array of Fujifilm Dimatix technology is ideally suited to the rapidly growing digital packaging market. OEMs using our technology have launched printers in label and folding carton, with on-going developments in corrugated liner and direct to board. There is also a significant level of activity in the exciting flexible packaging market with Samba. Overall, the digital packaging market looks very vibrant, and we're looking forward to participating in its continued expansion.'
Memjet DuraLink production module
HP has spent well over a billion dollars in developing thermal inkjet heads, used across office printers, through wide-format and flatbed to up to the single-pass corrugated presses capable of running at 305m/min. The MEMS heads are made in high volume to keep cost low, with heads almost a replaceable consumable. Each head has four print modules, each 22.3mm, with four rows of nozzles that provide in-built redundancy for high-end printers. The HDNA (High Definition Nozzle Architecture) version boosts the number of nozzles per die to 4226, delivering 2400 nozzles per inch and providing support for dual drop weight per colour. HDNA technology boosts quality and reliability with up to eight times nozzle redundancy that avoid lineouts.
Streaming ink
Kodak has the elegant continuous Stream heads that use a heater to set the size of the drops generated at 11.2pl or 4.75pl. An air curtain blows across the nozzle plate, pushing smaller drops into recirculation, letting larger drops print. A new mechanism selectively applies electrostatic charges to droplets allows the smaller drops to print in UltraStream, enables improved quality. UltraStream heads are being utilised by OEMs, while Stream heads are in the Prosper presses used in carton printing and in imprinting modules that can be added to substrate transports. One innovation is the S-Series, which have been added to a Uteco flexo press transport unit to print flexible film and paper substrates at speeds up to 300m/min – the Uteco Sapphire EVO – with good market reaction.
Konica Minolta supplies KM1800i and KM1024i heads for labels and packaging. The KM1800i operates at 85Khz at 600dpi, at speeds up to 200m/min. The slim design allows a small footprint, around 300mm for process colours, meaning they can be retrofitted onto existing flexo equipment more easily than physically larger similarly performing heads. The KM1024IM is being used with water-based inks to print onto pulp/recycled packaging at speeds up to 80m/min at 720dpi. It boasts a long throw distance, allowing print onto preformed products. The slim (21mm) design allows compact colour units that can print onto formed packaging. Ganging heads together can deliver speeds of 300m/min, being used onto food cartons.
Kyocera has considerable success with its KJ4 heads, with 600 and 1200dpi models. Domino and Screen use Kyocera in label presses. Another Japanese inkjet head manufacturer is Panasonic, with Xerox which announced the 56.3mm wide UH-HA800 at 600dpi would be used for the VariJET 106 carton press developed with Koenig & Bauer.
Ricoh is putting a lot of resources into inkjet. The latest generation 5 printheads, MH5420/5440, have a native resolution of 600dpi with a print width of 54.1mm from 1280 nozzles configured as four 150dpi modules with grey-scale rendering up to four levels per dot. Heads contain an integrated heater, so these heads can jet high-viscosity inks at several temperatures, a feature exploited in the Velox direct-to-shape decorator.
Success
Another Japanese head manufacturer is Seiko Instruments Inc (SII). It is a Xaar licensee, for a variety of end uses including corrugated where the heads are used in the EFI Nozomi and Barberàn JetMaster presses. Xaar itself has enjoyed enormous success with the 1001-1003 series of recirculating bulk piezo heads in labels, where the reliability with UV inks was a key factor in the industry transitioning to digital. The 2001+ head is a compact new version, used by Canon Océ in the LabelStream 4000 press launched in June this year.
Memjet has the 221mm wide head with 70,400 nozzles providing 1600dpi resolution. The DuraLink is second-generation technology, featuring a longer-life head using aqueous pigmented ink. It can operate at 200m/min with single pass modules up to 2.5m in width. Five nozzles address each pixel, meaning nozzle-outs are virtually unnoticed in the image making DuraLink is a long-life printhead compared to previous Memjet heads. Gianluigi Rankin, director of product marketing at Memjet Technology spoke about the opportunities for this technology, 'Product marketers, packaging developers and brand managers are expressing a growing interest in digital print as the label and the package become part of their marketing mix. The flexibility of the Memjet printing technology supports this transformation. Our core technologies enable partners to create compelling solutions that offer label printers the speed, quality, and cost benefits they need to offer customised, digital, short-run labels and packaging.'
Inkjet printhead technology developments show no signs of slowing up, further boosting the potential into labels and packaging.