Material witnesses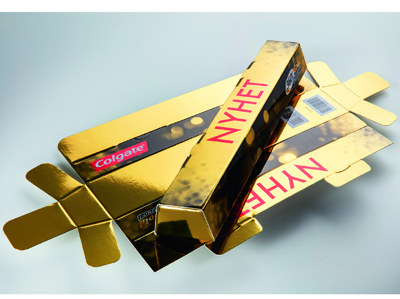 Invercote Metalprint digital board used for Colgate by Open House
However much digital technology has demystified the printing process, a thorough understanding of how to treat the different substrates that run through the press can be of prime importance, reports Des King.
With the volume of digitally printed packaging applications growing at a rate of around 15% year on year across all of the main formats, it is hardly surprising that the technology is attracting an increasing number of investors without any previous experience in the art of reproducing text and graphics onto an item of packaging. New adopters, however – and indeed established converters hoping to cash in on this upward trend by extending beyond their well-established analogue print processes and procedures – should be under no illusion that it only takes a flick of a switch to set in motion a fool proof new business model. Whilst kick-starting the press might be a matter of electricity, knowing what best to put through it can be quite a steep learning curve.
Substrates run on HP's liquid ink presses have always required a pre-coat bonded to the material to which the ink then bonds in turn; an extra step in the process now made redundant via newer systems, such as the HP Indigo 30000 press, which are installed with an integral inline priming unit as standard. Early adopters, however, have often had to improvise to overcome their substrate challenges. 'When we first got started with HP 15 years ago, you couldn't really get hold of pre-treated material, so we very quickly got into the practice of priming substrates ourselves on one of our flexo presses,' recalled managing director of Amberley Labels, Trevor Smith. 'The inline primer we installed six years ago was only the second one to be adopted in the UK. Having moved from doing it ourselves to having it built-in we've seen the change; it doesn't really add on cost because there's no set-up or storage waste.'
Even priming offline has become a more affordable option, according to Dennis Ebeltoft, Springfield Solutions' operations director. 'Because we don't have any inline priming facilities here, everything is pre-treated on our ABG Digicon Series 3 machine. When we were buying in coated material it was adding between 15-25% to our material spend, however, over the years that margin has dropped considerably, and there's very little cost difference now.'
The time taken up by pre-treatment, however, is another matter altogether. For Anglia Labels' managing director Ian Woodhead, the lack of an inline primer on their five year old HP ws4500 press means giving up each Monday to pre-coat all the material they estimate will be required throughout the rest of the week. 'There isn't a UV option out there that works in every circumstance, so we use an ICI solution Emicote that has to be air-dried, so it is quite a slow process but is totally reliable. But we're losing a day each week and that's time we don't ever get back – so if it can be done inline that's got to be better.'
Board developments
Board manufacturer Iggesund has recently developed Invercote Metalprint Digital for use on the HP Indigo 10000 and 12000, with all the colours transferred to the substrate at once; a type of operation not normally used when printing on plain board, and which due to its metallic PET surface doesn't require priming. The substrate has been used by Oslo-based Print House to provide an exclusive solution for the launch of Colgate's gold toothbrush, the Gold 360⁰.
'For a paperboard producer the individual systems put different demands on our product,' noted Thomas Janson, business development manager at Iggesund. 'In general it's about how well the ink or toner transfers onto the paperboard, how well it sticks, looks and how well that in turn works in the finishing. The better quality control you have – with stability in sheet, moisture content, low dust and high quality print surface – whilst it doesn't solve everything, it does help to align to the demands of the digital print press.'
Ultimate Digital printed eight different designs for Hider Foods
The other main electro-photographic digital systems Xeikon and Xerox have always been able to run uncoated paper and film with impunity; and come to that can print equally as successfully on pre-treated substrates too. By comparison with offset litho, however, potential differences in reproductive quality may need to be addressed, noted cartonboard packaging manufacturer Alexir's digital press manager, Anthony Rusby. This can be especially applicable in the event of the same job switching between digital and analogue processes. 'With litho technology there's a degree of absorption of the vehicle of the ink into the board, whereas with dry toner technology it is baked onto the top of the board. That's why the moisture content is of paramount importance. In comparing the finished results of each process there can be a degree of mottling on the reverse side of a litho printed substrate that's discernible to the human eye (also to a lesser degree on an HP printed item).'
Mr Rusby added, 'The iGen4 also has a far larger colour gamut than a litho press, making it necessary to use the same profiles for work being done across both systems otherwise you'll get a depth of colour that the litho press can't produce.' So, will the finished results look the same? 'They're similar,' he conceded. 'but they're different mediums so you could never say that they're going to be the same. The litho presses, whilst they're six-colour, can produce four-colour process plus Pantone specials. The iGen4 can only produce an emulation of that special colour through CMYK.
'In my experience, the general customer going into the supermarket and picking up a carton of whatever probably wouldn't notice anything. I think that sometimes we get caught up trying to make like for like when it's not really necessary. You've got to balance this against the real benefits of digital: short run, no makeready, etc.'
Supply and demand
With a lesser market share than analogue despite its impressive growth rate predictions, digital print has often found itself to be under-serviced by the supply chain in being able to reliably source materials, noted Trevor Smith. 'Back in those early days when digital was only just starting to take off whilst you could get hold of the main substrates anything niche was a problem. This can still be the case to an extent, because the volumes aren't really there.'
Ian Woodhead agreed that lack of supply continues to be an issue. He said 'We buy in as much pre-coated as we can. However, there are certain materials such as Avery Dennison's Rustique Crème for a wine label that you can't get pre-coated. Fasson MC90, which is specifically demanded by a few of our customers, doesn't come in pre-coated either. It's an inconvenience that we factor into the process.'
Dragonfly tea cartons printed on Alexir's iGen4 press
In extending into flexible packaging, arguably the biggest challenge confronting CS Labels is not to do with the migration of a technology hitherto focused upon label print, but the failure of a materials supply chain geared to servicing volume production in realising the full potential of the digital proposition, said managing director Simon Smith.
'The pouch sector has been specifically designed for flexo printed big volumes; it's where the label industry was 10-15 years ago. Disrupting it with digital has meant we've had to go back to the drawing board and redesign the whole process. We now talk about digital solutions rather than digital print.'
Mr Smith continued, 'Because suppliers tend to carry large stocks of specific materials they're keen to push you in that direction. To be fair, that will cover most of our requirements since we're targeting start-up brands selling online, who otherwise are having to go to China and buying in relatively poor quality, or else companies test marketing via short runs. Even so, it's quite usual for the order not to even be acknowledged for three weeks, let alone take six weeks to actually be processed. Unless it's already in stock they won't go into production until they've accumulated enough volume to justify it.'
The decision to bring full production in house reflects the reality that whilst in digital terms a 1000 linear metre run can be the whole job; in analogue terms it is merely the set up, noted Mr Smith. 'Likewise, although we may not be as cheap, we can turn the work round in often half the time it would take to source pouches from China.'
Contrastingly, Ultimate Packaging's director Chris Tonge refutes these apparent difficulties within the materials supply chain. 'We are a flexible packaging company not a label printer trying to be a flexible packaging company. We have all the materials that we need in stock and just slit film down to the widths that we need for digital; 98% of what we print is using polyester matt/gloss or OPP matt/gloss. Virtually all of it is reverse printed and laminated to trap the ink between two layers of film. And if we surface print then we have to apply a lacquer anyway as a separate process through a flexo press.'
Meanwhile, digital printers are experimenting with some surprising new materials. With its Xeikon press capable of running substrates up to 120-micron thickness, CS Labels has been printing directly onto laminated wood. The Irish flexibles manufacturer Foxpak is currently trialling biobased pouches (NatureFlex) with selected UK brand owners.
Inkjet makes its mark
Despite the greater speed of inkjet over electrophotography, it could still have some ground to catch up in terms of final quality; not least in eliminating the presence of lines on finished work. 'As an early adopter of Screen inkjet technology, we discovered that if you've got a problem with the top-coat of the material then on the web you'll start to see these small lines,' noted Dennis Ebeltoft.
'Initially, we thought it must be to do with the state of the heads, but however often we cleaned it didn't get any better. We finally realised it had to be a material issue. We've learnt that it's better to work with the bigger suppliers, because I just don't think the quality is as good from the smaller ones.'
The self-same problem is currently troubling Ian Woodhead at Anglia, within six months of installing his new five-colour Domino N610i press. He explained, 'We could put semi-gloss paper on it and we'll get marks that we can't get rid of. However, if we we put pre-treated paper, PP or PE through or anything under 75% tint values we never get a problem, but where you're looking for a more solid colour the lines become apparent.
'We've had air injection through the printheads so that they spray more ink faster, and that has got rid of some of the problem but not all, but I no longer think it's anything to do with the inkjets, but with the surface of the material.
'I don't think there's enough pooled experience in this inkjet technology yet and understanding of all the materials even three or four years in. In theory you're meant to be able to print on any substrate without it having to be coated. Domino produces a list of substrates they would recommend. As far as uncoated goes, however, that's very few.'