Putting print on film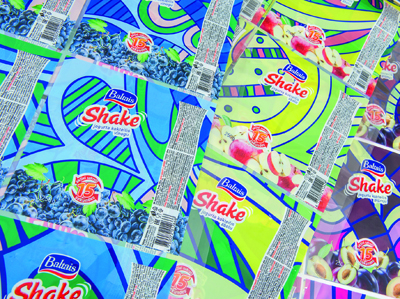 Shrink sleeves for yoghurt drinks from Immer Digital
Perhaps the last bastion of conventional print, flexible packaging can be a challenge for digital, but there is headway being made by several manufacturers in wide web, while many printers use their narrow web presses to produce pouches and shrink sleeves. By Neel Madsen.
While most of the digital presses used for printing flexible packaging are not the narrowest of equipment, they are a fair way off the width of the flexo giants that still dominate in this sector. But the landscape is set to change as the conventional press manufacturers are now showing their hands and surprise, surprise, they have their eye on digital. There are also new hybrid concepts coming to market born out of collaborations between manufacturers to combine their expertise in digital technology, inks and curing as well as flexo print.
Latest developments
German press manufacturer Windmöller & Hölscher has just revealed that it is developing its first digital press for flexible packaging. Having done research since 2016, the company has chosen Xaar's 5601 piezo printhead technology to drive the single-pass, wide web inkjet machine.
'We see a need in the flexible packaging market to use digital printing in addition to the established processes. This is driven by the need for faster time to market and very short order lengths,' said CEO Dr Jürgen Vutz. 'However, the application of flexible packaging has very special requirements, for example regarding the adhesion of the ink to the film. As specialists in this market, we bring expert knowledge to offer answers to these challenges.'
'The new digital machine will be characterised by higher quality and higher speeds, and opens up new possibilities in flexible packaging,' added Sven Michael, head of the company's digital team. 'It includes the Xaar 5601 printhead, which achieves excellent print quality at high production speeds.'
'High availability and usability in daily use are our top priorities. Our goal is to go to market with a functioning and mature digital printing machine that delivers on the promises of digital printing for flexible packaging as well,' concluded Dr Vutz.
All about the ink
HP Indigo was early to market first showing the 20000 at drupa in 2012 and there are now many installations of this press. Printing on substrates from 10 to 250 microns, it has a web width of 762mm (740 x 1100mm image format) and prints in seven colours using HP's ElectroInks, including fade-resistant yellow and magenta, special white for sleeves and fluorescent pink. The speed goes up to 42m/min.
One beta test site was Ultimate Group, in Grimsby, which first installed an HP Indigo 20000 in 2014, adding a second in 2017. One of its most recent initiatives is the Kids Ink lunch pack concept that combines personalisation with hygiene to give school kids their own individual bag.
Award-winning stand-up pouches by CS Labels
When it comes to shrink sleeves, the ink really has to perform. Both the 20000 and the narrow web 6900 can produce shrink sleeves using the special ElectroInk White for Sleeves. This high-slip ink reduces the friction coefficient to enable shrink sleeve production and is flexible enough to avoid cracking as the material is stretched. The Indigo presses also offer the option to put down the white ink last as needed in this particular application, where the colours are reverse printed first.
Immer Group in Eastern Europe is another successful user of the technology, having put the press into its site in Latvia in 2017 to form the basis for its new digital division. Its shrink sleeves printed for Baltais Shake yogurt drink won the digital category at the FlexoTech Awards 2017.
More developments
To offer its customers quick turnaround and all the other benefits of digital, Wipak Group launched its own wide web digital technology, the ProDirect press, at Interpack 2017, without revealing much in the way of technical details. The printing company then celebrated multiple award wins for jobs produced on the new machine, first at the German Packaging Awards 2017 and then at the 2018 WorldStar Awards.
There have been other developments in the wide web digital space, but most of these are not yet in commercial use or are for limited markets. Developed for the Japanese market, Fujifilm's MJP20W UV inkjet press for flexible packaging was first presented at IGAS 2015 and drupa 2016, but later renamed the Jet Press 540WV (putting it in the same stable as the Jet Press 720S for folding cartons). The 540mm wide press is based on a collaboration with Miyakoshi and utilises Fujifilm's EUCON nitrogen-curing technology to reduce UV ink odour, making it more palatable for food packaging. The printing speed is 50m/min. It was most recently on show at IGAS 2018 in Tokyo in June.
It was also at drupa that Xerox showed the 'Production Press for Plastic Films and Substrates,' a further development of the CiPress production inkjet system, and Think Laboratory collaborated with Kao on the FXIJ-1 Aqua inkjet press, but little has been heard about either of these concepts since. Meanwhile Landa is still developing the W10 nanographic press, promising speeds of up to 200m/min printing in four to eight colours at 1200dpi resolution in a web width of 1050mm. Its water-based inks will print on BOPP, PERT, BOPA, PE, CPP, metallised PET, as well as aluminium foil, board and paper.
Keeping it narrow
Many digital label presses are used to produce flexible packaging applications although the width of course limits the size of these. The market for pouches and shrink sleeves is growing and printers are meeting these demands by using their narrow web toner and inkjet presses.
By completely redesigning the path of the substrate through the inkjet print engine, Mark Andy can now print unsupported films on the Digital Series HD hybrid press. This new design will be shown at Labelexpo Americas and presumably the company will be discussing the extended reach of the platform into flexible packaging. Screen's Truepress Jet L350UV+LM press includes a chill roller for printing on heat-sensitive substrates and an enclosed nitrogen-purging chamber, which makes it suitable for food packaging applications. Domino can print shrink sleeve films using its UV90 six-colour ink set on the N610i UV inkjet engine when it appears in a hybrid configuration, with the high-slip white layer added by a flexo station.
Xeikon's FDA-approved ICE toners are used on its narrow to mid-web digital presses to produce pouches, flow wraps and bags. CS Labels has been a pioneer; working with Xeikon to bring digitally printed flexible pouches to market for a variety of markets including food.
Having previously outsourced the converting, the printing company is now installing a customised pouch line to take the whole manufacturing process in house. Managing director Simon Smith explained, 'We're coming up with an offer to the market, where we think we're economical up to 30-40,000 pouches over multiple sorts, plus we have control over the whole process, so that instead of having to send off to a pouch converting line that might take up to 6-8 weeks, we're printing onto one material, then heat-laminating it and also converting in house: a time to market of within 4 weeks, instead of the 12-16 weeks it's been taking to date.'
A recent customer is Leisurechem, experts in the cleaning and safety of pool and spa water, which has developed a new brand of aromatherapy crystals. The range included over 20 different fragrances in stand-up pouches, which were printed by CS Labels on a PET substrate in full colour and won the digital category at the FlexoTech Awards 2018.