Where physical meets digital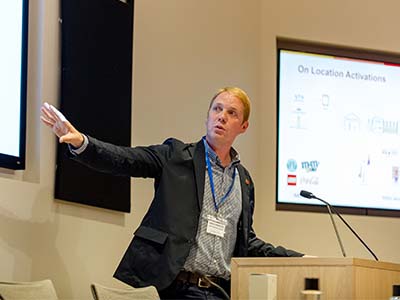 Greg Bentley, global primary packaging director at AB InBev, discussed supply chain implications 
There was plenty of food for thought served up at the Digital Print for Brand Success conference in London in early November. Digital pioneers from across the industry came to the table to share experiences and discuss the future. 
Sponsored by Cerm, EFI, Friedheim, HP, Infigo Software, Kurz and Label Traxx, the fifth conference was opened by keynote speaker Matthew Brown from Echochamber, who shared his wealth of knowledge of the retail sector. He demonstrated how brands are changing their stores to offer new and inspiring experiences for their customers by putting them in the centre of the action. There were many 'wow' moments in the fast-paced presentation, which was crammed full of fantastic examples of innovation and technology, new types of shops and new ways of delivering goods, gathered on his journeys around the world.
The good news is that although sales are going online, consumers still want physical shops; the challenge is to offer much more than a simple purchase interaction, and the brands and retailers that understand and meet this demand are the ones best equipped to face the future. Mr Brown also said that consumers are happy to pay more for unique experiences and goods that connect with them on an emotional level.
Achieving your goals
Moving into the print world, the morning continued with a presentation from Greg Bentley, who is the global primary packaging director at drinks giant AB InBev. He discussed different models of executing customisation campaigns, explaining the supply chain implications of getting personalised or versioned products to each individual consumer, and illustrating how many of the big brands have accomplished the task in recent years.
Debating the success of various well-known campaigns and methods of producing these – in-house, via a third party or on location – Mr Bentley stated that some of the most successful ones have been those where there was minimal impact on the existing production process and supply chain, which resulted in the lowest possible cost and complexity to deliver the customised content.
Amberley Adhesive Labels has been at the forefront of digital print for many years, having installed its first digital press back in 2003. In his presentation, managing director Trevor Smith likened the technology to electric vehicles (EVs), saying, 'Most people don't know that much about EVs, but it is certain that we will all be driving one in the future.' He urged printers to find  ways to add value for their clients and 'find a niche, make it work and drive it forward. If you sit back and wait until it makes commercial sense, you'll be to late.'
In an exclusive case study, senior strategist at Bulletproof Kata Cserveny delighted the attendees with the colourful results of the agency's collaboration with Actimel France. Here digital was the driving force behind redesigning the brand to give it shelf standout and appeal to younger consumers. Using HP SmartStream Mosaic software to create 14 million unique designs, the campaign succeeded in achieving the goals of disrupting on shelf, telling the Actimel story and making it cool again.
A lengthy panel discussion then picked up on the issues covered in the morning's presentations, with the attendees joining in to ask questions and comment.
Engaging with consumers
'Technology change is happening super fast – faster than ever before,' said Rob Hollands, managing director of Anthem Worldwide, in his opening remarks. He continued, 'The consumer industry will
change more in the next 10 years than the last 40.' In discussing the Internet of Packaging, he looked a host of examples of connected packaging that use a variety of methods, including QR codes – which are seeing a renewed interest and growth of 32% over the past 12 months – as well as NFC, Snapchat and Shazam, to drive new ways of engaging with consumers. He said, 'These technologies offer a deeper consumer understanding, greater insights and more data than ever before.'
Another treat for the attendees came in the form of chocolate delivered in boxes personalised with their name in gold foil. These had been produced by VR Print, in Tunbridge Wells, and head of
client services Andy Stevens discussed how their digital foiling capability has opened up a whole new market for the company.
VR has worked with Chococo, a small brand based in Dorset, previously producing their packaging on a litho press. The boxes are now printed digitally on an HP Indigo with a Kurz DM-Liner adding embellishment. Mr Stevens said, 'I was genuinely astonished the first time I saw the foiling machine in action. The thing that  excites me the most is the ability to customise the packs and the conversation we can have with our customers.'
Review site Trustpilot and digital marketing agency Netkandi came on stage to explain how to close the loop on the 'customer journey' by offering an integrated web-to-print and review option.
Chris Minn, director of digital strategy at Netkandi, explained that the three biggest challenges when launching a new web-to-print website and brand are Google ranking, trust on the brand and validity of the product. The partnership with Trustpilot addresses all these as reviews are automatically shared with Google, and count towards earning Seller Ratings stars in AdWords and Google Shopping ads.
Keeping it topical 
With the latest news of the government's new tax on packaging with less than a 30% recycled material content, the panel debate on sustainability was more topical than ever. Chair Paul Foulkes-Arellano from Precipice Design, and panellists Matt Baldock (Vowpack) and Sarah Greenwood (independent packaging and plastics specialist) talked about new types of substrates and how digital print can help battle waste with its just-in-time delivery, short runs and quick press set ups.
The day ended with the lovely Imperial Teas of Lincoln case study; the perfect example of how digital print technology solves problems for both big and small brands. Ben Poole, who set up the tea company in 1991, joined Alexir Digital's Cyril Guillemot on stage to tell the story of how he had gone through various iterations of packaging for his many flavours of tea until finally finding the solution in digitally printed cartons. With over 300 tea and 50 coffee flavours on offer, conventional print wasn't an option, because as Mr Poole said, 'We just couldn't spend over £113,000 on plates.'
With plenty of brand owners, printers and designers in attendance, there was also much networking to be done during the breaks in the beautiful Maxwell Library. Here the attendees also
had the opportunity to have a personalised bottle of hot sauce labelled for them to take home, courtesy of Infigo Software and Afinia Label. A touchscreen linked wirelessly to an Afinia L501 printer had been set up and was producing labels on demand.
The feedback throughout the day proved that this event fulfils its aim of providing through-provoking content and bringing the industry players together. 'Wise words, realistic views and a brilliant insight into some brand success stories with digital so far,' said business development executive at Ultimate Digital Emma Winton.' Got to hear from some of my favourite digital ambassadors and even had chance to make some new packaging friends.'