Intangible benefits of digital packaging – is it The Real Thing?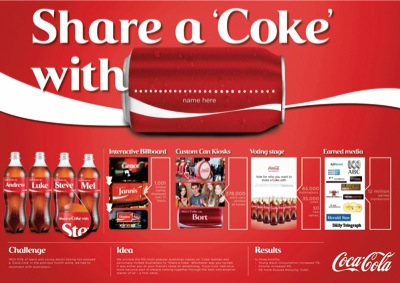 It is not just lower cost short runs that are driving the adoption of digital packaging. Brands are using the capabilities to help make consumers feel good about them. Coca-Cola is ahead of the curve and is using digital in innovative ways to boost its already iconic brand. By Sean Smyth. 
My niece was back in the UK in February, introducing her two-year-old to the joys of an English winter instead of an Australian summer. There was a family lunch, with several of her friends, and I was struck by the number of customised phone covers around the table (not mine, of course). Conversation – between texting – suggested there was much warmth shown toward these personalised phones and there was interest in what can be done with many products and packaging.
My niece also told me that she had had her own can of Coke made for her and was delighted by it. And she is not alone. In the summer of 2011, Coca-Cola versioned its bottles Down Under. It chose 150 of the most popular names in Australia and printed them onto bottles and cans with the message, 'Share a Coke with [name here]'. 
In the three months of the campaign, the company saw a 4% increase in sales and this despite it being the wettest summer since records began in 1901. Young adult consumption increased by an impressive 7%, and more significantly, the campaign had people talking about the Coke brand again. There were 242 pieces of PR recorded, reaching 13.9 million people and traffic on Facebook increased by 870% with 121 million earned impressions on Facebook with fan growth of 39%. Understandably, the campaign is being repeated in New Zealand over this antipodean summer.
Another Coca-Cola application was launched in Israel to refresh the company's Sprite brand. This invites consumers to visit the 'Refresh Your Sprite' website and create a can design complete with branding, barcodes and other required information. The campaign attracted submissions from consumers from age 10 to 60 and resulted in more than 100,000 individual can designs. Each week the public voted for the top 100 designs, which were printed with a case of 24 personalised cans delivered to each winning designer and a second case of 24 put on display in Tel Aviv.
Coca-Cola's Israeli campaign attracted 3.5 million visits to the Sprite website from a population of just 7 million. A similar campaign was run in Brazil with new designs printed in limited editions as the company engages with customers, cementing its image as a cool and inclusive company.
Individuals have been able to customise their preferred products for many years. Bespoke made-to-measure tailoring has been round for hundreds of years. Specifying your own Levi jeans or Timberland boots is a little newer. Mass customisation as a concept has been successful, and customising the packaging or label is a growing trend. Most brands are trying to get closer to customers and are always exploring new techniques to engage their targets and generate interest in the brand. One way is to engage customers by providing precisely tailored packs for customers and personalising the pack digitally, this could be a special label on a gift pack or a bespoke carton, sleeve, pouch or can.
Read the full story in the April issue of Digital Labels & Packaging