Building confidence in inkjet for labels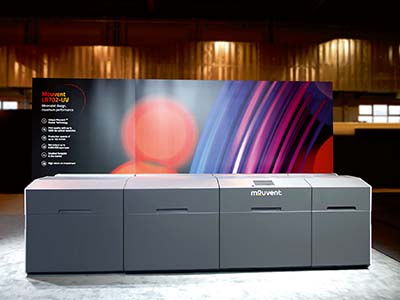 The LB702 from new entrant Mouvent
The inkjet market is hotting up in labels and packaging with new and surprising players entering the market, and there is more to come, says technical editor Sean Smyth as he presents a roundup of technologies.
You can hold a variety of opinions about the potential of inkjet in labels and if you follow the market you will not be bored. It has been a turbulent few months for the inkjet label press market with one of the leaders effectively saying goodbye to the market and the number two toner player suddenly taking a leading position in inkjet alongside its own launch. And there are new players announced and more to come in the next few months. 
New leader
HP Indigo is considering inkjet as an embellishment option in sophisticated finishing lines. Xeikon went a lot further by launching the PX2000 and PX3000 Panther inkjet presses last year, and is now a leader in inkjet following the deal with EFI to take over the Jetrion business. The company is confident of the future prospects for the inkjet business. Filip Weymans, vice president of marketing for Flint Digital Solutions, said, 'We are seeing a big uptake of our Panther UV inkjet products. Several label printers are adding the Xeikon PX3000 alongside their existing toner presses. It is seen as an opportunity to address end-use applications more efficiently, as well as a replacement for older UV flexo machines. The main reason for choosing Xeikon relates to our years of experience in digital printing, which is illustrated through our powerful DFE. A good example of this is a three-unit deal we won in the USA for mission critical labels that needs a turnaround of 24 hours.' 
He continued, 'Demonstrating the efficiency gain provided by our DFE connected to the Xeikon PX3000 allowed us to win the deal over other UV inkjet vendors. We now have a powerful inkjet portfolio, including both Jetrion and Panther, which gives us the confidence that 2018 will be another milestone in Xeikon's history, on top of our 30 years' existing.'
Following the EFI deal, Xeikon/Flint is now the biggest inkjet supplier with around 230 systems installed. There are more of the seven-colour Epson SurePress L-4033AW machines in the field, but these have much lower levels of output, however, this model was replaced last year by the SurePress L-4533, which offers improved image quality at higher print speeds as well as faster variable data processing. 
PicoColour presses lined up on the Dantex stand at Labelexpo Europe
New launches
There were a couple of significant launches at Labelexpo 2017, from Durst and Mouvent; the latter positioned as the digital printing competence centre of Bobst. Durst pushed its new generation Tau 330 RSC, boosting the performance of the successful Tau series of presses to new levels of speed and quality. It features Fujifilm Dimatix Samba print heads, providing high resolution at speeds up to 80m/min. The Label Makers in Bradford took delivery of the first machine into the UK. Managing director David Webster commented, 'Installing the Tau 330 RSC has been another huge step for us. The press prints at phenomenal speed and is far more cost-effective for us because it is using less ink, but still maintaining the incredible print quality.' 
Durst is selling the standalone machine and configured as a hybrid in partnership with Omet as the XJet. Italgrafica Sistemi in Castelgomberto, in the province of Vicenza, is the first customer and it will use the hybrid press to replace two existing flexo lines. Francesco Niorettini, general manager, said, 'The total cost of ownership and benefits to customers were crucial aspects in the decision. What is really important is to ensure that we retain the same high level and definitions produced with flexo and offset and the Durst/Omet hybrid will enable this.' He explained that other factors in the investment decision included the 50% increase in speed, the low service and consumable costs, as well as the good reputations of both Durst and Omet in the marketplace. The configuration features two flexo units before the Tau 330 RCS inkjet engine, and two flexo units after, along with a die-cutting mono-twin system. A Vision automatic registration system is also included. The system offers the option to print on the adhesive and to laminate as well as produce coupons and special labels, including peel and reveal. 
Mouvent is a new entrant into inkjet label production; a new company formed through a joint venture between Bobst and Radex, the company set up by the founders of Graphtec. Bobst is positioning this operation as its digital competence centre and has developed a range of innovative inkjet components and modules using Fujifilm Dimatix heads. The LB702 presses will run at 100m/min at 1200dpi initially with UV inks at up to 340mm wide, with the WB version, which will feature water-based inks, in the pipeline. The company is highlighting the environmentally-friendly aspects of label production. Water-based inks should also provide totally food safe products, increasingly important for many brands and ever-tighter legislation. 
Safe for food
Food safety is increasingly important to label converters. At the Label&Print show in February, Domino announced its UV90 ink set, designed for the N610i press and formulated to be both EuPIA and Swiss Ordinance compliant. Domino claims the new ink set has improved coverage and print quality on a variety of media, particularly in areas of low-density tints. It also has significantly improved adhesion across a range of industry standard substrates, reducing the need for inline priming, or the need to use more expensive pre-coated medias. Early customers report superior adhesion levels across all tested media types and confirmed that neither priming nor pre-coated media is required, resulting in significant savings to overall production costs. The company has had positive results using the UV90 ink set to successfully print on a number of industry standard shrink sleeve materials, which it claims is a first for UV inkjet technology. 
Last autumn Screen released the Truepress Jet L350UV+LM, boosting the performance of the narrow web UV press to 60m/min and providing low migration inks for food. These inks comply with the EuPIA Exclusion Policy, Swiss Ordinance and Nestlé Guidance. This significantly lowers the risk of ink migration and typical UV odour. 
The press has been modified with the addition of a chill roller to expand range of stocks to include thin and heat-sensitive films. There is a nitrogen purge mechanism that blankets the web with nitrogen gas as the curing stage, eliminating potential oxygen inhibition (oxygen chemically reacts with the free radicals in the UV ink polymerisation, terminating the reaction, which means there could be more ink components potentially able to migrate into the pack contents). 
One of the first installations was at Hine Labels in Rotherham, its second Screen inkjet press. According to owner Bill Hine it was pure common sense that drove the decision. He elaborated, 'We need the additional capacity, business is good and our experience with the Truepress Jet L350UV, we already have has been very good. In fact, the reliability of the equipment has been absolutely amazing, so it just makes sense to have another.'
Drawing on its pre-press expertise, presses are provided with the Screen Equios Universal Workflow. Orange ink is an option, beside the standard process colours and white to widen the colour gamut for spot colour accuracy and vivid results. In March 2018, the company announced that it had broken the 100 installation barrier, with multiple installations at many customers. 
The future
Dantex previously sold the Screen presses, but is proving there is still space for smaller suppliers with the PicoColour, positioning the machine as price competitive versatile, small footprint label printing system. This was initially developed by JF Machinery, with a print width up to 210mm on a variety of substrates from 30 to 320 microns at speeds up to 35m/min. Dantex then developed the higher performance PicoJet, with wider webs and faster speed. It reports installations in the UK at Limpet Labels, Xpress Labels and Paramount Labels. 
David Webster has been quoted as saying, 'The future of most label production will be inkjet.' In 2018, there are many developments coming to the inkjet label market and there is a lot of choice for converters. At Labelexpo last year, there were 75 suppliers of inkjet presses, showing machines along with 20 or so low-end table-top printers as well. The holy trinity of attractive quality, productivity and cost means inkjet is certainly a contender and the technology roadmap shows continuing improvements. The work on food safety is important for inkjet with UV and water-based inks providing food compliant systems when used correctly.