My digital journey: speed, service and Steele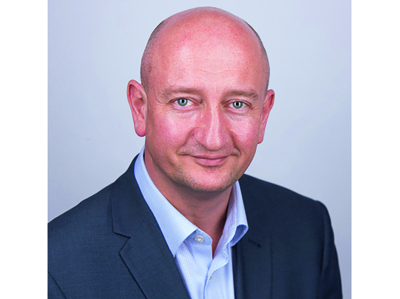 Adrian Steele, Mercian Labels
Interview with Adrian Steele, managing director of Mercian Labels. By Des King.
When Adrian Steele led the management buy-out of Mercian Labels in 2001, it was a £500,000 turnover business primarily equipped with hot-foiling systems and some very narrow 150mm wide solvent-based flexo machines. Seventeen years later, it has achieved a nine-fold increase in sales revenue – an impressive growth rate largely driven by judicious investment plant, personnel and cutting edge printing technology; not least the installation of the world's first Xeikon CX3 'Cheetah' digital press in 2015.
The company has just consolidated all of its digital and flexo printing operations within a single site at Burntwood; the latest stage of momentous journey that has taken it to market dominance from its humble beginnings in a Staffordshire shop 49 years ago.
When and why did you extend into digital print?
We installed our first digital press in 2007: a used Xeikon 330 we bought from another printer who'd ceased to trade. However, we'd been outsourcing an increasing volume of digital work for two years prior to that so had built up a solid customer base. The real driver was the increasing desire for greater SKU work. Lead times were reducing. Back in 2001 the industry standard was three weeks' delivery irrespective of what had been ordered. By 2004 that was down to five days at Mercian. Also we were seeing a greater complexity of design work for which digital was ideal.
What were the main challenges you had to address?
We knew it was the right time for us to bring production in house in 2007; we'd got to the right scale. Nevertheless, we did go through a huge learning curve. You can't underestimate the pain when you adopt a new digital platform irrespective of our having had three years of being able to benefit through someone else's experience. Even so, digital in our sector was still relatively in its infancy back then. There were maybe half a dozen UK label manufacturers using Xeikon equipment and 80% of those installed were in commercial print. That, of course, has completely flipped now. 
The closest our in-house team had ever come to running a digital system before then was to insert toner cartridges into a desktop printer! We had training from Xeikon, but in reality the standard joke – and you hear this from many people who were in digital technology at the time – was that the service engineer had their own space reserved in the company car park. I have to say that that is a world away from where it is now. We can regularly go for a month or two without seeing an engineer as we do almost all of our own preventative maintenance.
And what have been the main gains?
Mercian's USP has for many years been 'Speed and Service'. Between 10 and 20% of our work goes out on the same day; not necessarily because it's a premium order, but because it's more convenient for us to do so. A further 50% goes out next day and the balance the day after that. 
Adopting digital has fundamentally changed our business. It helped us towards achieving double-digit growth year after year, generates better margins than flexo and now accounts for half of our £4.5 million turnover. The technologies are absolutely complementary: the quality is comparable and the CMYK colour gamuts used by both are so close to make no real difference. 
How has customer awareness to digital developed over the years?
My sales director is adamant that customers don't care what machine their order is printed on; what they care about is that it's right; that it's printed on time; that it's of a high quality. They want the product, they want the service – they don't really care how it's made as long as it meets the specification.
The real tipping-point was the financial crash in 2008, prior to which the usual practice had been to order a mass volume and realise the scale economies, but of course they were scrapping loads of unused inventory in the process. Like everybody in packaging, we saw a massive stop on ordering as people were emptying their inventories to deal with a very difficult and sharp recession. Inevitably, however, they would run out of things with which they wanted to get their manufacturing lines back up and running: that meant short lead times and short quantities. 

Award-winning label printed digitally by Mercian
How has digital helped you and them to develop your businesses?
A label is a premium type of packaging; quality is paramount. Small start-ups are insisting upon features that you'd normally have expected to find on a premium spirit. Controlling volumes of labels enables them to operate at the same quality level as larger brands affordably, so digital is a real game-changer in helping to get a lot more different brands out into the market. You would never have seen that before; the origination costs alone would have made it prohibitive. The technology has created an entire new market.
Looking back is there anything you wish you'd done differently?
Hindsight is always a wonderful thing! I probably would have looked at some of the premier embellishments a little earlier. They were available but were really cost-prohibitive. We've made some major investments within the past three years: new flexo and digital kit, better facilities including factory space. We're now operating out of a single production site with much improved workflow solutions and have added-in these high capacity technologies including cold foiling and rotary screen printing.
What advice would you give to anyone adopting digital now?
The rate of new entrants is significantly below what it was say five years ago. The ship I think has sailed; you'd be entering a fiercely competitive market. Anything to do with more basic labelling – for example, CMYK white, die-cut with a laminate or whatever – that is a really tough market to be in and you're going to have be very slick to compete with lots of automation and integration with your ERP system. There is so much more installed capacity in the UK than the market needs now. More than ever, you need to be in a speciality area to be successful. 
Meanwhile, most of the developments in productivity are coming from the flexo side, so we're getting better and better in that technology and eating away at our digital volume accordingly. Digital to flexo is the direction of travel, not the other way round. Cost of UV flexo ink is more like £10 per kg; a digital consumable can be up to eight times as high. Then there are digital speeds of 30m/min compared with flexo running at 120m/min. 
Of course it's all about the origination and changeover efficiency with flexo, but I can't see digital workflows getting much more productive than the current best practice solutions. Digital press speeds will be faster of course, but there is now so little wasted time between jobs, it's not a problem worth investing in further. That's not the situation in flexo, as there are significant gains still to be had. I see making flexo as slick as digital as a big challenge on our journey towards becoming a world-class manufacturer of labels.
How do you see the future for digital print for packaging?
What we can't see is a world without either digital or flexo. If you look at both, what's classified as narrow web is getting wider, and whilst we're at 330mm (digital) and 360mm (flexo), we see ourselves definitely going that route. If I were to fast-forward two or five years, I would envisage a good proportion of the flexo capacity going over to 400-550mm. I could see that becoming increasingly common for labels and for flexible packaging. 
We already run some UV inkjet for some high volume variable data work. Our experience is that whilst it can be great, it can equally be very fickle, and no amount of platform experience or operator training seems to be getting it over that tipping point. It's just not as industrially robust as we'd like it to be yet.
I'm not a fan of hybrids – integrating a CMYK digital unit into a four-colour flexo press. I think if you're going to have a machine to run at high speed then let's do just that. Flexo should run at flexo speed, digital the same. Yes, the 100m/min at 1m wide that Landa is promising to deliver is very attractive, but it's got to have the quality; people are unforgiving when it comes to manufacturing defects. They're saying it's 84% of the Pantone gamut using just CMYK Nano inks – I don't know if it's true but that's a pretty bold claim.
If Landa is to take a lot of volume they're going to have to come into the market cost effectively. We're all sophisticated enough and running big systems; we can make these commercial decisions. Why run a job digitally when you can make more profit running efficient flexo?